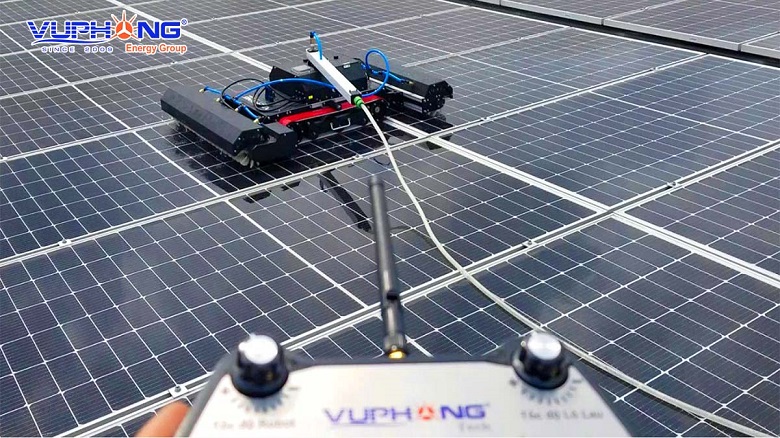 Cleaning solar panels is part of the operation and maintenance (O&M) of a photovoltaic system, which helps the system run more efficiently and extends the life of the panels and projects… 
Why is it necessary to clean solar panels? 
Solar panels (photovoltaic panels) are made up of many photovoltaic cells that use the photovoltaic effect to capture and convert sunlight into electricity. As a result, if there is a lot of dirt on the surface or garbage such as fallen leaves, bird droppings, debris, etc., the performance of the panel will be affected, reducing the system's ability to generate electricity. Long-term stains that are not cleaned will also shorten the panel's life. As a result, cleaning solar panels is critical to ensuring the performance and longevity of the panels as well as the projects. 
Furthermore, while cleaning solar panels, engineers can detect the risk of damage to the panel array and repair it promptly. 

The performance of solar panels will suffer if there is a lot of dust on the surface (Internet photo) 
How often should a solar panel be cleaned? 
Cleaning solar panels is a necessary part of O&M. The investor must have a periodic O&M plan for the system in general, as well as a schedule for checking and cleaning the solar panels in particular, for the system to operate stably and sustainably. 
The operation and maintenance of solar power plants or large-scale solar power systems are typically handled by a professional unit. The solar power system's O&M work will include processes such as: 
Surveying and assessing the environmental impact of causing dust and lowering panel performance. Advice on appropriate cleaning methods and frequency, as well as an analysis of beneficial values (increased efficiency).

 

Provide packaged cleaning service according to the required frequency.

 

Provide specialized equipment (robots, tools, supplies, etc.) for cleaning solar panels.

 
In particular, Vu Phong Energy Group has mastered the technology of evaluating solar energy systems using a non-contact method, without disrupting the operation process and providing accurate analysis results using software that employs AI processing technology. Vu Phong will develop an appropriate plan and frequency to clean the solar panel array based on the results of the specific assessment on the reality of each project, allowing the project to operate most efficiently and profitably. (For more information, visit https://vuphong.vn/nha-may-dien-mat-troi/.)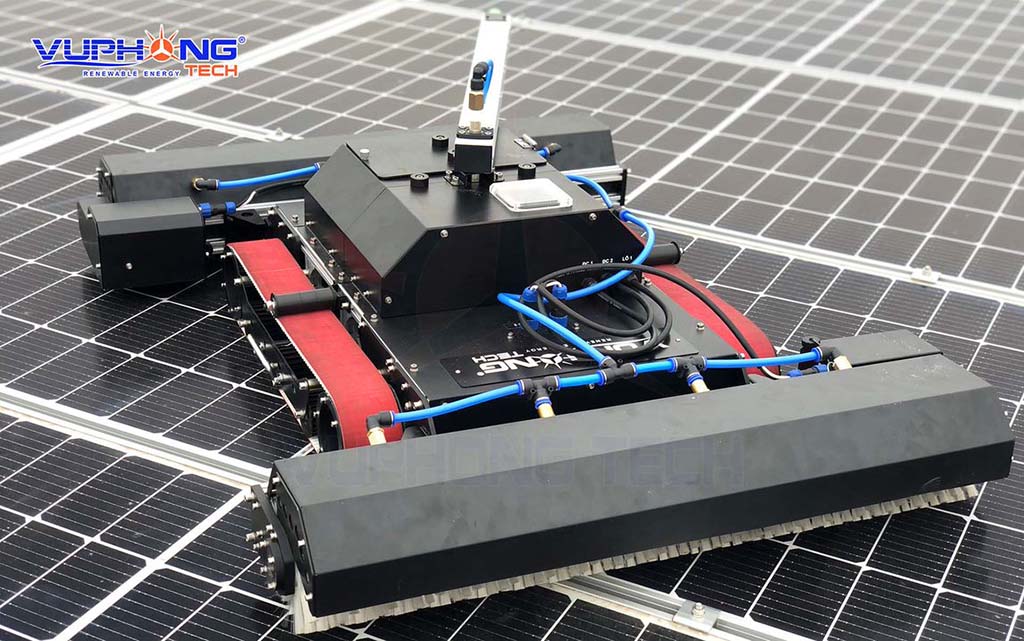 VPT – RB1200 – S1 Robot conducted research and development by Vu Phong Tech – Vu Phong Energy Group.
Families and businesses that install small and medium-sized solar power systems (on roofs, factory roofs, offices, buildings, etc.) should check if the solar panel gets a lot of dust quarterly (every 3 months). Because high-quality solar panels have an anti-dust coating on the surface and are installed at an angle to reduce dust, there is rarely any dust on the panel's surface. However, because areas near thermal power plants, concrete and cement plants, and so on frequently have a lot of dust, it is important to pay attention to checking and cleaning the solar panel. Alternatively, if you notice a lot of fallen leaves, bird droppings, etc… on the panel, you should clean it as well. (You can learn more about solar power system operation and maintenance here.)
Vu Phong Tech – a technology company and a member of the Vu Phong Energy Group – has researched and developed an automatic robot with remote control VPT – RB1200 – S1 to increase the efficiency of solar panel cleaning and optimize O&M work. This is a 100% "Make in Vietnam" product designed specifically for rooftop solar power systems in factories, offices, commercial centers, and mini-farms…Vu Phong Tech engineers dedicated the product after 3 years of research; improved and completed after more than 2 years of operation over 300 MWp. The product will soon be available on the market, providing outstanding cleaning performance, ease of operation, greater flexibility, and higher upgradeability while reducing energy and water consumption during operation…
Individuals and businesses interested in the VPT – RB1200 – S1 solar panel cleaning robot please contact the Call Center at +84 9 1800 7171 or send an email to hello@vuphong.com for more information.
Vu Phong Energy Group