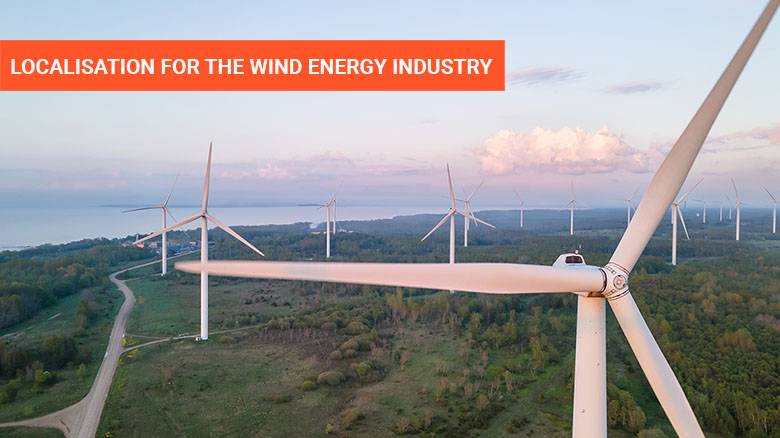 Vietnam's wind power industry is the most developing in the Asia-Pacific area, and it's anticipated to continue to grow rapidly. It creates many chances for Vietnamese enterprises to participate in the supply chain and deliver services…
Leading in Southeast Asia in wind power installed capacity
Wind power is strongly developing in the energy transition trend, helping Vietnam become the most developing market in the Asia-Pacific area and leading Southeast Asia in this industry. Since 2020, wind power in Vietnam has had an annual capacity growth rate of 70% and by the end of 2020, Vietnam ranked second among ASEAN nations in wind power installed capacity, with 600 MW (after Thailand 1,507 MW). By the end of October 2021, Vietnam's installed capacity of new wind power had reached 3.98 GW, and it is expected to exceed 4 GW by the end of this year. Vietnam has become the leading country in Southeast Asia in terms of installed wind power capacity, and it is anticipated to be in the top ten in the global, ranking second in the Asia-Pacific region in terms of new installed capacity.
Wind power is identified as one of the most significant factors of Vietnam's energy system in the future due to its economic – social – environmental benefits. According to the draft Power Development Planning VIII (PDP8), in November 2021, released by the Ministry of Industry and Trade (MOIT), both onshore and offshore wind power capacity increased compared to the March 2021 operating plan. By 2030, the installed capacity of onshore wind power will be 17,338 MW (an increase of 1,258 MW), while offshore wind power will be 4,000 MW (an increase of 1,000 MW). Another scenario is 10 GW of offshore wind capacity is constructed in 2035, growing to 23 GW in 2040, and reaching 36 GW in 2045.
With the plans in the draft PDP8 to change the power source structure to increase renewable energy, including wind power, and Vietnam's strong commitment at COP26 to reducing greenhouse gas emissions and reaching "zero" net emissions by 2050, many experts believe that there will be a wave of investment in wind energy in Vietnam soon and open up opportunities for Vietnamese enterprises to participate in the supply chain and deliver services.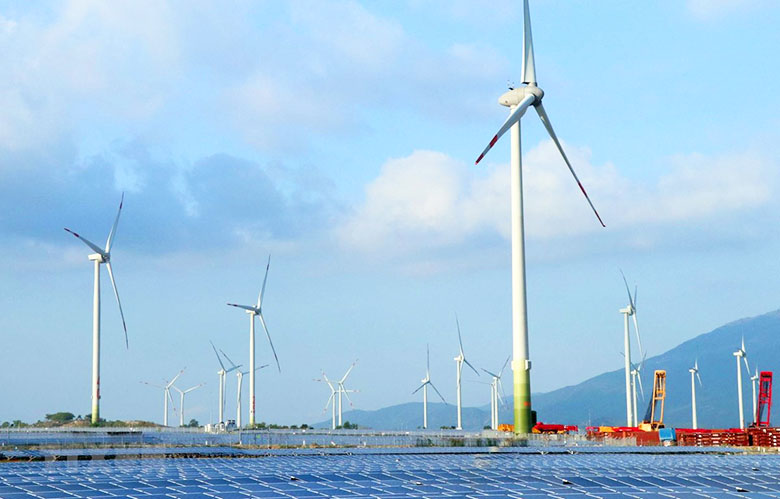 A wind farm has been operating in 2021 in Vietnam (Photo: Vietnam News Agency)
Strengthening localisation for the wind energy industry
The Vietnam Energy and Technology Forum 2021 was co-held by the Ministry of Science and Technology (MOST), Ministry of Industry and Trade (MOIT), and the Global Wind Energy Council (GWEC) in Hanoi on November 30, Mr. Dung, Hoang Tien – Director of the MOIT's Electricity and Renewable Energy Authority, said " Vietnam is in the early stage of shifting from fossil fuels to renewables, in addition the encourage of policies, energy technology is a future development strategies" and focus on research and development, from surveying, engineering, production, and build… to gradually localise the industry.
Increasing the supply chain's localisation rate, as well as the extensive engagement of Vietnamese firms in delivering services to the wind power industry, not only brings economic advantages to businesses, but also increases their self-control in the industry, while also helping to lower costs for investors in the project's construction and operation, attracting investment capital and assisting to the achievement of the goals of energy transition and sustainable development.
To anticipate the trend of wind power development, many significant firms and corporations in Vietnam have decided to invest resources and technology to join the industry's supply chain, such as investing in equipment manufacturing plants, participating in wind power plant construction, installation, operation, asset management, and so on. Because wind power is still in the early stage in Vietnam, the technological basis and practical experience are still "difficult problems" for domestic firms competing with multinational units. As a result, many large firms have chosen international collaboration to take advantage of their technology and expertise, along with available capacity and knowledge of the home market to improve competitiveness and participation in market service. This is a "key" to assisting Vietnamese enterprises participating in this green industry.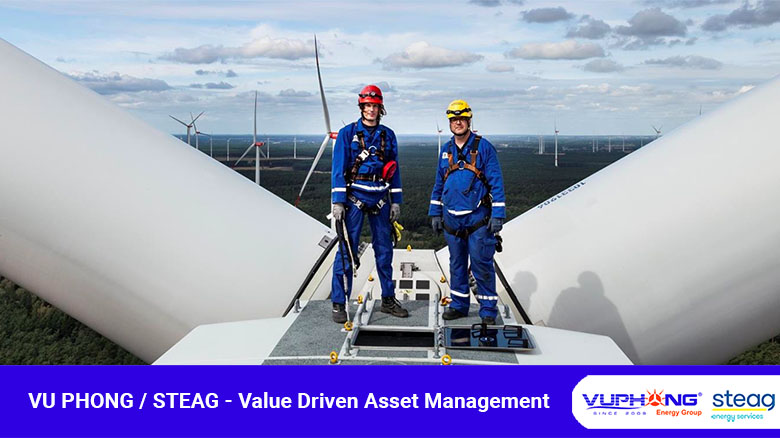 Such example is the collaboration between Vu Phong and Steag. With over 80 years of development, Steag is known as the world's leading energy group. Steag not only owns a series of energy projects with a total capacity of around 7,200 MW, but it also confirms its capacity as a provider of high-quality energy services, from the planning stage, project development through plant operation. Steag has provided engineering and technology services, intelligent software for over 100,000 MW of various energy projects, including more than 11,000 MW of operation and maintenance, and operation management. Steag, in particular, is monitoring and optimizing 1,600 MW of wind farms, and owns and operates 370 MW of wind farms throughout Europe. Steag, in particular, has developed an intelligent software system that uses AI technology, Machine Learning, and a Big Data platform to monitor and analyze data in real time, to optimize the operation and increase the value of wind power plants.
The collaboration between Vu Phong and Steag enables the use of the technological platform with intelligent digital solutions, and Steag's worldwide expertise and experience, in combination with experience and deep knowledge of the local market of Vu Phong's team, to provide high-quality services at a reasonable cost and the best support for investors. Vu Phong – Steag signed a collaboration agreement to deliver Asset Management service packages for wind power investors in Vietnam from the beginning of 2021. Vu Phong – Steag will continue to collaborate soon to provide more services for this green industry.
International cooperation is a strategic solution for building a solid foundation for Vietnamese companies to increase their competitiveness, engage deeply in the industrial supply chain in both local and international markets.
Vũ Phong Energy Group