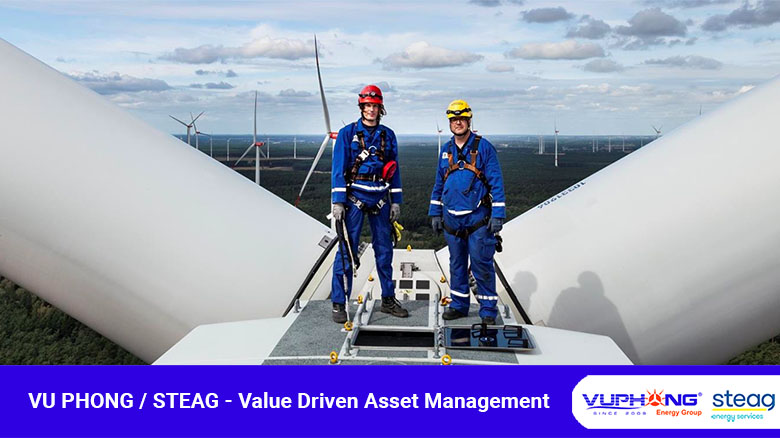 Vu Phong Energy Group and Steag Energy Services GmbH (Germany) are collaborating to provide Value Driven Asset Management services to Vietnam's growing wind power industry. This service helps in the optimization of the factory's output potential, as well as the maximization of asset value and profit for investors.
Combined strengths from expertise, experience, technology and market knowledge
Steag GmbH (CHLB Germany was established in 1937, after more than 80 years of development) is the world's leading energy group with a workforce of roughly 6,400 employees. STEAG isn't only known as Germany's greatest large-scale energy developer, with a series of energy projects totaling around 7,200 MW (including approximately 5,000 MW in Germany), but also as a provider of high-quality energy services. STEAG Energy Services GmbH (a subsidiary of STEAG GmbH), headquartered in Essen, Germany, provides a wide range of services for power farms, including project development planning, construction implementation to factory operation. STEAG Energy Services GmbH has provided engineering and technology services, and intelligent software, for over 100,000 MW of various energy projects, including O&M and operations management for more than 11,000 MW.
In the wind power industry, Steag specializes in delivering O&M technical services, Asset Management, and project development consultancy to investors. They monitor and optimize 1,600 MW of wind farms, own and operate 370 MW of wind farms in Europe, provide O&M services, and manage more than 1,000 MW of wind power. Steag has extensive experience in Asia in providing development consulting services for many wind farm projects, including procurement support, technical due diligence, and project optimization has been performed.
Steag is a unit that specializes in O&M technical services, Asset Management and project development consultancy to wind energy investors.
Meanwhile, Vu Phong Energy Group is known as Vietnam's top renewable energy firm, with outstanding EPC and O&M general contractor capabilities, having implemented over 1,000 projects, including many factories with hundreds of MW capacity. Vu Phong also has a highly experienced R&D team that has successfully studied and developed many renewable energy equipment items for the market, including solar panel cleaning robots. Furthermore, due to its pioneering participation in renewable energy development (since 2009), Vu Phong Energy Group has a deep understanding of the domestic market and considerable experience working with local partners.
Recognizing the potential of developing the Vietnamese wind power market, Vu Phong Energy Group has planned to collaborate with a unit with worldwide expertise and experience to deliver Asset Management services beginning in 2020. After a period of learning and exchanging, Vu Phong – Steag began officially cooperating in early 2021. As a result, Vu Phong – Steag can be said as the cooperation of expertise, worldwide experience and deep knowledge of the local market. This mix of intelligent digital solutions and high-quality human resources effectively serve Vietnam's wind power investors.
Diversify asset management service packages for wind power investors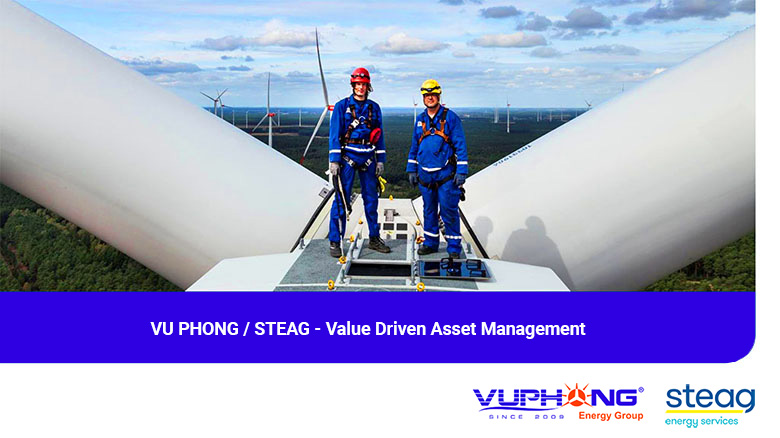 Vu Phong – Steag cooperates to provide diversify Asset Management services for wind farms in Vietnam
Vu Phong Energy Group – Steag has collaboratively developed Asset Management service packages that are most suited to wind power projects in Vietnam, in order to maximize potential, factory production and economic advantages for investors. In particular, Vu Phong – Steag's solution packages are designed not only based on platform expertise and experience in actual operations throughout the world, but also from the perspective of actual investors developing the energy projects.
Specifically, the Asset Management service packages jointly provided by Vu Phong – Steag include:
Asset Monitor packages provide the leveraged asset intelligence platform. The intelligent software system applying AI, Big Data, and Machine Learning algorithms will provide real-time monitoring data of each wind turbine and wind farm, helping investors assess "health condition", the performance of equipment and assets.
Asset Guide packages give advice based on intelligent asset assessment, enabling smart maintenance planning, recommendation of value driven performance improvement measures, ordinary and extraordinary reports. etc.
Asset Pilot packages help intelligent maintenance optimization and steering, asset consulting / contract management.
Asset Management solutions of Vu Phong – Steag can help increase wind farms performance ratios by 4-5 percent, increase annual energy production (AEP) by up to 5 percent, decrease the levelized cost of energy (LCOE), and add value to wind farms. This will serve as motivation for investors to continue investing in the development of renewable energy in Vietnam for the green environment and sustainable growth.
Individuals and businesses interested in Asset Management solutions for wind power projects, please contact Our Call Center at 18007171 or +84 9 1800 7171 or send an email to hello@vuphong.com for more information.
Vũ Phong Energy Group
Read more: