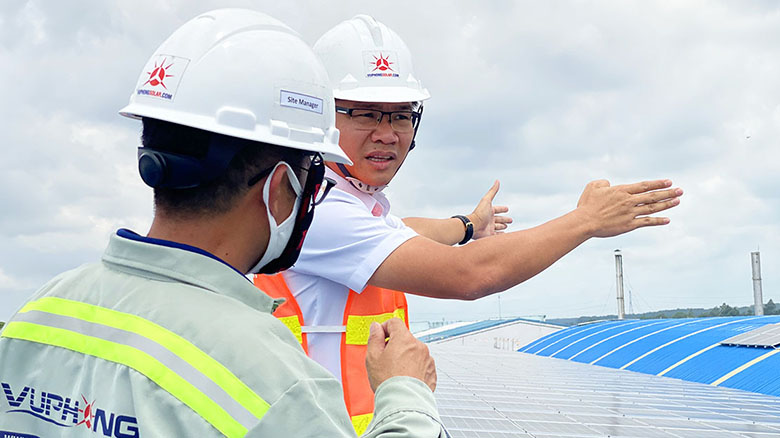 Mr. Phong, Pham Nam was a well-known person in solar power before becoming Chairman of the Board of Directors of C47. He was the founder, Chairman, and CEO of Vu Phong Solar for more than 12 years.
With many discerning investors, Mr. Phong's appearance at C47 in 2020, realized that C47's next new business field would most likely be tied to renewable energy.
On January 3, 2022, the Board of Directors (BOD) of Construction Joint Stock Company 47 (C47) approved the Resolution to collect written shareholder opinions to add 13 business lines, including transmission, and distribution of electricity; electrical works construction; production of concrete and products from concrete, cement, gypsum; exploitation, treatment, and supply of water…
According to C47, with the addition of the industries above, C47 will capitalize on its experience and capabilities in irrigation and hydroelectric power project building, which is the company's remarkable strength after more than 46 years of establishment and development. This is also an excellent opportunity for C47 to anticipate the development of clean energy and renewable energy – a field that is rapidly growing and is prioritized by the State for growth in the global trend, particularly since Vietnam and many other countries are actively implementing solutions aimed at reducing greenhouse gas emissions and neutralizing carbon.
This opportunity will help C47 increase revenue and profit, expand scale and market share, and achieve even greater growth.
Previously, on December 15, 2021, C47 opened up a new field by signing the Memorandum of Understanding (MoU) in cooperation with Vu Phong Energy Group and STEAG Energy Services GmbH (Germany) to provide service for the wind power projects in Vietnam.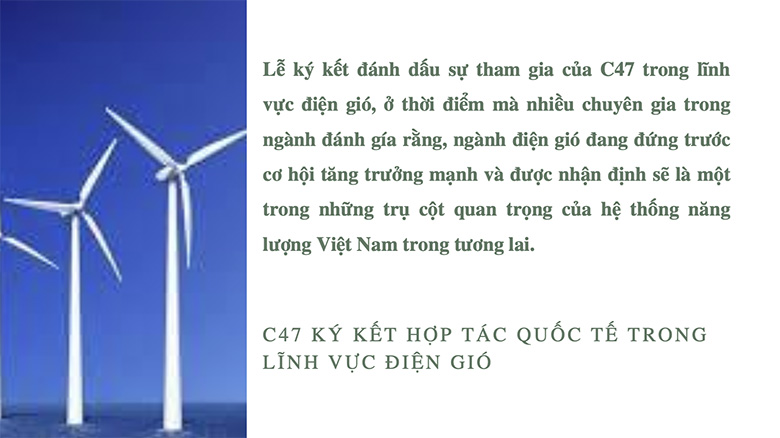 According to the signed agreement, C47, Vu Phong Energy Group, and STEAG will collaborate to provide consulting services for wind power project development and implementation based on promoting and combining the strengths of each side. The collaboration also aims to participate in a portion of the investment in wind power projects in Vietnam.
C47 will expand its business activities in the field of renewable energy while also participating in the construction of gas power plants, the production of concrete and products made from concrete, cement, gypsum…, the supply and construction of traffic infrastructure, urban underground works, and so on.
The synthetic of previous events and information about Vu Phong Group also shows that, when Mr. Phong, Pham Nam has been at C47, there has been come up strong cooperation relationship between the two construction giants. Still, one side is construction and installation irrigation and hydroelectric projects, and the other is renewable energy. And, before the above three-party cooperation agreement, Vu Phong and STEAG signed a cooperation agreement to jointly provide Value-Driven Asset Management service packages (Asset Management) to help in the optimization of the factory's output potential, as well as the maximization of asset value and profit for investors, beginning in early 2021.
Furthermore, Vu Phong Energy Group has the financial capability and considerable experience in the sector of solar and wind power plant EPC and O&M. Vu Phong Group, has many years of experience with a series of big capacity solar power plant projects, has constructed more than 500 MWp, and is now operating and maintaining more than 350 MWp.
C47, a stock exchange-listed firm, is renowned as a corporation with decades of expertise in the field of construction and installation, specializing in the implementation of irrigation and hydropower projects. Over the previous 15 years, the firm has completed more than 30 irrigation and hydropower projects around the country, totaling more than 20,000 billion VND. Several of these projects are national key projects.
So, what made Mr. Phong, Pham Nam, who specialized in renewable energy and built a name for himself with the Vu Phong Group, become Chairman of the Board of C47?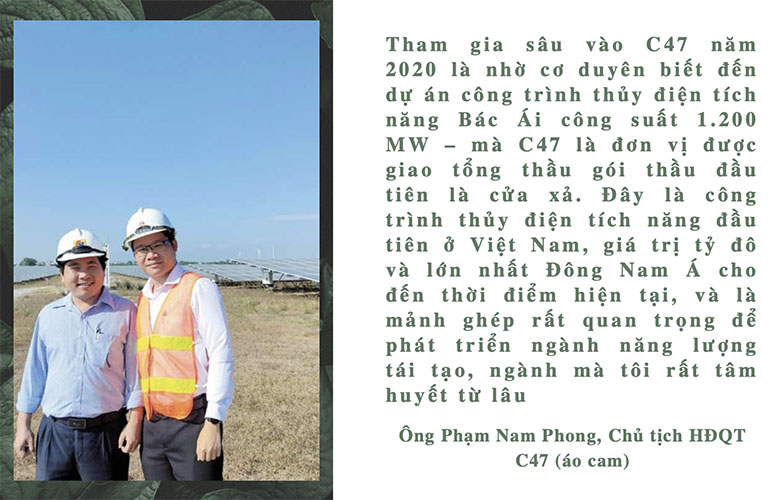 The chairman of C47 shared that he has worked in the construction industry of renewable power projects since very early, and that the construction of solar power plants or hydroelectric power plants is both construction and installation industries, so participating in C47 has many advantages because he has run a construction company for over 13 years.
Many listed and unlisted enterprises participate in the renewable energy sector: Bamboo Capital, Ha Do Group, PC1, TTC,… or REE are examples of powerful units in terms of capital, people resources, and experience in this industry. Mr. Phong, on the other hand, stated that C47 and Vu Phong both have their unique competitive advantages. The two units have capability and experience in renewable energy industries such as hydroelectricity and solar power. In terms of capital, the firm is improving its financial ratios; the issue of the capital increase in 2022 is anticipated to be favorable and will enhance the company's capital capacity.
Currently, Vu Phong Energy Group (VPEG) and C47 have collaborated to participate in a joint venture to implement a number of projects, the leaders of the two parties are now considering other deeper cooperation structures in the near future to promote the strengths of the industry finance, project implementation, and management capacity… of the two parties.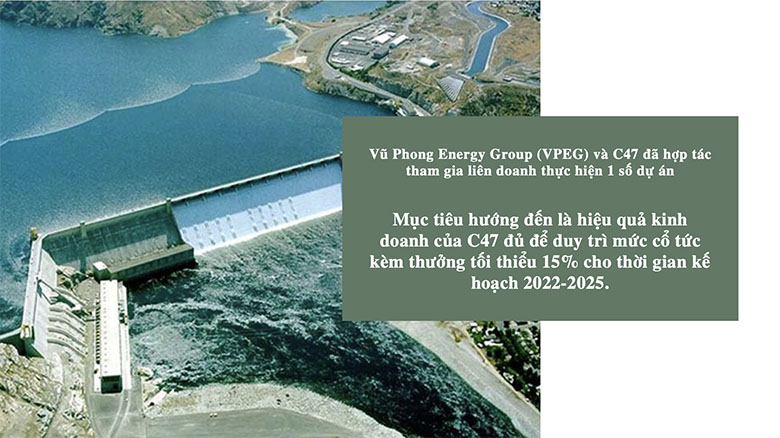 Mr. Phong estimated that 2022 is the peak year for medium-term capital, disbursement of public investment, and C47 would have many great jobs with available preparedness and advantages. Currently, in addition to the value of back-log works in 2021, which has surpassed VND 2,000 billion, the firm is planning to bid and negotiate a workload of more than VND 5,000 billion, and will try to generate sales of more than VND 3,000 billion annually beginning in 2025.
According to the plan, C47 will engage in the construction of hydroelectric projects in Laos and the infrastructure for industrial facilities such as gas power plants, steel plants, airports, and ports. Furthermore, the prefabricated concrete plant will be finished in the first quarter of 2022 and generate revenue in 2022.
*****
Chat with Mr. Phong, Pham Nam – Entrepreneur
What was the most memorable thing for you in Covid 2021?
As an Hai Au hotel in 2021, it is determined not to close a single day, to accompany the locality in fighting the epidemic, serve as a safe epidemic prevention and control staff stay, and serve as a quarantine site for people to return to the locality. Local authorities and well-liked well regard Hai Au Hotel by tourists due to this effort.
What is the most significant transformation of C47 that you are proud of after more than a year as Chairman of the Board of Directors?
Although it only achieved more than 80% of the revenue compared to the plan in 2021, the company exceeded 40% profit compared to the plan thanks to proactively applying ERP to the business, closely monitoring project efficiency on a weekly basis, and reducing costs, even if Hai Au Hotel did not contribute profit to the company in 2021.
C47 completed and handed over various significant projects in 2021, including the Exhaust Gate Project – Phase 1 of the Bac Ai Pumped-Storage Hydropower Project (Ninh Thuan), Da Nhim Hydropower Extension (Lam Dong), and Irrigation Tan My (Ninh Thuan). In the days running up to the Lunar New Year, C47 is hurrying to finish the Dong Mit water reservoir (Dong Mit Irrigation, Binh Dinh) in time for acceptance and usage in the first quarter of 2022.
Furthermore, C47 is carrying out construction projects for the Hoa Binh Hydropower Extension (Hoa Binh), Dong Mit Hydroelectricity (Binh Dinh), the repair and improvement of the safety of the WB8 dam in Lam Dong province (Lam Dong), the Phu Phong weir (Binh Dinh), and the construction of a pipeline to collect wastewater in the Co Co river basin in Da Nang (Da Nang city)…
Managing two large enterprises at the same time, how can you accomplish your role well?
When I assumed Chairman of C47, I resigned from my executive role at Vu Phong to manage both sides. In particular, in August 2021, Vu Phong Energy Group selected a new CEO, Mr. Tri Nguyen Quang, who previously served as the Group's Deputy General Director in charge of Business.
What dreams and ambitions do you have for C47, and what foundation do you have to achieve them?
My goal for C47 is to preserve and promote the C47's strong culture over the next 50 years, approaching a century. Aside from the major revenue-generating industry segments of irrigation, hydroelectricity, hotel, and restaurant services, laboratory services, and motorcycle and equipment overhaul, C47 will increase its market share through infrastructure and heavy industry plants, manufacture prefabricated concrete components for urban undergrounding, and participate in new business segments that are in line with the trend of lowering carbon emissions, such as clean water procurement.
In order to achieve so, I feel that, in addition to existing capacity, human and technological factors are the most significant, and I will devote greater attention to these factors in the next years.
Source: Baodautu.vn