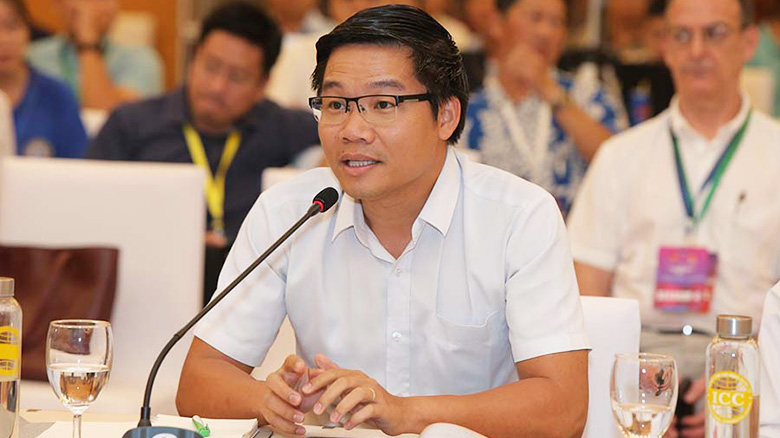 Mr. Phong, Pham Nam, a young engineer, chose to commit and successfully start a business in the field of solar power more than a decade ago, when solar power was still new in Vietnam, missing both technology and market.
Mr. Phong, Pham Nam star having three degrees in Automotive engineering, Quality management, Business administration and marketing, and a stable job.
While having 3 degrees in Automotive engineering, Quality management, Business administration and marketing, Mr. Phong, Pham Nam chose to start-up with the new products.
Mr. Phong, Pham Nam shared with us that he had access to a wealth of information about renewable energy development, particularly solar power, having worked in four big European and American corporations. Recognizing that this is a potential industry in the future, particularly in Vietnam, he was determined to learn deeply related to techniques, equipment systems, installation methods, and operation…
"At the time, disseminating knowledge about solar power was a tough and time-consuming task. Society understood that solar power was a form of installation for off-grid regions such as islands and rural areas. It was an industry with no future because the market was so limited. However, in Europe, solar power is also created for metropolitan regions and delivered to cities with electricity grids," Mr. Phong, Pham Nam remembered.
Vu Phong Solar Power Joint Stock Company (Vu Phong Solar) was established in 2009, and the opportunity to extend the brand was a significant contract to build 14 510W solar power systems (total capacity over 7kW) for the ranger station in Bu Gia Map National Park. The company also makes essential SolarV-branded equipment such as controllers, DC-AC power adapters, and small solar generators for areas without electricity bought and sold by dealers around the country.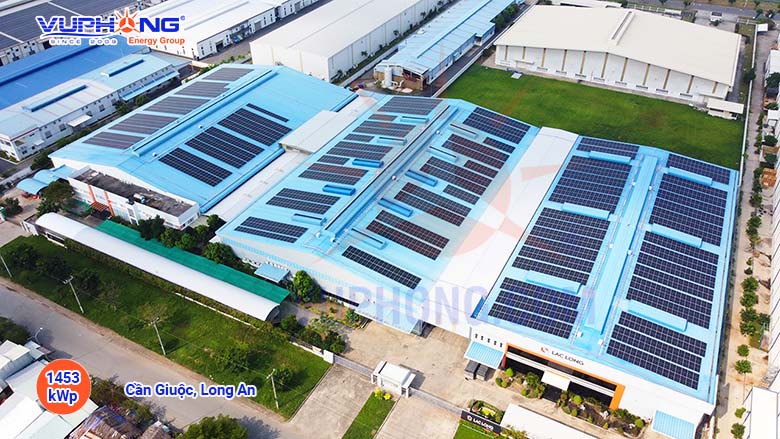 Rooftop solar power system with a capacity of 1,453 kWp installed on the factory roof of Lac Long Company (Can Giuoc, Long An)
Because there is no policy for solar power, the extra energy created by the project had to be wasted for many years because it could not be put on the grid, and the cost of storing electricity at the time was very expensive.
In the first years of business, the solar power market was so limited that even Mr. Phong, Pham Nam, had to consider producing suitcases for trips, charging phones and laptops, and finding new niche markets to sell more products.
"In 2014, we got the opportunity to install a solar power system for a German partner – an electricity expert working in Vung Tau. This is the first grid-connected solar power project, which opens up the construction field for businesses" said Mr. Phong, Pham Nam.
Decisions 11/2017 and 13/2020 encouraging solar power development generated a race for installation in Vietnam. By the end of 2020, the total capacity of solar power in the country will have reached around 19,400 MWp, with hundreds of thousands of major and minor projects grid-connected.
As a result, Vu Phong Solar has grown rapidly in the last three years. Vu Phong Solar Brand emerged as the first Vietnamese private firm to build and transfer to operation the largest-scale solar power plant in Southeast Asia in 2019 – BIM 2 with a capacity of 250 MW – as well as a series of other significant projects such as Dau Tieng, Hong Phong, Mui Ne…
Vu Phong Solar has been renamed Vu Phong Energy Group by 2021 to build a renewable energy ecosystem that includes several new business areas.
Vu Phong Energy Group has handed over a solar power system with a capacity of 2,900 kWp on the roof of Golden Victory Vietnam Co., Ltd.'s shoe factory (Nghia Hung, Nam Dinh), for which Vu Phong is the EPC general contractor. The rooftop solar power system project with a capacity of 1,453 kWp installed on the roof of Lac Long Company's factory (Can Giuoc, Long An) by Vu Phong Energy Group, installed and operated by Vu Phong Energy Group, was excellently honored in Vietnam in two categories of The Asian Power Awards 2021: Solar Power Project of the Year and Environmental Improvement Project of the Year.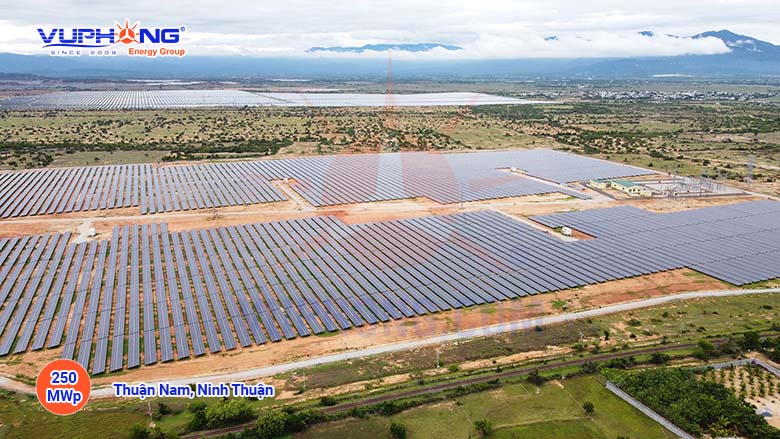 BIM2 Project – Ninh Thuan 250MWp
"We own a member company Vu Phong Tech – a company specialized in researching equipment to operate solar power systems like robots, thermal scanning drones, big data management system, solar farm lawn mowing, this robot is being used in all of Vu Phong Tech's projects. This is a Made in Vietnam product designed entirely by Vietnamese engineers," said Mr. Phong, Pham Nam.
Vu Phong Tech, the subsidiary company of Vu Phong Energy Group has also gained great joy in being issued the Investment Registration Certificate by the Board of Management of Saigon Hi-Tech Park (SHTP) to construct a "Vu Phong Tech Renewable Energy Equipment Manufacturing and Research Center". Vu Phong Tech will concentrate on studying and developing robotic goods, monitoring and data collection equipment, and employing artificial intelligence technology and the Internet of Things (IoT).
Vu Phong Energy is not only quickly growing in solar energy, but it is also attempting to expand in the wind power industry to contribute to the development of clean industry, to reduce emissions to zero by 2050, by the Government of Vietnam's commitment.
Last December 2021, Construction Joint Stock Company 47 (HOSE: C47), Vu Phong Energy Group, and STEAG Energy Services GmbH (Germany) signed the Memorandum of Understanding (MoU) to provide consulting services for the development and implementation of wind power projects in Vietnam.
According to Mr. Phong, Pham Nam, offshore wind power is intimately tied to the security of the sea and islands that spread throughout the country's waters, similar to security radars. The operation and maintenance of these factories must be performed by Vietnamese citizens, and Vietnamese businesses must enhance their capability to international standards.
"Vu Phong Tech is also transferring technologies and operating wind power with a German partner to prepare for offshore wind power operations. We are compelled to train and build an international standard procedure, and this is also a Make in Vietnam story in the wind power business," Mr. Phong said.
Source: Bnews.vn