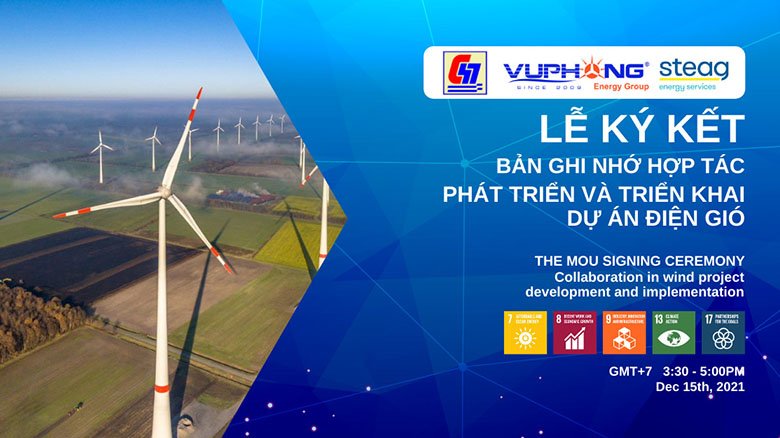 Construction 47 (HOSE: C47) and Vu Phong Energy Group will collaborate with the world's leading energy enterprise, STEAG Energy Services GmbH (Germany), to provide consulting services for the development and implementation of wind power projects in Vietnam, anticipating the development of wind power. The signing ceremony for the Memorandum of Understanding (MoU) has been set for December 15, 2021.
C47 – Vu Phong Energy Group – Steag combines each party's unique advantages, such as Steag's specialized essential and international experience in the field of wind power, as well as Vu Phong and C47's available capacity and knowledge of the domestic market, to provide high-quality services and support for investors throughout the project development process, from planning to operation process.
The collaboration of C47 – Vu Phong – Steag demonstrates C47 and Vu Phong Energy Group's extensive engagement in the field of wind power. Vu Phong – Steag signed a collaboration agreement to deliver Value Driven Asset Management service packages for wind plants in Vietnam from the beginning of 2021.
Wind power is still in the early stage and is identified as one of the most significant factors of Vietnam's energy system in the future. By the end of October 2021, Vietnam's installed capacity of new wind power had reached 3.98 GW, and it is expected to exceed 4 GW by the end of this year. Vietnam has become the leading country in Southeast Asia in terms of installed wind power capacity, and it is anticipated to be in the top ten in the global, ranking second in the Asia-Pacific region in terms of new installed capacity. According to the draft Power Development Planning VIII (PDP8), in November 2021, the installed capacity of onshore wind power will be 17,338 MW, offshore wind power will be 4,000 MW. Another scenario is 10 GW of offshore wind capacity is constructed in 2035, growing to 23 GW in 2040, and reaching 36 GW in 2045.
The international cooperation will allow the Vietnamese wind power market to benefit from the advanced technology and accumulated experience of the world's leading firms, while increasing the industry's localisation rate and self-control. As a result, it will contribute to the long-term development of the energy industry and help Vietnam achieve the energy transition and greenhouse gas emission reduction goals that it committed to at COP26.
The MoU signing ceremony for the cooperation C47 – Vu Phong Energy Group – Steag is scheduled for December 15, 2021 at 15:30 (GMT+7) and will be livestreamed on social networking platforms.
More information:
– Construction Joint Stock Company 47 (C47): https://www.xaydung47.vn/
– STEAG Energy Services GmbH: https://www.steag-energyservices.com/en/
Vũ Phong Energy Group