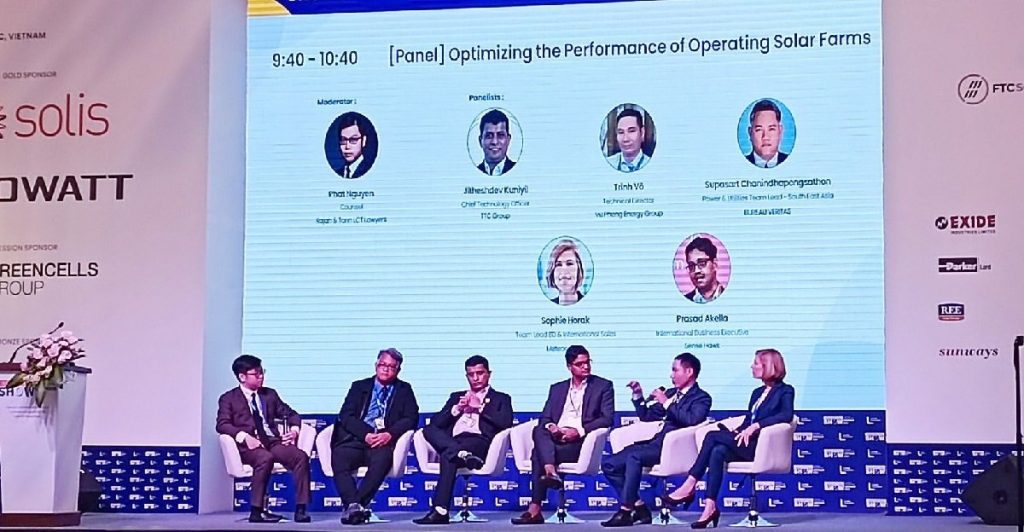 The Solar Show Vietnam 2022, Vietnam's biggest exhibition of renewable energy equipment, was held in Ho Chi Minh City on October 27-28. Mr. Trinh, Vo Xuan, Technical Director of Vu Phong Energy Group, participated in the exhibition with representatives from energy companies such as TTC Group, Bureau Veritas, Meteocontrol, and Sense Hawk, discussing solutions to optimize the performance of operating solar farms.
Mr. Trinh, Vo Xuan shared O&M work for solar power farms at the event. Effective O&M work will help reduce risks during farm operation, detect problems at the earliest and minimize system repair time, allowing the solar power farm to operate stably with high efficiency, improve the Levelized Cost of Energy (LCOE), and improve ROI, bring the highest economic benefits to the investor.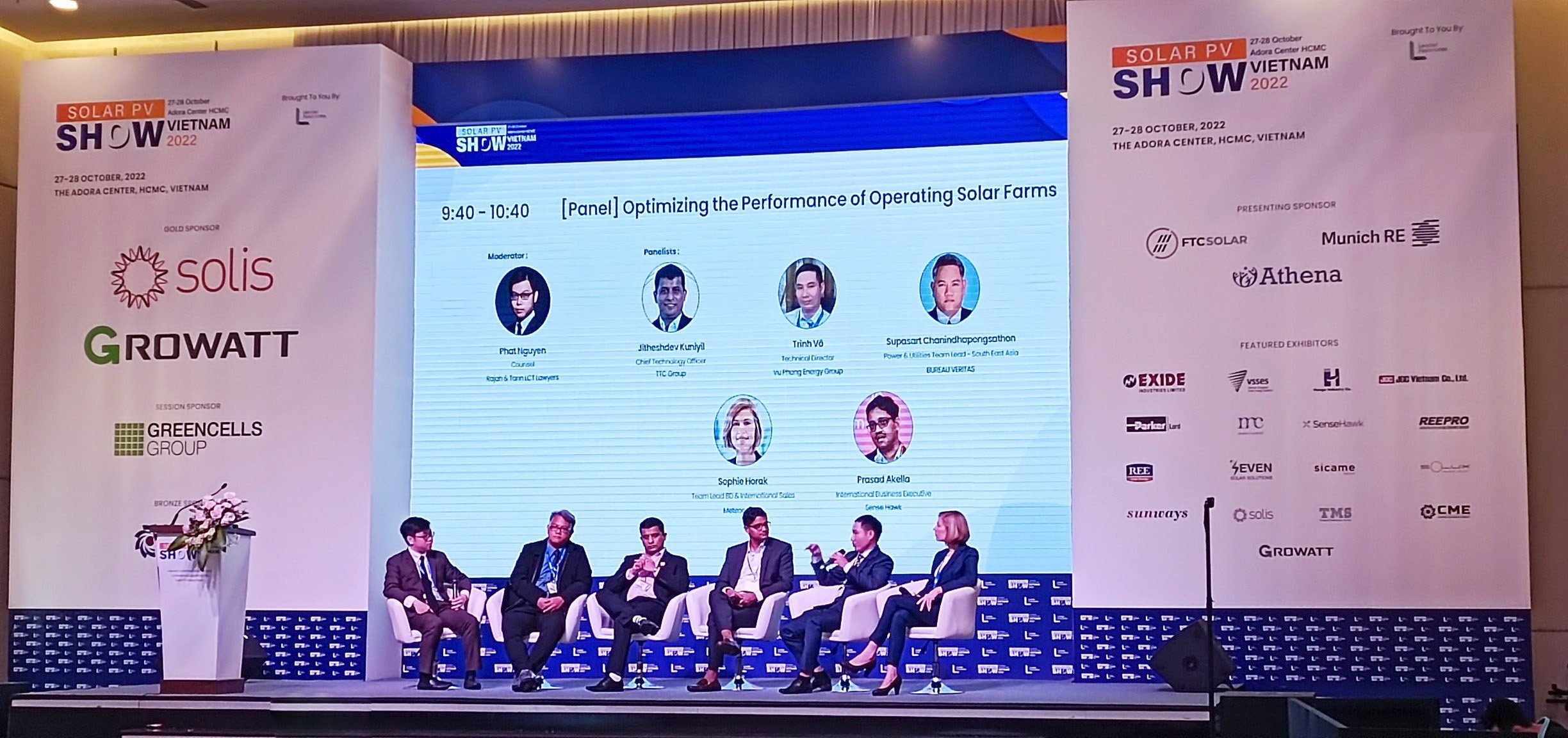 Mr. Trinh, Vo Xuan, Technical Director of Vu Phong Energy Group (second from right), shared at The Solar Show Vietnam 2022
Vu Phong Energy Group organizes quarterly and annual training programs to build a team of quality O&M human resources after the technology is transferred from industry leaders like Bouygues, AC renewable… Vu Phong engineers gradually mastered the technology and built standard procedures thanks to high expertise and an active learning attitude.
Vu Phong Energy Group, in particular, is applying many modern technologies to optimize O&M activities. Vu Phong also researches, designs, manufactures, and uses solar panel cleaning robots to improve hygiene efficiency while using the minimum amount of electrical and water energy during operation.
Thanks to technical mastery and operational flexibility, Vu Phong's O&M work has achieved excellent results each year, with more than 99.9% availability (compared to the target of 97% commitment), even up to 99.99% in 2020 – the performance is among the best in the world, getting praise and rewards from partners and investors.
Vu Phong Energy Group provides asset management solutions (O&M, AM) for solar power farms and O&M service packages for rooftop solar systems (such as factories, buildings, commercial centers, Solar Power and Agricultural Products (APV), etc.). With professional capability and practical experience, Vu Phong is committed to delivering professional and high-quality O&M services for rooftop solar power systems in order to maximize clients' capacity and return on investment.
Vu Phong Energy Group
More information: