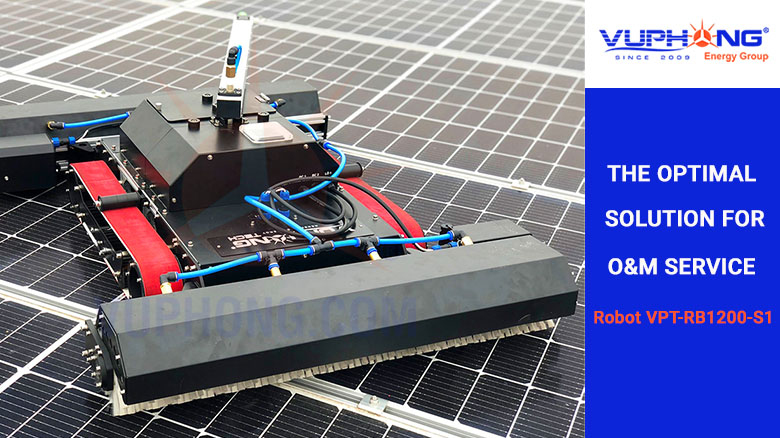 The VPT-RB1200-S1 robot will help to optimize O&M (Operation & Maintenance) service for mini-farm systems such as rooftop solar systems, offices, buildings, commercial centers, Solar Power and Agricultural Products (APV), etc.
Vu Phong Tech, a technology member company of the Vu Phong Energy Group, has researched and developed the VPT-RB1200-S1 solar panel cleaning robot. After three years of research and more than two years of operating on 300 MWp projects, the product has been completed and launched with outstanding advantages.
Advantages solar panel cleaning robot VPT-RB1200-S1
Developing by high experienced engineers in the solar energy industry and have a long time actual operating on many projects, VPT-RB1200-S1 has been optimized to use in the rooftop solar panels in Vietnam with outstanding features:
Better cleaning: With the ability to control the moving direction, rotation speed, and distance between the brush and the panel surface, which qualified to the system structure and dust properties. The robot can spin 360 degrees in situ, and the 1200mm long brush roller with soft, thin rollers rotates at the appropriate speed to clean the panel in a single sweep.
More efficient: High productivity (10.000m2/working shift – 8 hours), reduced water consumption (0.8 ~ 1 Litre/Square metre). The robot cleans in difficult-to-reach areas and can overcome the 400mm gap between panel arrays.
Easier: The robot is controlled from a distance, a better remote control design and interface could make things more efficient for users.
More flexible: Using a module design, which is easy to transport and integrate with a variety of brushes, it could be adapted for a variety of solar systems.
Workforce optimization: The robot can be operated by a single technician.
Safer: The robot can be controlled remotely from up to 200 meters away, making the O&M service safer because they will not have to move as much on the roof, reducing roof damage.
Upgradable: The robot can be upgraded to include IoT access control and drone control; The journey monitoring system and mop area calculation can be integrated by the robot.
The product helps to superior cleaning efficiency and easier operation. It reduces time and labor costs while also assuring worker safety throughout the implementation of O&M services. The VPT-RB1200-S1 robot also adds to the professionalization of O&M operations, improving quality service.
Robot VPT-RB1200-S1
Further information on the robot: https://vuphong.com/solar-panel-cleaning-robot/
Pioneering products, localization of materials and equipment for the renewable energy
The VPT-RB1200-S1 robot is a product 100% "Make in Vietnam", we affirm Vu Phong Tech – Vu Phong Energy Group as a pioneer in producing renewable energy equipment in Vietnam.
Aside from the VPT-RB1200-S1 robot, Vu Phong Tech's engineers are passionate about research, inventiveness, and being proactive in solar power plants O&M. They have researched, designed other solar panel cleaning robots for a variety of solar systems.
Robot VPT-RB2300 and VPT-TRACKER-S2: The product is ideal for solar power plants with one panel structure and one panel tracker system.
Robot VP-DRY4000-S1: The dry-cleaning robot is particularly developed for solar power plants with a two panels structure and two panels tracking system that has non-sticky dry dust (such as dirt caused by dry sand in Ninh Thuan, Binh Thuan, etc.)
Robot VPT-SA800-S3: Semi-automatic robot with a flexible handle suitable for use in solar power systems in tiny areas and difficult-to-clean installation sites, like residential rooftops, etc.
Vu Phong Tech's engineers, in particular, may tailor combinations of robots or upgrades to provide the best product for the customer's demands.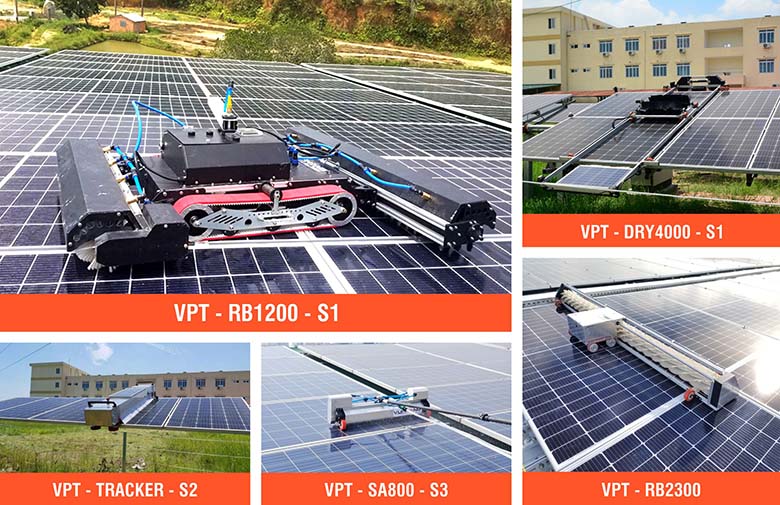 Solar panel cleaning robot – products of Vu Phong Tech
Vu Phong Tech – Vu Phong Energy Group not only offers solar panel cleaning robots but also O&M solution full packages for solar power plants and solar rooftop systems (factory roofs, offices, buildings, commercial center, solar power and agricultural products APV, etc.)
With a high experience of technical engineers' team, as well as with the collaboration and knowledge transfer with major businesses such as Bouygues, AC renewable, etc., Vu Phong tech's O&M service packages will assist enhance the operating efficiency of solar power systems, maximizing returns for investors. In 2020, Vu Phong Tech performed O&M for solar power plants in Ninh Thuan (with a capacity of 250MWp), achieved 99,99% availability (compared to the objective of 97% pledged) – the highest accomplishment in the world.
Individuals and businesses interested in the VPT – RB1200 – S1 solar panel cleaning robot, please contact the Call Center at 18007171 or +84 9 1800 7171 or send an email to hello@vuphong.com for more information.
Vũ Phong Energy Group