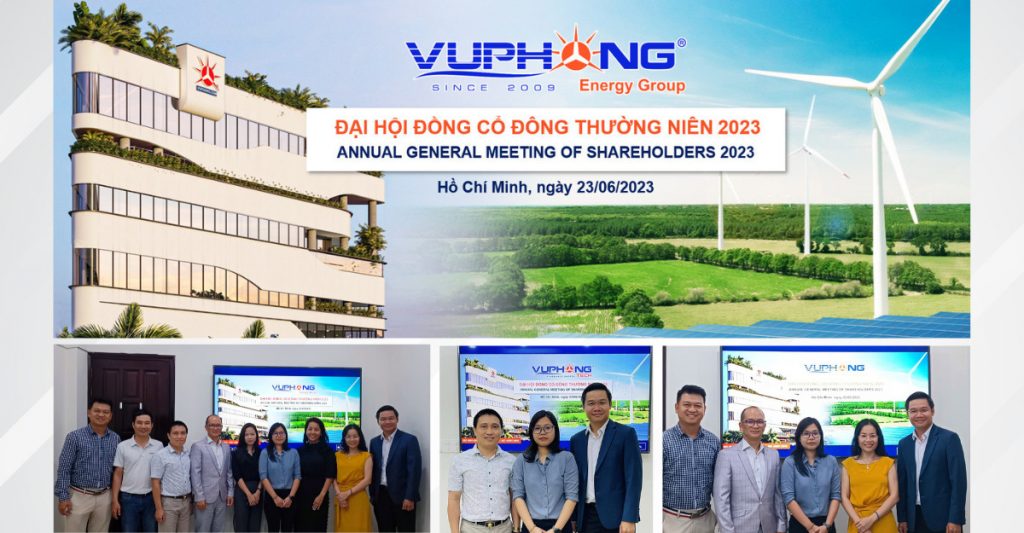 The Annual General Meeting of Shareholders 2023 was successfully held on the afternoon of June 23, 2023, at the representative office at 61 Cao Duc Lan, An Phu Ward, Thu Duc City, Ho Chi Minh City.
The meeting got a report on the Board of Directors' activities in 2022 as well as the operating plan for 2023. It also approved the audited financial report for 2022, and the election of new Board of Directors members for 2023-2028. It also discussed and proposed extending the charter capital increase by offering shares and issuing bonus shares to outstanding leaders and staff for 2023, 2024, and 2025.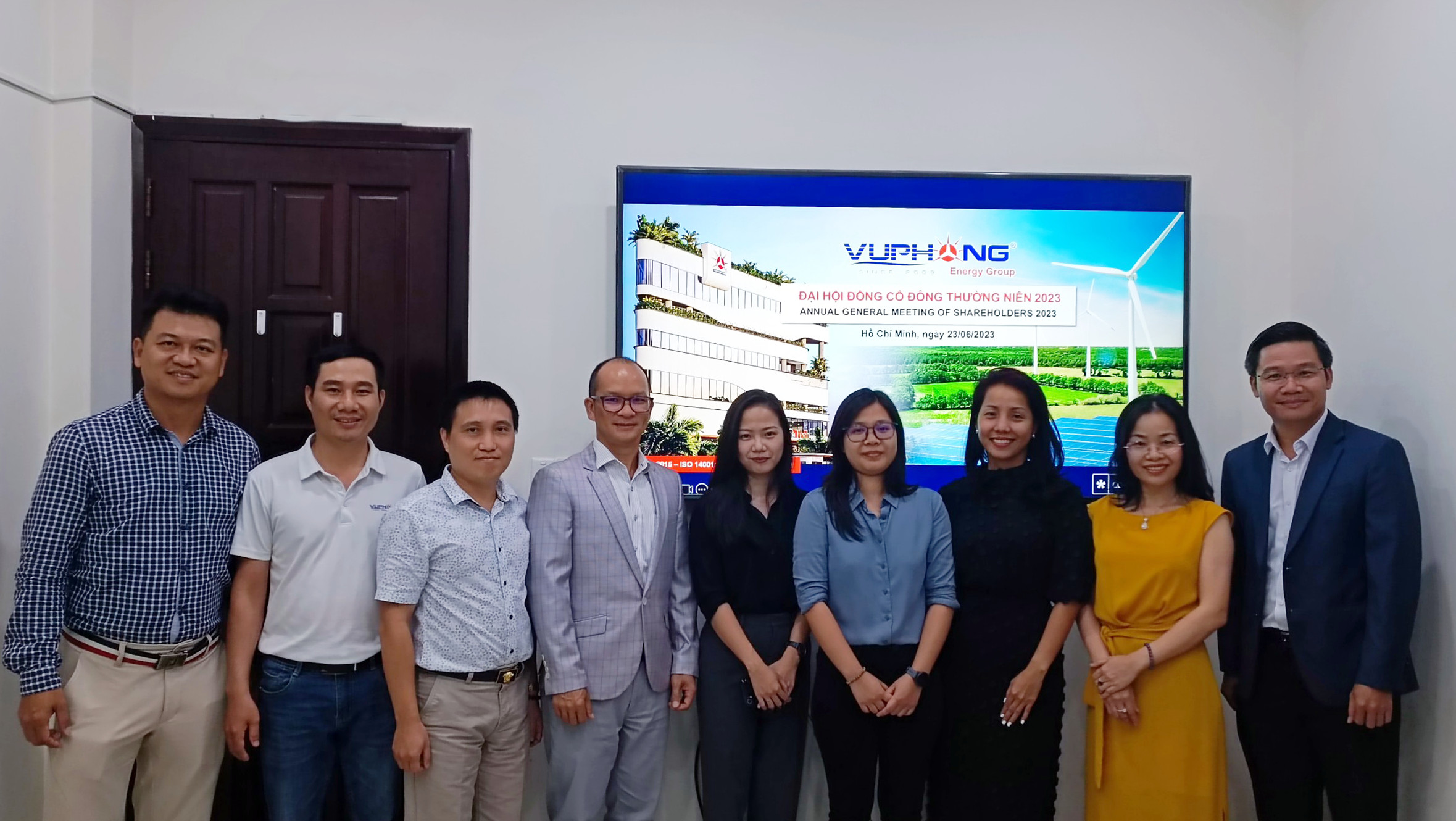 Vu Phong Energy Group's BODs and shareholders
Vu Phong Energy Group has been known as a professional solar power developer and Vietnam's top renewable energy enterprise over more than 14 years of formation and development. Vu Phong has completed and puts 54 MWp of rooftop solar power into operation for businesses in the industrial and commercial sectors, with a further 20 MWp in development. Vu Phong has also engaged in the construction, operation, and maintenance (O&M) of several solar power plant projects totalling 765 MWp.
In 2022, Vu Phong Energy Group's BOD made efforts and directed the Executive Board to focus on developing industrial and commercial projects, particularly through Power Purchase Agreement (PPA) cooperation, in the face of various challenges posed by the general economic situation and the "policy gap" for solar power. As a result, in 2022 and early 2023, Vũ Phong Energy Group completed and transferred several prominent projects, including the Vinamilk Mega project with a capacity of 3.39 MWp, Dalat Worsted Spinning (DWS) with 2.04 MWp, Tetra Pak with 1.23 MWp, Nippon Seiki with 1 MWp,… and is currently implementing a 20 MWp project, including the Hwaseung Enterprise project with a total capacity of 12.5 MWp, Kem Nghia with 2.23 MWp, Duy Tan Plastic with 2.27 MWp, Quang Quan with 3.5 MWp... Vu Phong is also negotiating and finalizing agreements with numerous large Vietnamese businesses to create rooftop solar projects under the PPA model.
In addition to investing in, developing, and providing General Contractor EPC services, operation and maintenance (O&M), and asset management… for clean energy projects, in 2023 and the coming period, Vu Phong Energy Group focuses on the carbon credits and I-REC certificates business areas, advising clients on carbon neutrality, and implementing sustainable management (ESG – Environment, Social, Governance) and the United Nations Sustainable Development Goals (SDGs). This will allow Vu Phong to effectively support business customers in their quest to decrease greenhouse gas emissions, achieve carbon neutrality, and promote sustainable development. Currently, Vu Phong is a pioneering organization assisting Ho Chi Minh City in lowering greenhouse gas emissions, aiming to achieve internal carbon neutrality from 2023 to 2028.
Shareholders appreciated Vu Phong Energy Group's efforts and development at the Annual General Meeting. They expressed their desire to continue supporting and entrusting the Board of Directors and Executive Board with proactive management and operation, therefore contributing to the development of Vu Phong Energy Group and providing concrete advantages to staff members and shareholders.
The Annual General Meeting also approved the election of the Board of Directors for the period 2023-2028 at the meeting. Mr. Phong, Pham Nam, Mr. Tri, Nguyen Quang, Ms. Anh, Chu Thi Tu, Mr. Thanh, Bui Quoc, and Ms. Hong, Pham Thi Bich comprise the Vu Phong Energy Group Board of Directors for the year 2023-2028.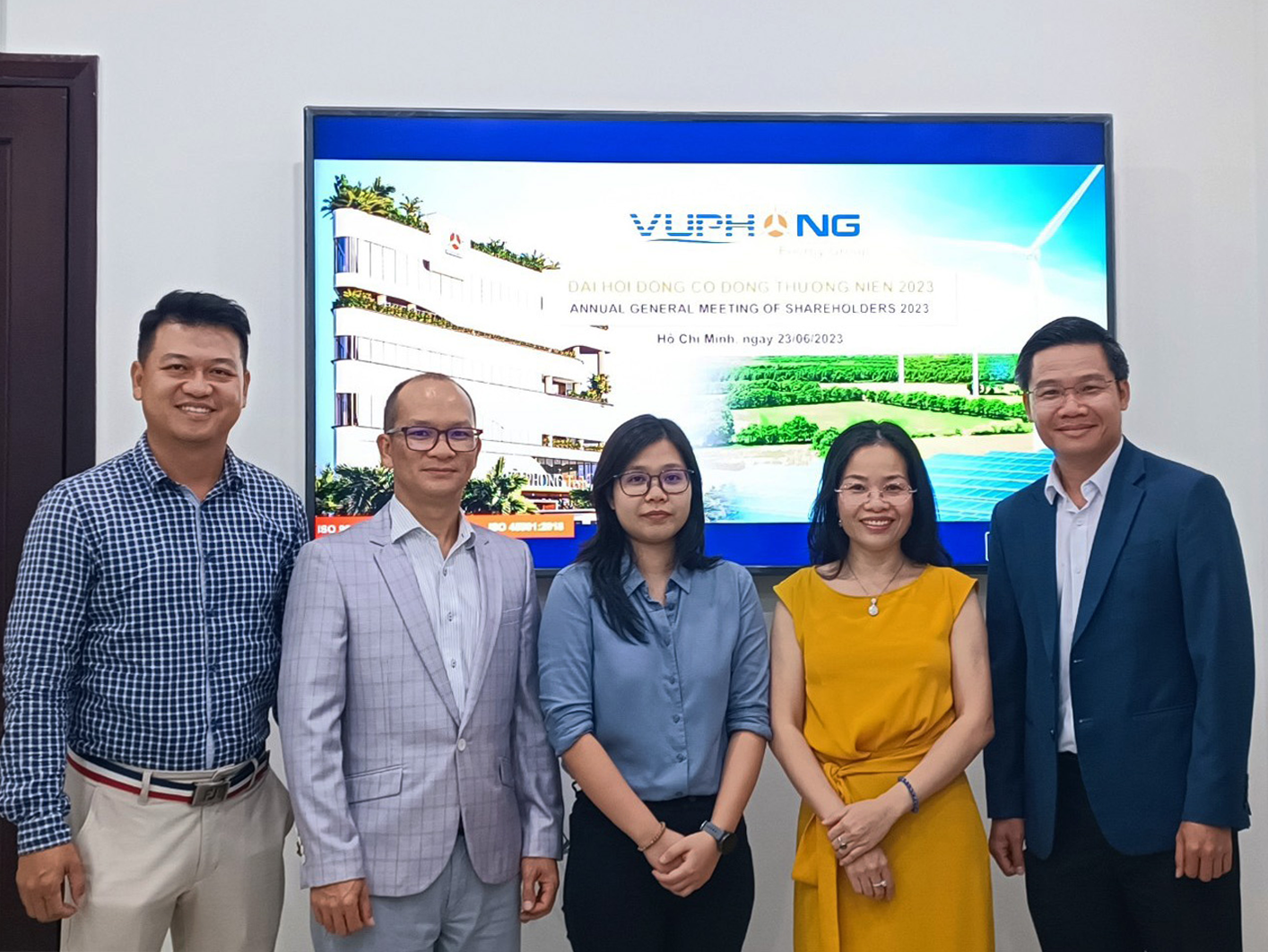 Members of Vu Phong Energy Group's BODs for the term of 2023-2028
Before this, on the morning of June 23, Vu Phong Tech JSC – a member company of Vu Phong Energy Group, contributions from Sharetech, a company specializing in R&D based in Hanoi – successfully conducted the Annual General Meeting of Shareholders 2023. The gathering elected the new Board of Directors for 2023-2028. Following the meeting, the new Board of Directors met for the first time, naming Mr. Phong, Pham Nam as Chairman of the Board, Mr. Tu, Trinh Minh Tuynh as Vice Chairman of the Board, and Ms. Anh, Chu Thi Tu as CEO of Vu Phong Tech.
Vu Phong Energy Group