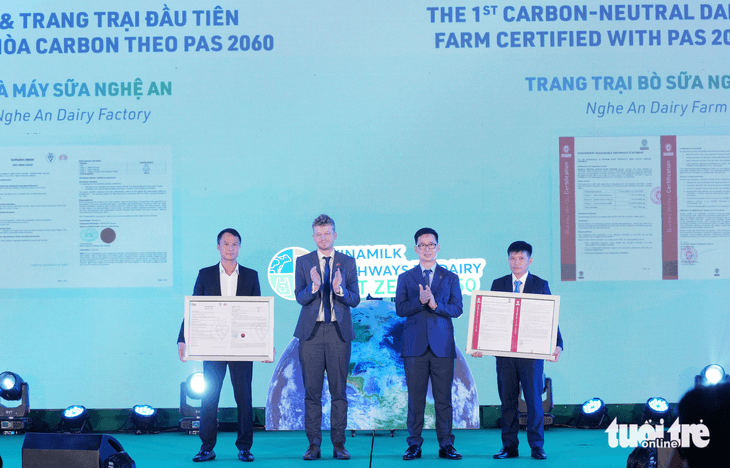 Vinamilk's dairy farm and milk factory in Nghe An has recently received the PAS 2060:2014 Carbon-Neutral certification, making Vinamilk the first dairy company in Vietnam to achieve Carbon-Neutral at both the factory and farm.
The total greenhouse gas emissions neutralized by these two units, according to Vinamilk's report, are equal to 17,560 tons of CO2 (equivalent to nearly 1.7 million trees). This achievement results from a dual plan of action that includes efforts to reduce emissions in production and animal farming and maintain the usage of Vinamilk's green tree fund to absorb greenhouse gases over time.
Reducing greenhouse gas emissions and moving toward Net Zero in the dairy industry is seen as very challenging, particularly for large-scale dairy farms. This goal requires comprehensively implementing investment in technology solutions, a shift to green energy, and circular economy practices …
As a major enterprise with technologically advanced factories, farms, and the daily provision of millions of products, Vinamilk developed an action program focused on four main areas: Sustainable Agriculture, Green Production, Environmentally Friendly Logistics, and Sustainable Consumption. Vinamilk announced the "Vinamilk Pathways to Dairy Net Zero 2050" action program as its approach to Dairy Net Zero 2050. Vinamilk aims to reduce greenhouse gas emissions by 15% by 2027, and 55% by 2035, and ultimately achieve net-zero emissions by 2050 as part of this strategy.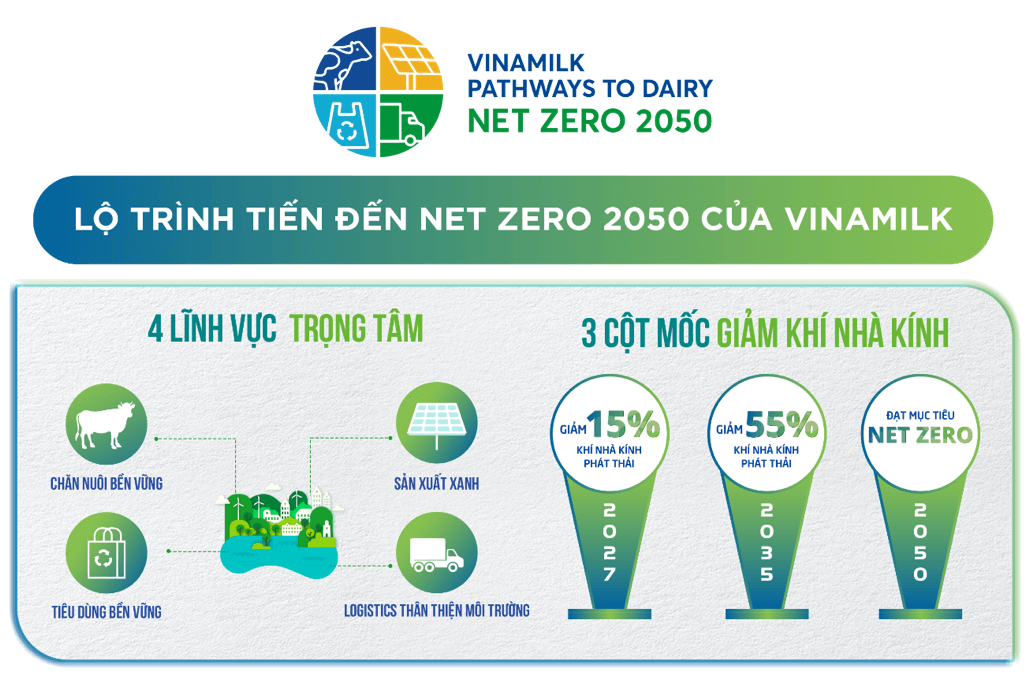 Sharing from Ms. Lien, Mai Kieu – Vinamilk's CEO: "Reflecting on the journey we have taken towards sustainable development, Vinamilk recognizes that this is the right path and has made early decisions accordingly. In addition to demonstrating the company's commitment to the community and the people of Vietnam, Vinamilk hopes to strongly convey positive messages to the business community and collaborate with the government on the Net Zero mission – a journey towards a greener and more sustainable future for ourselves and future generations."
Currently, 13 Vinamilk farms and 10 factories have completed solar energy systems, promoting green energy sources like as biomass (at the factories) and biogas (at the farms). Vinamilk has also made significant investments in developing dairy farm models such as Green Farm, which follow sustainable agriculture's goals. The factories have undergone significant transformations to reduce emissions, implementing technological advances and early adoption of circular economy practices.
Vinamilk Mega factory's solar power system
The solar power system at the Vinamilk Dairy Factory is one of the newest solar systems installed in Vinamilk's factory chain. The system employs 7,542 high-efficiency solar panels, 27 110 kW inverters with auxiliary frames, and conductors with a high design endurance of over 30 years. With a capacity of 3,394 MWp, the system can generate over 5.5 million kWh of electricity annually to support the factory's production activities. This project, provided by Vu Phong Energy Group as a General Contractor (EPC) and Operation & Maintenance (O&M) service, has been operational since 2022.
Previously, in 2020, Vu Phong Energy Group installed a solar power system at Vinamilk's Vietnam Beverage Factory, which is in My Phuoc 2 Industrial Park, Ben Cat, Binh Duong. The system has a capacity of 1 MWp and employs 2,210 solar panels and 12 75 kW SMA (Germany) inverters.
Vinamilk is a Vietnamese business that has made important contributions to the development of the dairy industry, with the goal of reaching Net Zero by 2050. Vinamilk has been publishing sustainability reports based on international standards since 2012. From 2022 to 2026, one of Vinamilk's four strategy pillars will be sustainable development. Vinamilk is also the first dairy business in Vietnam to engage in the global dairy industry's Net Zero initiative (Pathways to Dairy Net Zero), which was founded by the International Dairy Federation (IDF), the Dairy Sustainability Framework (DSF), the Global Dairy Platform,…
According to representatives from the British Standards Institution (BSI), the certification body for Carbon-Neutral of Vinamilk's Nghe An Dairy Factory, by conducting accurate greenhouse gas inventories and developing emission reduction pathways from an early stage, Vinamilk will soon have more units achieving Carbon-Neutral in the near future.
As a leading professional solar power developer and renewable energy enterprise in Vietnam, Vu Phong Energy Group accompanies businesses on the journey of green production and sustainable development:
A flexible cooperation PPA (Power Purchase Agreement) model as a solar power project developer, particularly with the participation of many reputable international and domestic investment funds – enables enterprises to utilize clean energy without paying investment costs.
Professional EPC contractor services are provided by a team of highly specialized and experienced design engineers; construction engineers who strictly comply with design drawings standards, adhere to international technical standards and use carefully chosen genuine materials.
Optimizing systems with high-quality operation and maintenance (O&M) services shows capacity via years of practical O&M at large-scale solar power plants and hundreds of rooftop systems for manufacturing enterprises.
Moreover, Vu Phong Energy Group accompanies customers in their journey toward sustainable development by offering media assistance and being available to give SDG-ESG advice
Businesses interested in clean energy solutions, please contact Our Call Center via 1800 7171 or +84 9 1800 7171 or send an email to hello@vuphong.com for more information.