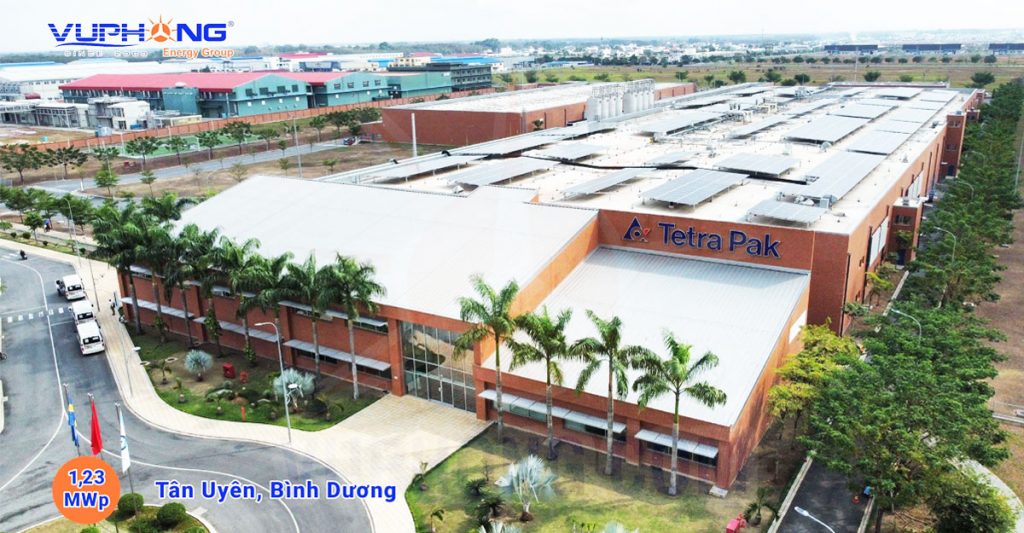 Tetra Pak achieved an 84% renewable energy consumption rate in 2022 with 8.47 MW of solar power installed throughout their operations. Tetra Pak is taking another step in using renewable energy, reducing greenhouse gas emissions, and minimizing their carbon footprint in production operations by operating a 1.23 MWp solar power system on the roof of their factory in Binh Duong at the beginning of 2023.
After 6 months of development, the 1.23 MWp solar power system at Tetra Pak's beverage carton manufacturing factory in Binh Duong was placed into service. Tetra Pak self-invested in this project, with BayWa r.e. as the EPC contractor and Vu Phong Energy Group as the construction contractor providing operation and maintenance (O&M) services.
With a capacity of 1.23 MWp, the system can create roughly 1,900 MWh of solar power each year, assisting in the reduction of around 1,300 tons of CO2 emissions per year. This is crucial for Tetra Pak's commitment to attaining 100% renewable energy by 2030 when they joined the RE100 initiative 2016. According to Tetra Pak's 2022 Sustainable Development Report, solar power capacity at Tetra Pak's factories expanded from 5.55 MW in 2021 to 8.47 MW in 2022, with renewable energy consumption exceeding 84%. Tetra Pak also aims to reduce greenhouse gas emissions from their operational activities to "0" by 2030 and achieve zero emissions throughout their value chain by 2050.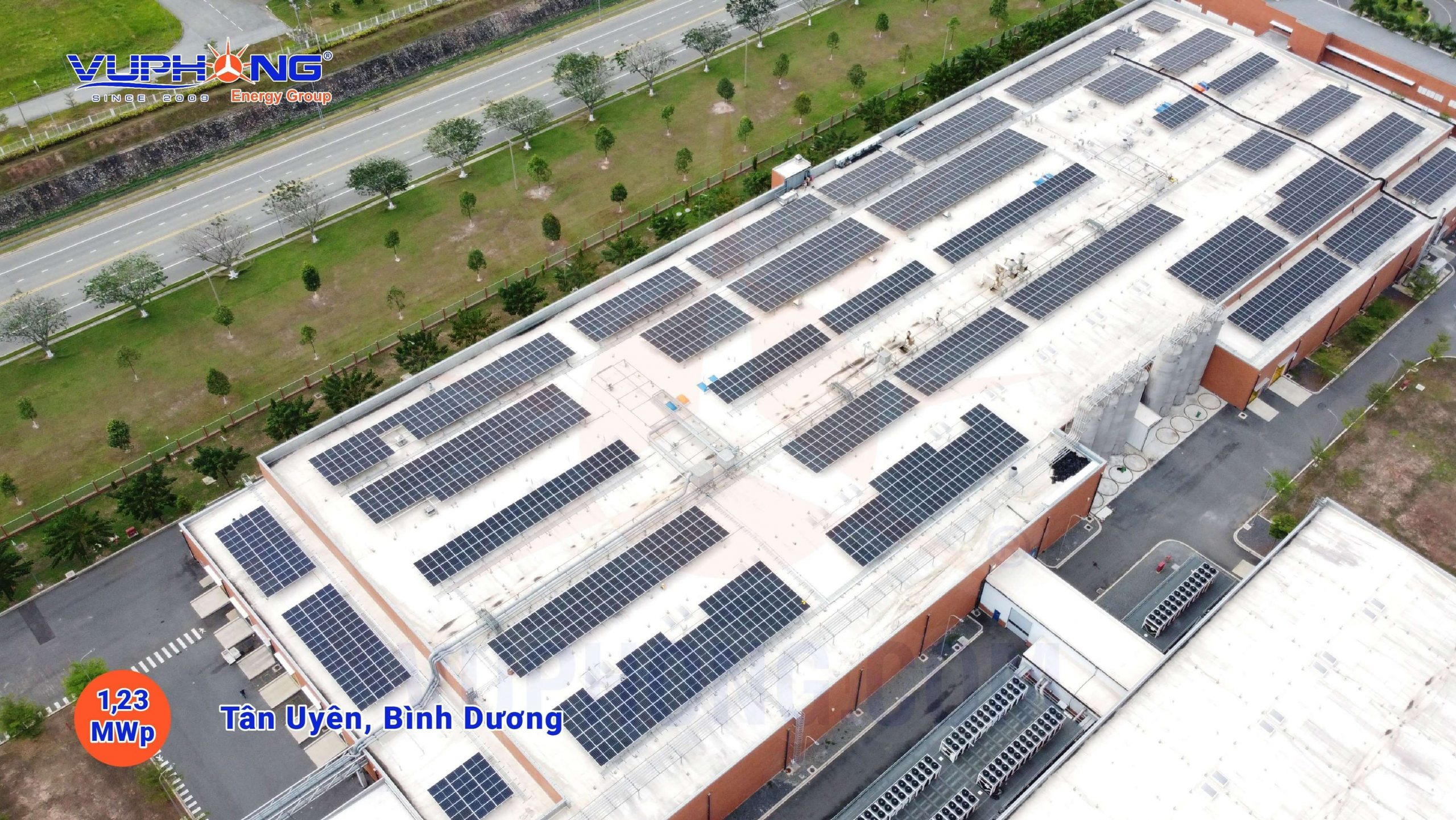 The system uses 2,272 high-efficiency solar panels and 10 inverters with capacity 100 kW
The installation of solar panels on the factory roof is part of Tetra Pak Vietnam's commitment to minimize emissions, according to Mr. Eliseo Barcas, General Director. This demonstrates Tetra Pak's commitment to sustainable development and helps food and beverage manufacturers improve sustainability when utilizing Tetra Pak's paper carton products.
To monitor and optimize energy consumption, the Tetra Pak factory in Binh Duong is also investigating and implementing the Common Energy Monitoring Platform (CEMP). In the long term, this will assist the company in reducing wasteful energy usage and improving energy efficiency.
Tetra Pak's factory in Binh Duong is the company's eighth in the Asia-Pacific region. It was established in mid-2019 and started operations, specializing in producing sterilized paper cartons for the local market and exporting to ASEAN nations, Australia, and New Zealand. Since 2020, the Tetra Pak Binh Duong factory has had the international LEED (Leadership in Energy and Environmental Design) Version 4 Gold Certification, a globally recognized symbol of sustainability achievement. By applying LEED, the factory has made a significant impact in sustainability by saving 2 million liters of water per year, reusing or recycling 90 percent of generated waste and offsetting 4,000 tons of carbon dioxide emissions per year. At the beginning of 2023, the Tetra Pak Binh Duong factory was the first and only one of 82 packaging facilities in Vietnam to achieve the BRCGS certification with grade AA+ the highest grade in the quality management system issued by the British Retail Consortium.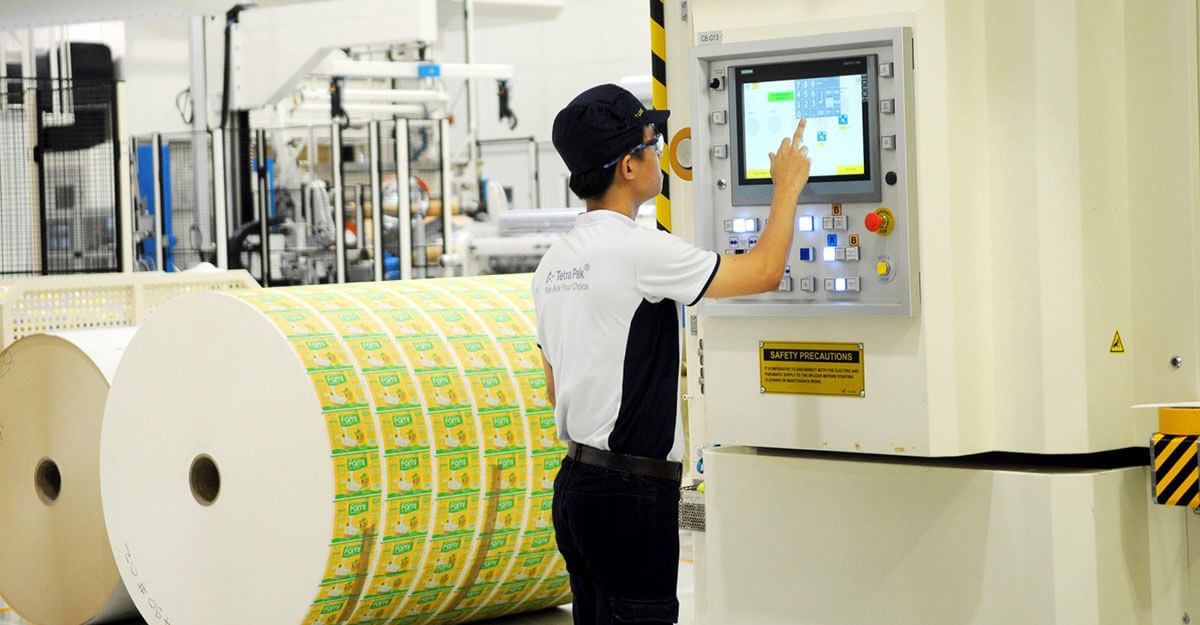 The Tetra Pak factory in Binh Duong has achieved LEED Version 4 Gold Certification and is the first packaging factory in Vietnam to achieve the BRCGS certification with grade AA+
It can be said that with the investment in solar power usage at the Tetra Pak factory in Binh Duong, Tetra Pak is taking another step towards realizing their commitment to 100% renewable energy and the goal of achieving "zero" greenhouse gas emissions from operational activities, as well as in their overall sustainable development journey.
As a leading professional solar power developer and renewable energy enterprise in Vietnam, Vu Phong Energy Group accompanies businesses on the journey of green production and sustainable development:
A flexible cooperation PPA (Power Purchase Agreement) model as a solar power project developer, particularly with the participation of many reputable international and domestic investment funds – enables enterprises to utilize clean energy without paying investment costs.
Professional EPC contractor services are provided by a team of highly specialized and experienced design engineers; construction engineers who strictly comply with design drawings standards, adhere to international technical standards and use carefully chosen genuine materials.
Optimizing systems with high-quality operation and maintenance (O&M) services shows capacity via years of practical O&M at large-scale solar power plants and hundreds of rooftop systems for manufacturing enterprises.
Moreover, Vu Phong Energy Group accompanies customers in their journey toward sustainable development by offering media assistance and being available to give SDG-ESG advice
Businesses interested in clean energy solutions, please contact Our Call Center via 1800 7171 or +84 9 1800 7171 or send an email to hello@vuphong.com for more information.
Vu Phong Energy Group