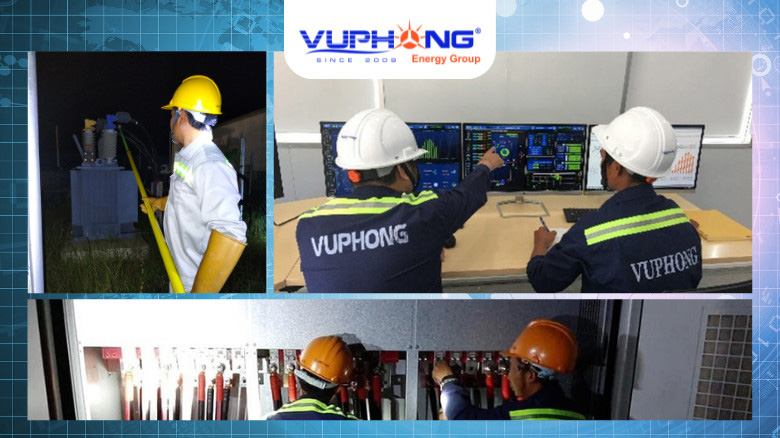 Through initiative and professionalism, engineers from Vu Phong Tech – Vu Phong Energy Group gradually mastered the technology and consistently achieved excellent results in the operation and maintenance of the BIM 2 Solar Power Plant (Thuan Nam, Ninh Thuan).
BIM 2 solar power plant with a capacity of 250 MWp is part of a Green Economic Complex developed by BIM Group in Ninh Thuan with a total investment of VND 12,000 billion. This was one of the first and largest solar power plants in Vietnam when it went into operation in April 2019.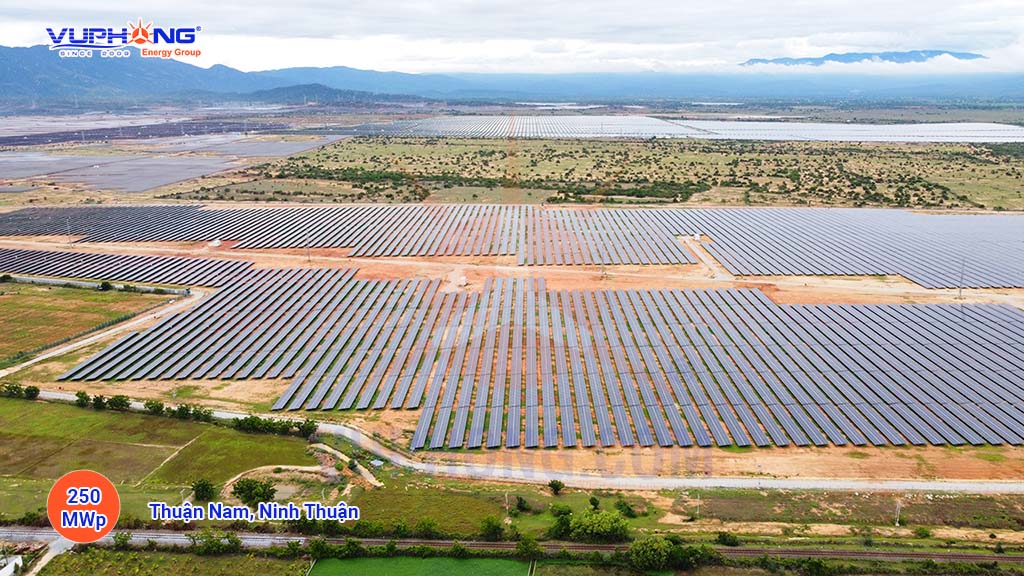 BIM 2 solar power plant is one of Vietnam's first and largest solar power plants
After participating in the construction of the plant's power plant, Vu Phong Energy Group was trusted, trained, and transferred by Bouygues Energies & Services (the part of Bouygues Group, France) the project's main contractor. Vu Phong Tech – Vu Phong Energy Group is now in charge of O&M for the BIM 2 (250 MWp) and expanded BIM 2 (75 MWp) solar power plant cluster.
Vu Phong Tech – Vu Phong Energy Group has gradually mastered technology and perfected its standard process via cooperation and technology transfer with leading enterprises such as Bouygues, AC renewable… and a team of highly qualified engineers and a proactive spirit of learning. Vu Phong's engineering team has built a statistical table of hundreds of common errors encountered during operation and proposed the most efficient solution and process to overcome them and optimize plant operations.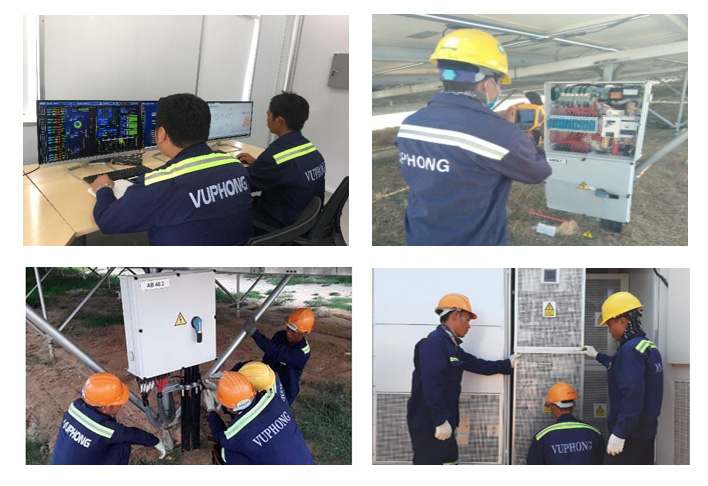 O&M activities at Solar Farm
In particular, Vu Phong Tech – Vu Phong Energy Group is using many modern technologies to assist and optimize O&M activities, such as data collecting technology by ATS for the entire solar power plant (electrical parameters, plant incidents, factory weather …). Vu Phong also researches, designs, manufactures, and uses solar panel cleaning robots to enhance cleaning efficiency and minimize electricity and water use during operation. Thermal scanning for panel faults; general inspection of the factory's situation, such as internal roads, drainage ditches, grass and trees climbing batteries… were carried out by drones, resulting in extremely high efficiency while optimizing human resources for implementation.
Thanks to the mastering the technology & flexibility in operations, Vu Phong's O&M work has achieved excellent results every year, receiving praise and rewards from partners and investors. Professional O&M enables the BIM 2 Solar Power Plant to operate with more than 99.9 percent availability (compared to the committed target of 97 percent), and even up to 99.99 percent in 2020 – a world-class performance.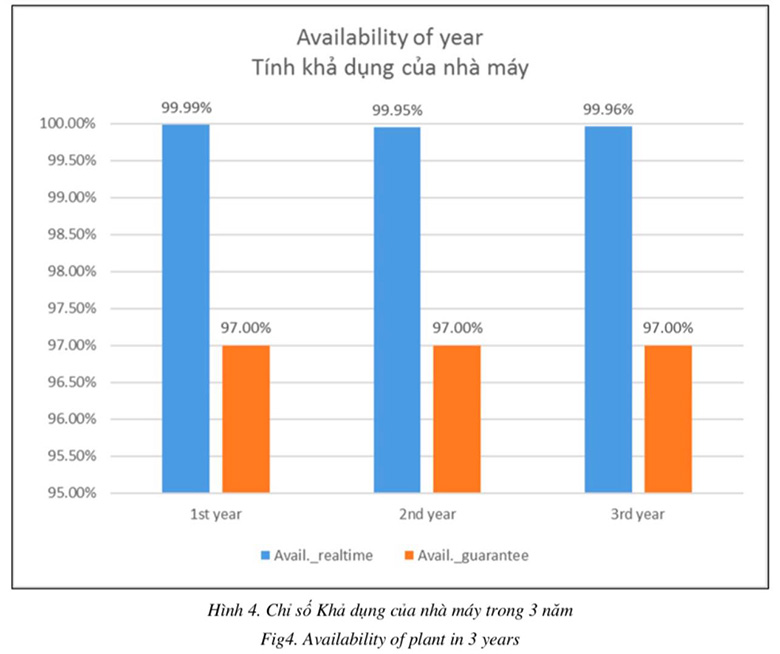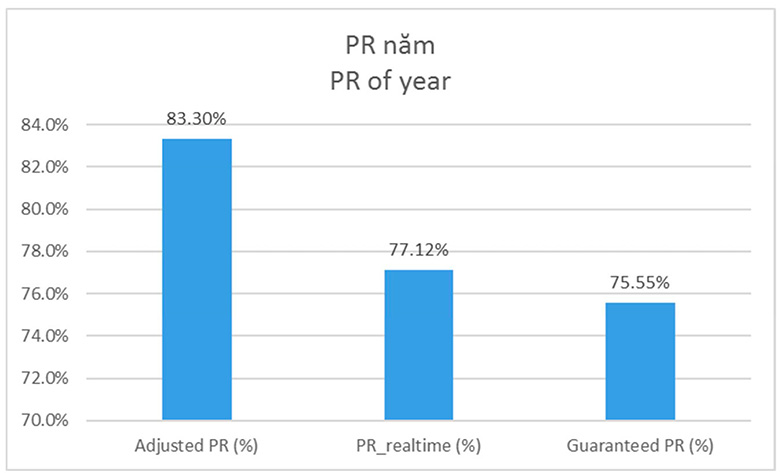 Results of 3-year availability rate and performance ratio (PR) indexes in the 3rd year of operation of BIM 2 solar farm.
Effective O&M will help to reduce risks during plant operation, detect problems as soon as they occur, and reduce system repair time. Consequently, the solar power plant will operate consistently and efficiently, improving the Levelized Cost of Energy (LCOE), improving ROI, and providing the highest economic benefits to the investor.
Furthermore, by mastering the process and technology, Vu Phong can actively train and build a team of local engineers for the maintenance and operation of solar power plants, thereby creating more jobs with high income and contributing to the achievement of the United Nations' Sustainable Development Goals (SDGs) – that Vu Phong pursues: Goal 7 – Affordable and clean energy, Goal 8 – Decent work and economic growth.
Mr. Phong, Pham Nam – Chairman of the Board of Directors of Vu Phong Energy Group thanked the operation team for continuously making improvements, on the BIM2 Solar Power Plant's 3rd anniversary and honoring the plant's O&M achievements, with the participation of the Board of Directors, Directors Managing of Vu Phong Energy Group, Vu Phong Tech, a partner from Bouygues Energies & Services, and a group of engineers.  He also expressed his sincere gratitude to the customers and partners who had put their trust in Vu Phong and accompanied us on the journey to "Develop clean energy for the green environment and sustainable development."
Vu Phong Energy Group