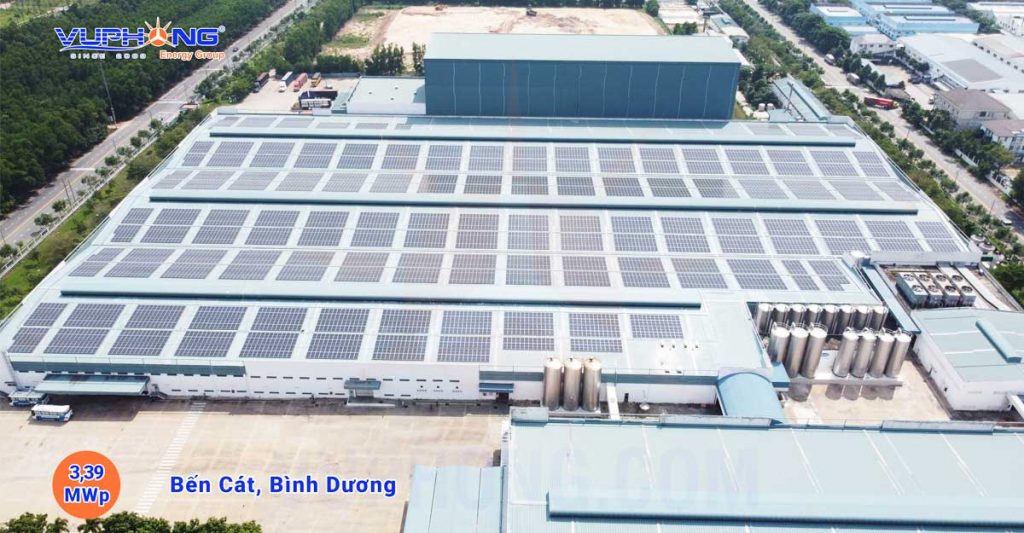 Solar power system with a capacity of 3,39 MWp, using 7,542 high-efficiency solar panels and 27 110 kW inverters, installed at Vietnam Dairy Factory – the most modern mega factory in Vietnam and the area, with the most modern integrated and automatic technology in the world.
Vinamilk is known as a strong and typical national brand, with a success story derived from methodical investment and pioneering the dairy industry. Vinamilk is not only the top dairy enterprise in Vietnam and the area; this enterprise has also had a significant impact on the worldwide dairy industry, ranking among the Top 40 largest dairy enterprises in the world in terms of revenue. According to Brand Finance's annual report "Food and beverage" 2022, the Vinamilk brand is worth 2.8 billion USD and has risen to the top of the global dairy industry's most potential brands list.
Vinamilk's story is also a recent pioneering sustainable development journey. Knowing that sustainable development is a journey and an irreversible trend, Vinamilk has been methodically and synchronously implementing solutions such as emission management, greenhouse gas neutrality, land resource management, water sources, biodiversity conservation, and so on. In addition, use green energy sources like solar energy, biomass, CNG,… as part of the development journey to actualize Vinamilk's emphasis on sustainable energy. Vinamilk has now installed solar power systems at all of its dairy farms as well as its beverage and dairy food manufacturing facilities.
With a capacity of 3,39 MWp, the solar power system at Vietnam Dairy Factory is one of the most recent solar power systems installed in the beverage processing plant chain and Vinamilk's dairy foods. The system employs 7,542 high-efficiency solar panels, 27 110 kW inverters with auxiliary frames, and conductors with a high design endurance of over 30 years.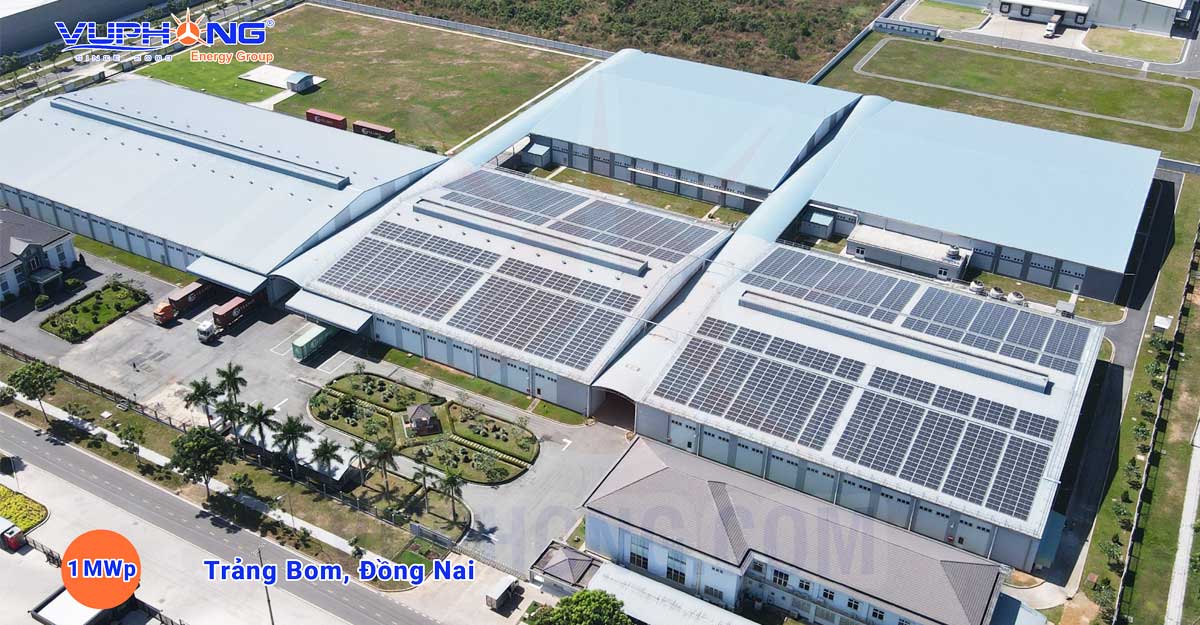 Solar power system at Vietnam Dairy Factory was developed by TotalEnergies and Vu Phong Energy Group is the General Contractor (EPC)
Vietnam Dairy Factory, with a total investment of more than VND 4,100 billion, is referred to as a mega factory – due to modern automatic technology, an extremely large capacity of 800 million liters/year (about 2.2 million liters/day), and a capacity that will soon be increased to more than 1 billion liters of milk/year. The solar power system provides clean energy to the factory's production activities.
According to Ms. Lien, Mai Kieu, Member of the Board of Directors and General Director of Vinamilk, the installation of solar panels at factories and Vinamilk's dairy farm is part of Vinamilk's green and renewable energy solutions, which are in line with Vinamilk's sustainable development strategy to contribute to global climate change mitigation.
Previously, in 2020, Vu Phong Energy Group installed a solar power system at Vinamilk's Vietnam Beverage Factory, which is located in My Phuoc 2 Industrial Park, Ben Cat, Binh Duong. The system has a capacity of 1 MWp and employs 2,210 solar panels and 12 75 kW SMA (Germany) inverters.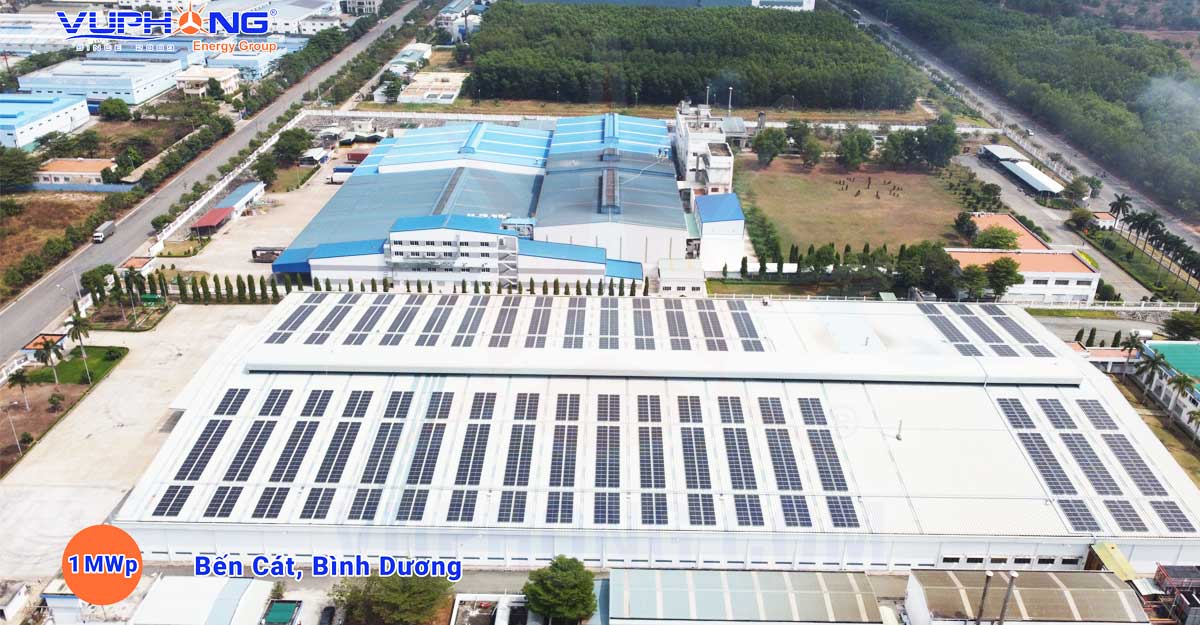 Solar energy at Vietnam Beverage Factory was installed by Vu Phong Energy Group
According to Vinamilk's Sustainable Development Report 2021, which will be released in April 2022, solar energy systems installed in 13 farms with a total capacity of 54 MWp help to reduce 62,341 tons of CO2 per year, which is equivalent to planting 3.4 million trees. Solar power systems at the headquarters and ten factories, with a total capacity of 18.55 MWp, help reduce more than 22,578 tons of CO2 per year, the equivalent of planting 1.2 million trees. These are impressive results in the journey of greening and sustainable development of a manufacturing enterprise, which not only helps businesses significantly reduce energy costs but also contributes to reducing CO2 into the environment and joining Vietnam on the journey to "Net Zero" in terms of greenhouse gas emissions.
Vinamilk has earned many awards for sustainable development due to methodical investment and implementation. Vinamilk was recently honored in two major categories at the Global CSR & ESG Summit and Awards 2022: "Leading enterprises in CSR and ESG" and "Excellent/typical CSR enterprises of Vietnam." (*)
Vietnam has committed to achieving "Net Zero" emissions by 2050. It is necessary to collaborate with enterprises to reach this goal. This motivates businesses to focus on developing sustainable development strategies that promote Environmental, Social, and Governance – ESG elements.
(*) Temporary translation of "Doanh nghiệp dẫn đầu CSR và ESG" và "Doanh nghiệp CSR xuất sắc/tiêu biểu của Việt Nam".
Businesses interested in clean energy solutions to greening production, towards sustainable development, please contact Our Call Center via 1800 7171 or +84 9 1800 7171 or send an email to hello@vuphong.com for more information.
More information:
Vu Phong Energy Group