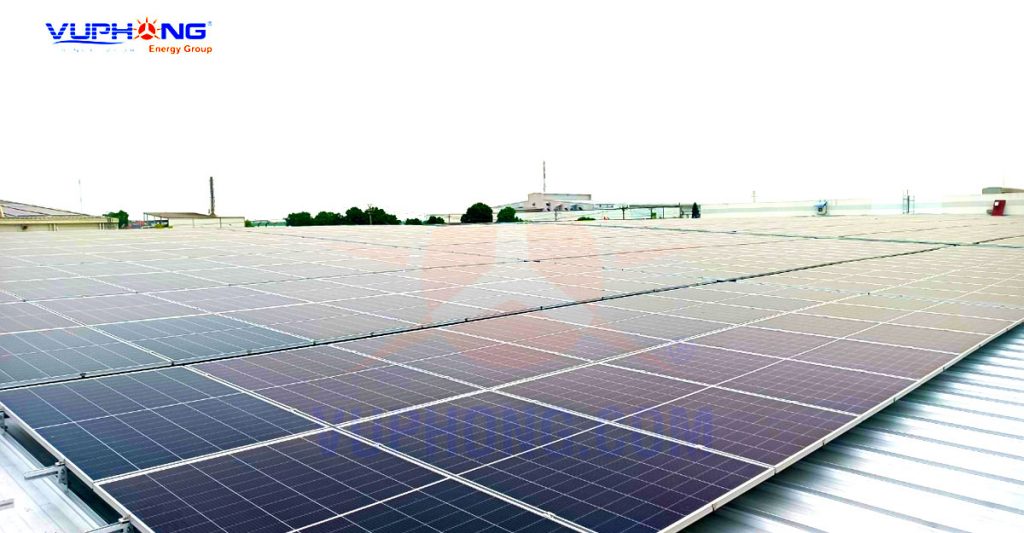 As an EPC General Contractor, Vu Phong Energy Group installed a 1 MWp solar power system on the roof of Vietnam Nippon Seiki's factory at Noi Bai Industrial Park (Soc Son, Hanoi). The project was successfully finished and transferred to Vietnam Nippon Seiki.
Vietnam Nippon Seiki Co., Ltd is a Nippon Seiki (Japan) subsidiary. With nearly 80 years of development, Nippon Seiki Co., Ltd, founded in 1946 in Nagaoka, Niigata province, has become one of the largest manufacturers of measuring equipment in the land of the rising sun and a leading supplier to the world's automotive and motorcycle industries. Nippon Seiki specializes in providing products such as interior equipment, office automation equipment, LCD, factory equipment, touch devices… in addition to display products such as Meters – speed, fuel, warning, safety assistance… for motorcycles and automobiles. This corporation has over 26 manufacturing facilities in more than ten nations worldwide, including the United States, Brazil, Mexico, the United Kingdom, India, China…
Nippon Seiki Co., Ltd. has two subsidiaries in Vietnam: Vietnam Nippon Seiki and Da Nang Nippon Seiki… Vietnam Nippon Seiki was founded in 2007, with a factory in Noi Bai Industrial Park (Hanoi), specialising in the manufacture of speedometers, speed sensors, and motorcycle fuel sensors. Nippon Seiki Vietnam now has a significant share of the market in Vietnam for motorcycle speedometers, serving as the main supplier to leading brands such as Honda, Yamaha, Piaggio, Suzuki,… Moreover, Vietnam Nippon Seiki's products are exported to countries in and outside the ASEAN region.
In the general direction of the Nippon Seiki Group's ESG practice and towards sustainable values according to the United Nations Sustainable Development Goals (SDGs), including SDG7 on energy, Vietnam Nippon Seiki has proactively invested in a solar power system on the roof of their factory to use renewable energy sources for production activities. To install a 1 MWp solar power system for Vietnam Nippon Seiki, Vu Phong Energy Group used 1,667 Canadian solar energy panels 600W and 8 SMA Sunny Tripower CORE 2 inverters with a capacity of 110 kW – a line of inverters from SMA, the world's leading inverter brand from Germany.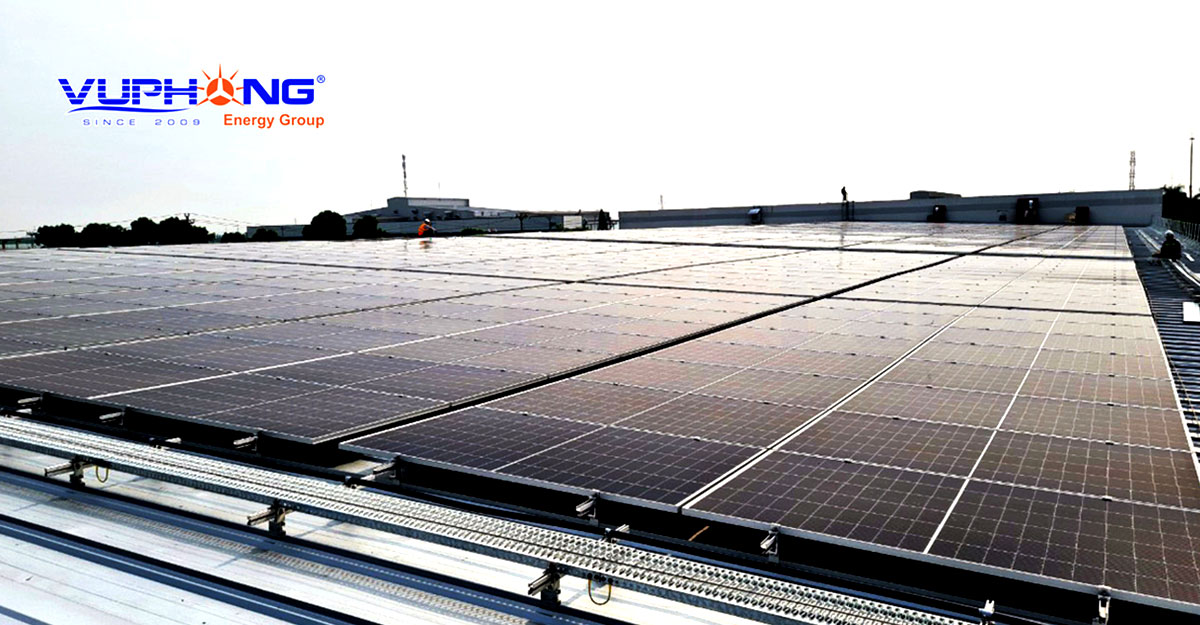 The project utilizes 1,667 solar panels with a capacity of 600W, installed to high technical standards with high aesthetic.
According to Mr. Tri, Nguyen Quang, CEO of Vu Phong Energy Group, to accompany Vietnam Nippon Seiki on its journey of greening manufacturing, the Vu Phong engineering team designed and installed a system strictly complies with international standards while also optimizing aesthetics. The system has been successfully transferred to Vietnam Nippon Seiki and runs stably with high efficiency.
With a capacity of 1 MWp, this system can generate over 1,400 MWh of solar power annually, reducing emissions by more than 940 tons of CO2 per year. Using solar power not only helps Vietnam Nippon Seiki reduce emissions and practice ESG, as well as efforts towards the SDG targets, but also saves energy costs every month throughout the system's lifetime. This will help the company proactively avoid energy cost risks in the future whenever electricity prices rise. In the form of self-production and self-consumption of electricity, these PPA solar power systems produce and use their electricity, they do not place a strain on the power transmission – distribution grid system. Meanwhile, they contribute positively to Vietnam's energy transition and efforts to reduce greenhouse gas emissions, aiming to reach net zero emissions by 2050 as Vietnam committed at COP26.
Greening production and reducing emissions is a global trend that is progressively becoming a mandatory requirement for enterprises all over the globe. Many international and Vietnamese businesses strive to reduce emissions and greening the whole supply chain.

As a pioneer in the solar power field since 2009, Vu Phong Energy Group, a leading renewable energy enterprise in Vietnam, is being chosen by many businesses to accompany them on the journey to green production with:

– Professional and high-quality EPC General Contractor services for manufacturing enterprises investing in their solar power system.

– Flexible cooperation in PPA (Power Purchase Agreement) model – a solution allowing enterprises to use clean energy for production activities without initial capital investment, just by taking advantage of the idle factory roof.

Businesses interested in the clean energy solutions, please contact Our Call Center via 1800 7171 or +84 9 1800 7171 or send an email to hello@vuphong.com for more information.
Read more