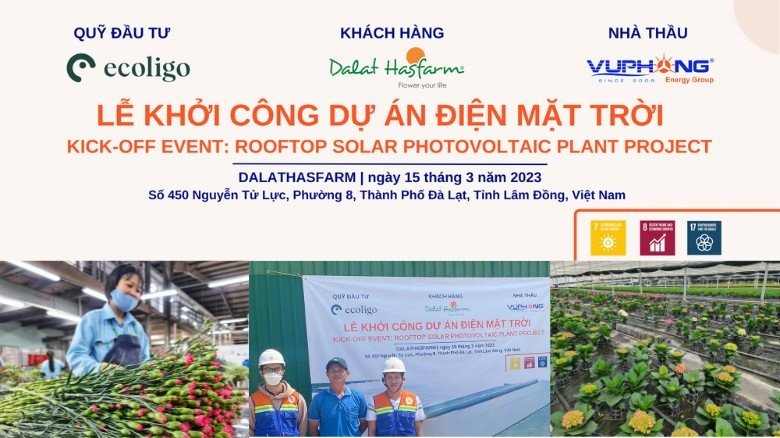 Dalat Hasfarm is taking a new step toward sustainable development by using clean energy from solar power – the PPA (Power Purchase Agreement) model invested in by ecoligo Fund (Germany), developed and provided EPC contracting services by Vu Phong Energy Group. The project's kick-off ceremony was held on March 15, 2023.
Dalat Hasfarm is well-known in Asia-Pacific as a leading high-quality fresh flower brand. From one hectare of roses and one-hectare Vietnamese zinnias grown in simple bamboo greenhouses in 1994 to owning four high-tech greenhouse farms with closed processes in Dalat, Da Quy – Xuan Tho, Da Ron – Don Duong, and Phuc Tho – Lam Ha, totalling over 400 hectares. Dalat Hasfarm has successfully introduced the "Made in Vietnam" fresh flower export brand to the worldwide market, providing secure employment for over 4,000 local people. Dalat Hasfarm exports fresh flowers (mostly to Japan, but also to Taiwan, New Zealand, Russia…) and sells them domestically yearly, with an annual turnover of around USD 100 million. Dalat Hasfarm now operates 22 high-end retail flower shops across Vietnam.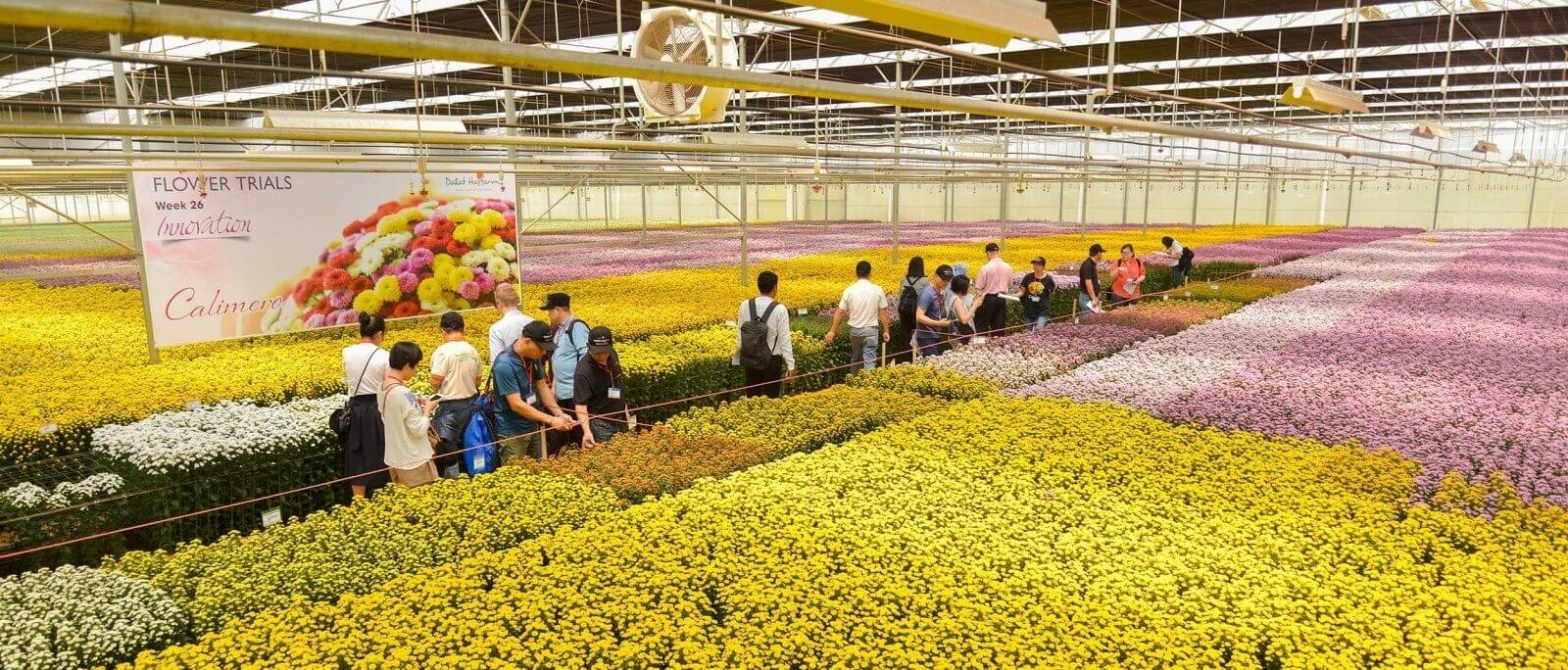 Dalat Hasfarm – the leading high-quality fresh flower brand in the Asia-Pacific region (Photo: Dalat Hasfarm)
Not only a large-scale fresh flower farm with modern European-standard production lines and technology, which produces various high-quality and durable fresh flower products, Dalat Hasfarm is also associated with sustainable development since it was the leading brand to successfully build a green, clean and sustainable organic agricultural model. Sustainable development has become one of Dalat Hasfarm's four distinguishing points, along with Innovation, High Technology, Sustainable Development, and Consumer Orientation. Many sustainable development solutions, such as organic waste recycling, energy-saving LED lighting systems, water treatment and reuse processes to save water resources in flower production, and Bio Pro technology, which uses beneficial insects, natural enemies, and biological fungi instead of chemical pesticides to protect human health and the environment, have been successfully implemented by Dalat Hasfarm. Utilizing clean solar energy will be a new milestone in Dalat Hasfarm's journey toward sustainable development.
The rooftop solar power system will be developed at Dalat Hasfarm's farm in Da Lat City during phase 1. The system will be developed using the PPA (Power Purchase Agreement) model, with investment by the ecoligo Fund (Germany) and EPC services provided by V Phong Energy Group. Dalat Hasfarm may utilize solar power at a low cost since it does not have to invest in installing and operating the system. Solar power not only helps sustainable development practices but also greatly reduces Dalat Hasfarm's energy costs during the contract term. The entire solar power system may be transferred to Dalat Hasfarm free of charge at the end of the contract, with a pledge of above 80-90% system efficiency, depending on the conditions.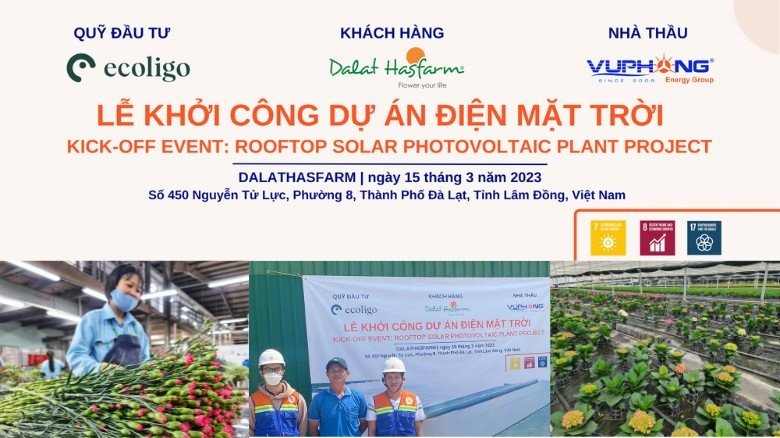 Phase 1, the rooftop solar power system will be developed on a Dalat Hasfarm's farm in Dalat
According to Mr. Tri, Nguyen Quang, CEO of Vu Phong Energy Group, the best companion of sustainable development for businesses has always been the goal of Vu Phong Energy Group. Vu Phong is now accompanying many significant enterprises in Vietnam on their journey to sustainable development, including Vinamilk, Duy Tan, and Kem Nghia… After the project kick-off ceremony, Vu Phong Energy Group will rapidly deploy to operate and transfer the system, allowing Dalat Hasfarm to begin using green energy for its fresh flower production activities.
Dalat Hasfarm was one of the first foreign investors in Lam Dong province and is now the foreign-invested enterprise in the area with the most employees. Along with Dalat Hasfarm and ecoligo in this project, Vu Phong Energy Group believes that the parties' cooperation will not only aim for Goal 7 – Affordable and clean energy but will also contribute to the achievement of many other United Nations Sustainable Development Goals (SDGs), particularly Goal 8 – Decent work and economic growth and Goal 17 – Partnerships for the goals.
Vu Phong Energy Group, a pioneer in the solar energy industry since 2009, is currently a professional solar developer and leading renewable energy enterprise in Vietnam.
Vu Phong Energy Group is trusted and chosen by many significant businesses to accompany them on their journey to green manufacturing and sustainable development because of the following:
A flexible cooperation model as a solar power project developer, particularly with the participation of many reputable international and domestic investment funds – enables enterprises to utilize clean energy without paying investment costs.
Professional EPC contractor services are provided by a team of highly specialized and experienced design engineers; construction engineers who strictly comply with design drawings standards, adhere to international technical standards and use carefully chosen genuine materials.
Optimizing systems with high-quality operation and maintenance (O&M) services shows capacity via years of practical O&M at large-scale solar power plants and hundreds of rooftop systems for manufacturing enterprises.
Moreover, Vu Phong Energy Group accompanies customers in their journey toward sustainable development by offering media assistance and being available to give SDG-ESG advice.
Businesses interested in the clean energy solutions, please contact Our Call Center via 1800 7171 or +84 9 1800 7171 or send an email to hello@vuphong.com for more information.
Vu Phong Energy Group