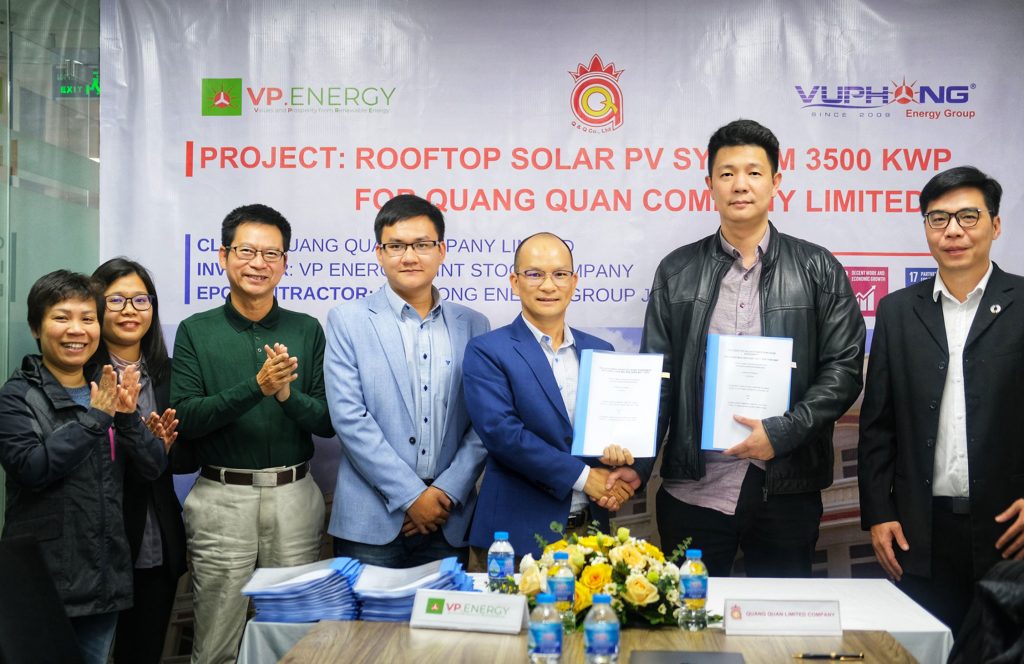 Three solar power systems totalling 3,500 kWp will be installed on Quang Quan Co., Ltd.'s plastic factory chain. The Power Purchase Agreement (PPA) cooperation model will be used to develop the project, with VP Energy as the investor, Vu Phong Energy Group as the General Contractor – EPC, and Quang Quan as the system user. The signing ceremony for the cooperation took place on the afternoon of February 16, 2023.
Vu Phong Energy Group will develop three solar power systems in three Quang Quan factories, including two in Dong Van 1 Industrial Zone (Duy Tien, Ha Nam) and one in Tu Ha Industrial Cluster, according to the cooperation agreement (Huong Tra, Thua Thien Hue). Three of the seven plastic factories stretch from north to south through Quang Quan.
The solar power systems, with a total capacity of 3,500 kWp, would greatly reduce Quang Quan's electricity expenses for production operations and will proactively avoid future energy cost risks when electricity costs increase (recently, the electricity price framework has been adjusted and retail electricity prices are expected to increase in 2023). Moreover, using clean energy helps Quang Quan meet environmental goals since green production and consumption is a global trend, with more and more enterprises choosing sustainable development. This is particularly significant given that Quang Quan is a large-scale plastic enterprise with 26 years of expertise, a solid national market, and a vision of becoming a major partner for enterprises with packaging needs both domestically and internationally.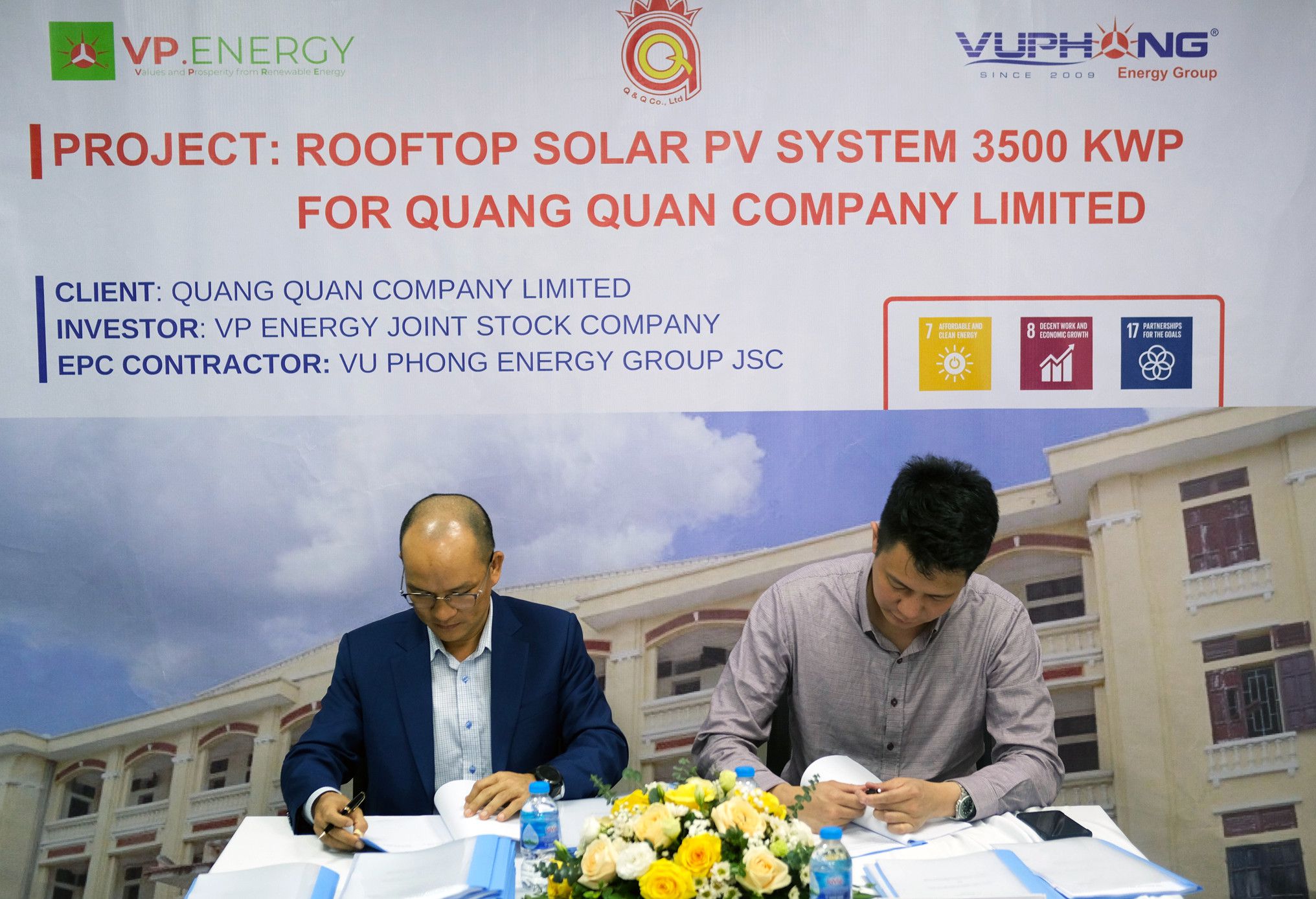 Mr. Tri, Nguyen Quang – CEO of Vu Phong Energy Group, Director of VP Energy and Mr. Quang, Nguyen Thanh – Deputy Director of Quang Quan Company – jointly signed a to develop a 3,500 kWp solar power system project
The Power Purchase Agreement (PPA) model allows Quang Quan to use clean energy without investing in developing a solar power system by utilizing idle factory roofs. These systems will be invested in by VP Energy, a subsidiary of Vu Phong Energy Group, which is renowned as a leading professional solar investment and development unit in Vietnam, with reputable individual and institutional investors both nationally and internationally. VP Energy completed and transferred over 25,000 kWp and is currently developing a series of rooftop solar projects for enterprises around the nation.
Mr. Tri, Nguyen Quang, CEO of Vu Phong Energy Group, expressed his delight at the signing ceremony that more and more large businesses, such as Quang Quan Company, are interested in renewable energy, clean energy, and choose to use solar power as a solution to green production processes, resulting in more environmentally friendly products. Vu Phong Energy Group, with the expertise and experience of a leading renewable energy enterprise in Vietnam, commits to accompanying Quang Quan, as well as customers and partners, on a sustainable development journey to jointly develop and provide value to the community.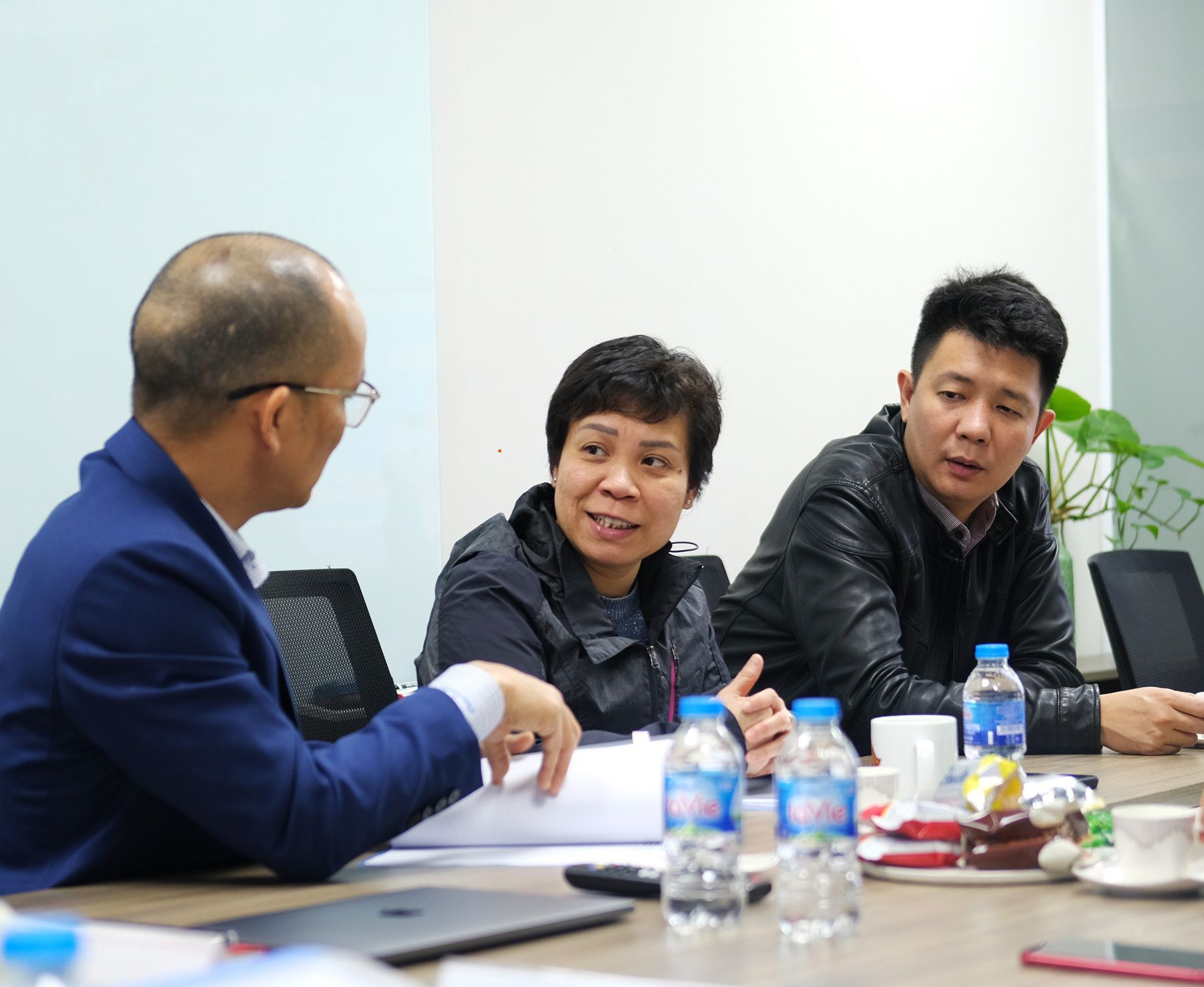 The company leaders talked about clean energy and green production at the Signing Ceremony
"Vu Phong Energy Group and VP Energy provide clean energy solutions to businesses on the journey to green production and sustainable development. We are also collaborating with our customers and partners to boost the transition to renewable and clean energy and reduce greenhouse gas emissions to meet Vietnam's goal of net zero carbon emissions by 2050. This partnership is also targeted at meeting the United Nations Sustainable Development Goals (SDGs), including Goal 7 – Affordable and Clean Energy, Goal 8 – Decent work and economic growth, and Goal 17 – Partnerships for the Goals", according to Mr. Tri, Nguyen Quang, CEO of Vu Phong Energy Group.
The Power Purchase Agreement (PPA) is a flexible cooperation model that enables businesses to use clean energy with no upfront costs.
Under this cooperation model, Vu Phong Energy Group and our partners are investment funds investing in high-quality solar power systems on the enterprise's roof, selling energy or leasing the system for a time at a reasonable price. Businesses only need to take advantage of the idle factory roof, using clean energy to serve production and business activities at a price that is always lower than the current electricity price, and ensure the benefits of saving electricity costs at any EVN pricing. With a long-term contract, businesses may be proactive about energy prices and minimize risks from future increases in electricity prices. At the end of the agreement, the solar power system will be transferred for free (0 VND) to businesses, with a commitment to system performance when transferring more than 80-90%, depending on the conditions.
Businesses are interested in the Power Purchase Agreement (PPA) solar system and clean energy solutions to greening production, towards sustainable development, please contact Our Call Center via 1800 7171 or +84 9 1800 7171 or send an email to hello@vuphong.com for more information.
Vu Phong Energy Group