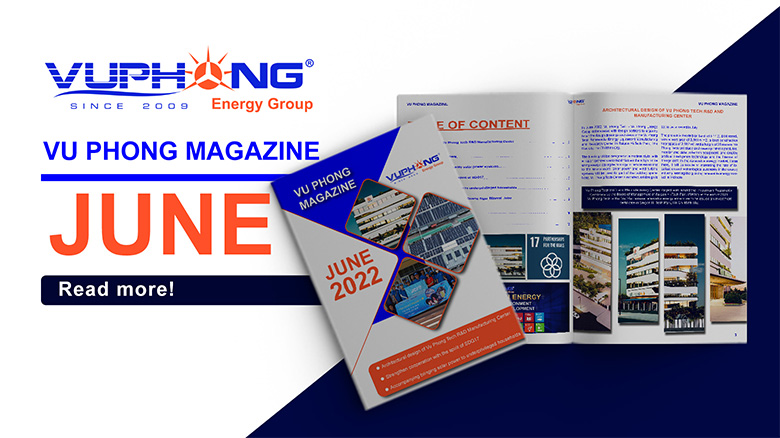 Vu Phong Magazine in June 2022 focused on sharing Vu Phong Energy Group's outstanding activities over the month, as well as reviewing some interesting articles and providing a quick update on Vietnam's renewable energy market news.
Please read Vu Phong Magazine of June 2022 at the link below
In June 2022, Vu Phong Energy Group's design and construction engineers continued to work hard to create more high-quality solar power systems. This includes a chain of solar power systems with a total capacity of more than 12.5 MWp on the roofs of factories owned by Hwaseung Enterprise Group (Korea) in Vietnam. Vu Phong Energy Group also completed a number of rooftop solar power systems for enterprises. The systems are designed and installed following international standards to bring the best profit to customers and partners while also contributing to the achievement of Vietnam's carbon neutrality goal by 2050, as committed to by COP26.
And in the spirit of SDG17 – Partnerships for the goals, Vu Phong has been collaborating with many customers and partners to development clean energy.
In particular, Vu Phong Magazine in June 2022 "revealed" the first images of the architectural perspective of  the Vu Phong Tech Renewable Energy Equipment Manufacturing and Research Center in Saigon Hi-Tech Park. In June 2022, Vu Phong Tech – Vu Phong Energy Group collaborated with design partners to urgently finish the design drawings and views of the project. Vu Phong Tech Center's architectural design is set to be unveiled in July.
Another interesting point is that Vu Phong Magazine in June 2022 has been improved to boost interaction, making it simpler for you to explore the Magazine's content. Please read at Vu Phong Magazine in June 2022. Thank you for always loving, trusting, and accompanying Vu Phong Energy Group on the "Develop clean energy for the green environment and sustainable development" journey. I wish you a prosperous new month and quarter, as well as many new triumphs!
Please see Vu Phong Magazine in June 2022 at the link below