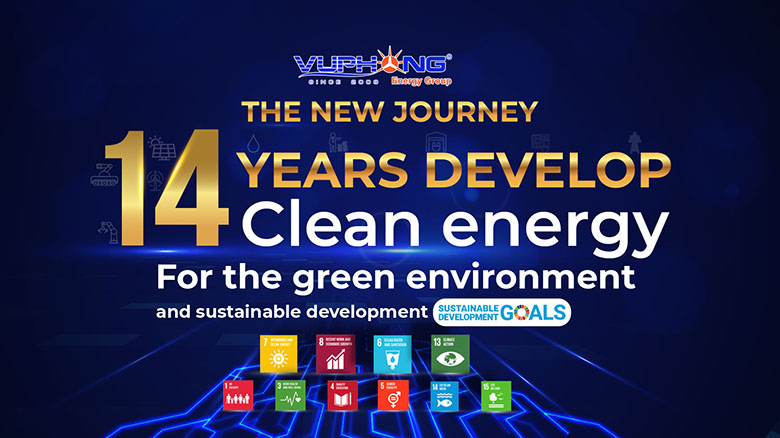 Vu Phong Energy Group officially enters the 14th year on the mission path "Develop clean energy for the green environment and sustainable development" on February 27, 2022.
Vu Phong Energy Group, founded on February 27, 2009, has established itself as the leading enterprise in the field of renewable energy in Vietnam, known as the solar EPC general contractor, the unit specializing in the supply of high-quality O&M, Asset Management, and other services for solar and wind power plants. Vu Phong is also has highlighted in research and development, providing high-tech solutions for the renewable energy field, including solar panel cleaning robot products, remote monitoring, and ViSCADA solar power system control platform.
Vu Phong Energy Group has built clean energy projects of high quality and aesthetics, met international quality criteria, energetic and professional team, notable engineers with high expertise and experience. Consequently, clients and partners have always trusted and selected Vu Phong, and the company has achieved several prestigious industry awards. Vu Phong Energy Group has earned The Solar Future Awards 2021 and The Asian Power Awards 2021 on a continuous in 2021, with the honor of being the representative of Vietnam to obtain the Asian energy award.
Vu Phong Energy Group has been actively planning for new steps in the next journey since 2021. Vu Phong worked with STEAG to provide Asset Management services to add the value of wind power plants and then signed a triangular international cooperation agreement including C47 – Vu Phong – STEAG to offer consulting services for the development and implementation of wind power projects in Vietnam. Vu Phong also signed a collaboration agreement with C47 and INTRACO to provide clean drinking water stations and reduce greenhouse gas emissions projects towards the Sustainable Development Goals (SDGs) and join the carbon credit market…
Vu Phong Energy Group's highlight in 2021
More infomation: Vũ Phong Energy Group – Dấu Ấn 2021
Vu Phong Energy Group will participate more extensively in the renewable energy ecosystem in the new journey as a result of thorough planning. This is Vu Phong's total transformation in the notion of the world's fast energy transition to sustainable growth in response to climate change, and renewable energy development in Vietnam is also accelerating at a rapid speed.
Besides providing services for renewable energy plants, Vu Phong Energy Group will concentrate more on research and production, develop high-tech solutions, employ artificial intelligence and big data,… to serve the energy industry. In Saigon Hi-Tech Park (SHTP) in Ho Chi Minh City, Vu Phong will build and operate the Vu Phong Tech Renewable Energy Equipment Manufacturing and Research Center. Vu Phong Tech Center was formed from enthusiasm about localization, desire to engage in and contribute to the growth of the clean energy sector, and the digitalization of the energy industry in Vietnam. This is a common development following the global trend that makes more sense when Vietnam efforts with other nations to reduce greenhouse gas emissions to achieve Net Zero emissions by 2050, as committed by the Prime Minister at COP26.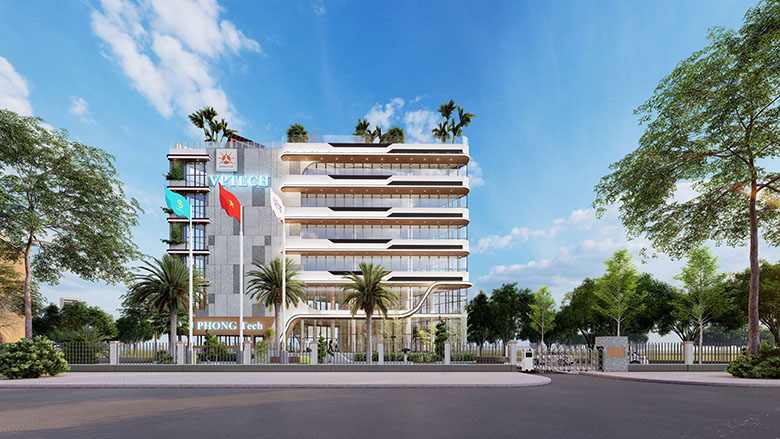 Vu Phong Tech Center is modern in design, uses energy-saving technology, plants numerous trees and rooftop solar power systems.
Toward sustainable development and a strong Vietnam vision 2045, Vu Phong Energy Group will also aggressively implement activities in the direction of the United Nations Sustainable Development Goals (SDGs). Vu Phong has been working to achieve a series of SDGs, particularly on Goals 7-8-6 and 13:
Vu Phong has built over 1,000 solar power projects around the country, including solar power programs for disadvantaged areas and families.
Focus on using science and technology to provide a favorable production environment, productivity, and a satisfying income for people.
Currently, and will engage in community clean water supply, water security, and sanitation improvement programs.
Towards the implementation and joint development of solutions to minimize greenhouse gas emissions, combat climate change, and protect the ecosystem.
More information: Vu Phong towards sustainable development values
Vu Phong Energy Group develops and grows based on five core values: Personnel – Quality – Innovation – Integrity – Joint development. "Vu Phong Energy Group is devoted to social responsibility and environmental protection in all of our activities" in order to grow together. But thankfully, Vu Phong had the chance to meet and interact with numerous significant and enthusiastic clean energy clients and partners along the road. Vu Phong values every opportunity and aims for long-term collaboration to thrive together and add more value to the community.