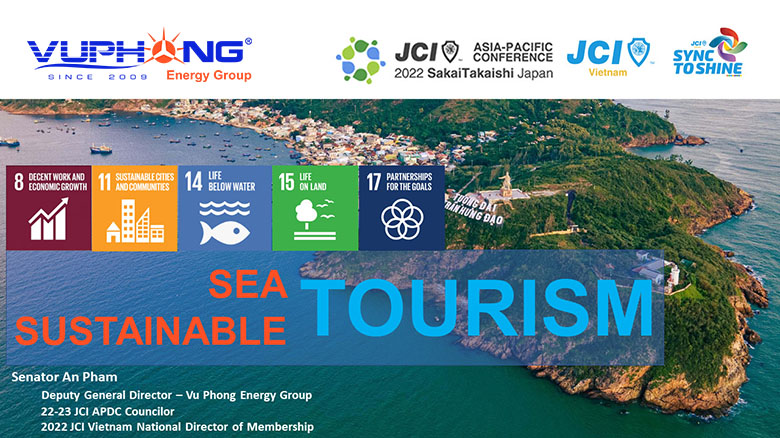 "For the tourism industry to develop sustainably, many solutions must be implemented concurrently. In this regard, local hotels and travel agencies have an important role." Sharing from Mr. An, Pham Dang, Deputy General Director at Vu Phong Energy Group, JCI Asia Pacific Development Council Councilor in the framework of the 2022 JCI ASPAC Sakai Takaishi Conference (May 28, 2022).
JCI ASPAC (short for Asia Pacific Conference) is the Junior Chamber International (JCI) conference in the Asia Pacific region, where members exchange ideas, develop methods to maximize positive community impacts, and collaborate with other regional national organizations. The JCI ASPAC 2022 Sakai Takaishi Conference was hosted online for four days (May 25-29, 2022), merging several face-to-face conferences in the Japanese towns of Sakai and Takaishi.
Mr. An, Pham Dang – Deputy General Director of Vu Phong Energy Group, representing JCI Vietnam, shared about "Sea tourism & sustainable tourism" in the post-Covid-19 era during the business networking session under the framework of JCI ASPAC 2022 Sakai Takaishi, with the online participation of more than 80 members and entrepreneurs from ten Asia-Pacific countries. Mr. An specifically shared sustainable tourism development trends as well as solutions to contribute to sustainable development in the field of tourism, particularly closely following the direction of the United Nations Sustainable Development Goals (SDGs).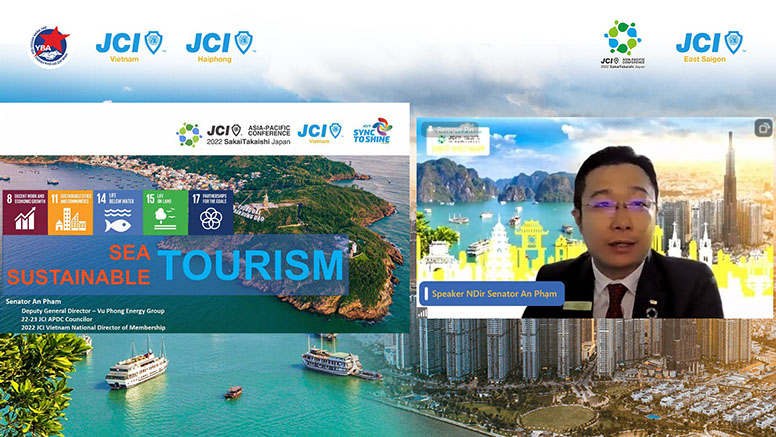 Mr. An, Pham Dang, Deputy General Director of Vu Phong Energy Group and JCI Vietnam representative, spoke on "Sea tourism & sustainable tourism."
Green tourism, or sustainable tourism, has become a global trend, spurred by the Covid-19 pandemic and increasing awareness of the climate crisis. According to Booking.com's Sustainable Travel Report, 2022 based on a survey of over 30,000 people in 32 countries and territories, 81 percent of travelers say sustainable travel is important to them, and 50 percent say recent climate change news has influenced them to choose more sustainable travel options. 78 percent of travelers plan to stay at a sustainable location at least once in the coming year. and 71% of travelers want to travel more sustainably in the coming year. As a result, in order to meet the tourist selection trend and attract foreign visitors, it is vital to continue to build and introduce more sustainable tourism experiences.
According to Mr. An, Pham Dang, there are the many solutions to contribute to sustainable tourism development, such as solutions for sustainable management, solutions to help reduce negative environmental impacts (in the fields of electric and thermal energy, water resources, and so on), solutions to maximize economic and social benefits for local communities, solutions to contribute to the protection and preservation of cultural and natural heritage… To sustainably tourism development, many solutions must be implemented concurrently, with the cooperation of many parties, ranging from management agencies to individuals, business establishments in the sector, and tourists. Accommodation and tourism businesses are particularly important in this regard.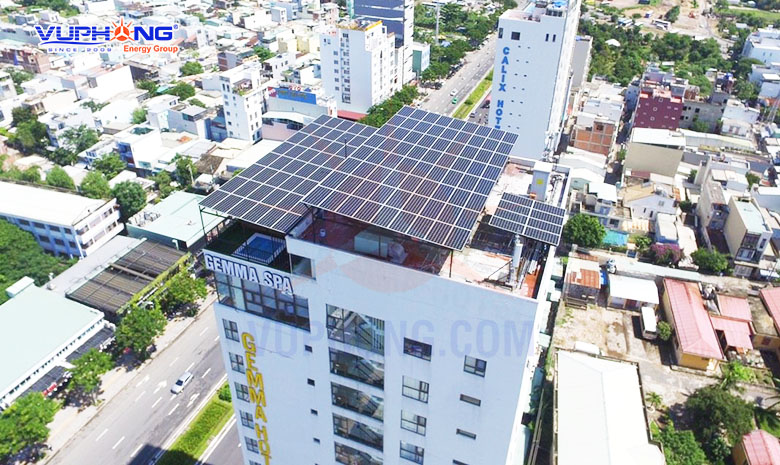 Many resorts and hotels use renewable energy to save energy costs and reduce carbon footprints in business operations
More and more tourist businesses in Vietnam are focusing on green tourism and sustainable tourism. In addition to promoting the use of water-saving solutions, reducing electricity and thermal energy use, increasing reuse, and prioritizing environmentally friendly products… many resorts and hotels have invested in rooftop solar power systems, maximizing renewable energy sources, reducing energy costs and carbon footprint in company's activities. Many tourism businesses respond to local and international environmental campaigns (such as the Earth Hour campaign, tree planting activities, cycling, beach cleanup, and so on).
Hai Au Hotel – Seagull Hotel (Quy Nhon, Binh Dinh) participates in the Earth Hour 2022 campaign
According to Mr. An, Pham Dang, businesses can strengthen the integration of promoting local traditional culture through various forms such as architecture, decoration, cuisine, performing arts activities, actively supporting the development of locally produced products…, to achieve sustainable development and provide local experiences. Using local human resources, in particular, should be prioritized as a way of contributing to the achievement of SDG 8 -Decent work and economic growth. Accommodation facilities should use sustainable development solutions to become sustainable accommodations.
"Sustainable development is an unavoidable trend, both to meet the requirements of visitors and to contribute to the whole community's sustainable development, for the Earth," Mr. An shared.
The theme of this year's World Environment Day is "Only One Earth" (June 5, 2022). This topic was also chosen fifty years ago for the first United Nations Conference on the Human Environment, the 1972 Stockholm Conference, which resulted in the establishment of the United Nations Environment Program (UNEP). This message emphasizes the significance of environmental protection and provides momentum to global efforts to develop a better planet. This is the moment for us to join hands, and take concrete and practical actions to help nature and the Earth.
In Quang Ninh, on May 28, 2022, the Ministry of Natural Resources and Environment collaborated with units to host a Launching ceremony in response to the International Day of Biodiversity (May 22) and World Environment Day (May 22), Action month for the environment 2022 (5 June). Minister of Natural Resources and Environment Tran Hong Ha offered six particular content to ministries, branches, and localities include:
– Focus on successfully transforming the economic structure, renewing the growth model from "brown" to "green," from intensive exploitation of natural resources to the knowledge economy, digital economy, circular economy, low carbon; investment in natural capital.
– Specific plans have been developed by ministries, sectors, local governments, and businesses to effectively implement the Government's commitment at COP26 to energy conversion from coal to clean and renewable energy; reduction of greenhouse gas emissions, including methane; and sustainable use of land and water resources.
– Strengthening people's cooperation and solidarity, and promoting the role of international cooperation in resolving global environmental and climatic problems.
Vu Phong Energy Group