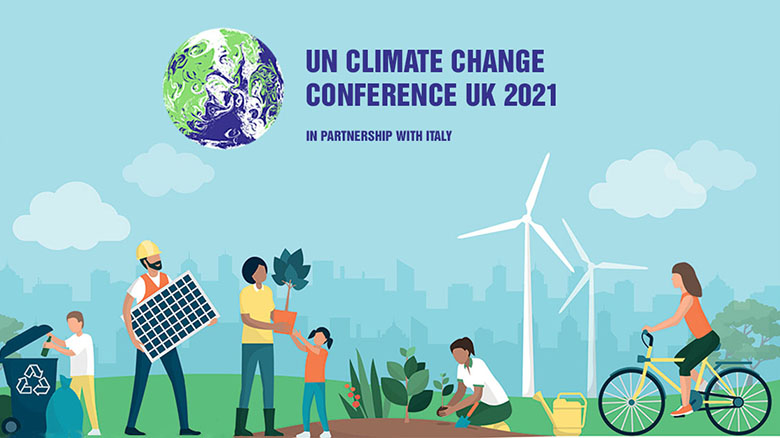 The 26th Conference of the parties to the United Nations Framework Convention on Climate Change (COP26) was opened on October 31, 2021 and completed. Many strong climate agreements and commitments have been made by country leaders in an effort to protect the future of the Earth.
General agreements and commitments to reduce emissions
COP26, held in Glasgow, UK (from October 31 to November 12), attracted nearly 200 member nations, 120 heads of state and prime ministers, and about 36,000 delegates. After more than a week, the participants reached a number of important agreements and got a collective voice in the fight. Specifically:
– Over 100 nations, representing about 85% of the world's forests, pledged to halt and reverse deforestation by 2030 by contributing $19 billion in public funding in forest preservation and restoration. Under the agreement, 12 nations have committed to contributing US$ 12 billion of public funding between 2021 and 2025 to help developing countries; more than 30 private sector investors have committed to contribute at least $7.2 billion more to this plan.
– Nearly 90 nations (including major emitters such as Brazil, Nigeria, and Canada) have signed the Commitment to Reduce Global Methane Emissions, with the target of slashing methane emissions by 30% by 2030 compared to 2020.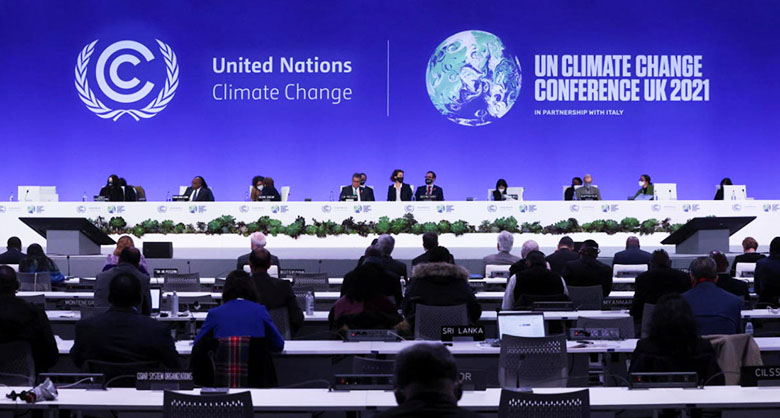 COP26 conference in Glasgow, Scotland, United Kingdom (Image: Reuters)
– A series of nations have established carbon neutrality targets. The United States, in particular, aims to achieve net-zero emissions by 2050, affirming that by 2030, it would lower emissions by 50-52% compared to 2005. India aims to lower 45 percent of its economy's carbon intensity by 2030 and achieve net-zero emissions by 2070. Many other nations, including Vietnam, aim to achieve carbon neutrality by 2050.
– According to the roadmap, 190 nations and organizations have committed to shifting away from coal. More than 40 nations have committed to phasing out coal-fired power facilities, including Poland, Vietnam, Chile. Etc. The United States, Canada, and 18 other nations have vowed to stop funding for fossil fuel projects overseas by the end of 2022, instead of investing in clean energy.
– Approximately 450 banks, insurance companies, and investors worldwide with a total capital value of up to 130,000 billion USD (equivalent to 40% of global capital) have committed to putting climate change at the center of their operations, doing their fair part of the financial sector's responsibility in the worldwide effort to limit the usage of fossil fuels.
Vietnam's strong commitment at COP26
At COP26, Prime Minister Chinh, Pham Minh made strong commitments to reduce greenhouse gas emissions and achieve carbon neutrality, a message from a responsible, proactive, Vietnam to the international community to work together to address global climate change challenges.
Specifically, Prime Minister Pham Minh Chinh delivered three key points at the Conference: First, reacting to climate change and restoring nature must become the greatest priority in all development policy decisions. This is the highest ethical norm for all levels, industries, businesses and individuals. Second, all nations must make strong commitments to reduce greenhouse gas emissions on the basis of common responsibility that suits their conditions and capacity. Finally, climate finance, technology transfer, and capacity building are important to the Paris Agreement's success.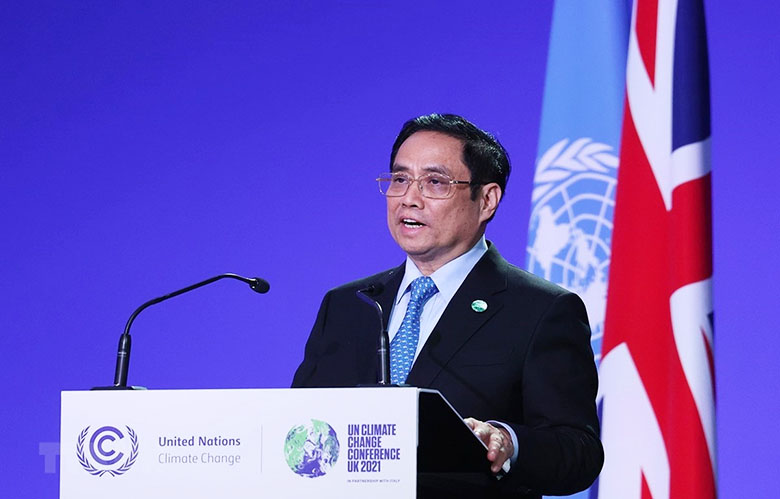 Prime Minister Chinh, Pham Minh speech at the Conference (Photo: TTXVN)
Prime Minister Chinh, Pham Minh, in particular, emphasized Vietnam's commitment to working together to reduce greenhouse gas emissions and combat climate change: "Despite being a developing country that has just carried out its industrialization over the past three decades, Vietnam would develop and implement stronger measures to reduce greenhouse gas emission by using its resources, and the cooperation and support of the international community, along with nations with high emitting economies, in terms of both finance and technology transfer, particularly the implementation of mechanisms under the Paris Agreement, to reach "zero" net emissions by 2050".
The agreements and commitments made at COP26 are optimistic signs about the prospect of achieving breakthroughs in the battle against climate change, to limit global warming to 1.5° Celsius (2.7° Fahrenheit) this century compared to the pre-industrial period. From today until the end of the Conference, participants will continue to negotiate to reach agreements on how to handle issues since the Paris Agreement on climate change was signed in 2015 and promote efforts on this global issue.
Vu Phong Energy Group will be a dependable partner with businesses in order to jointly contribute to Vietnam's clean energy industry and safeguard the environment and battle climate change in the global.Businesses interested in clean energy solutions, please contact Our Call Center at 18007171 or +84 9 1800 7171 for support from Vu Phong Energy Group's engineers!
Vũ Phong Energy Group