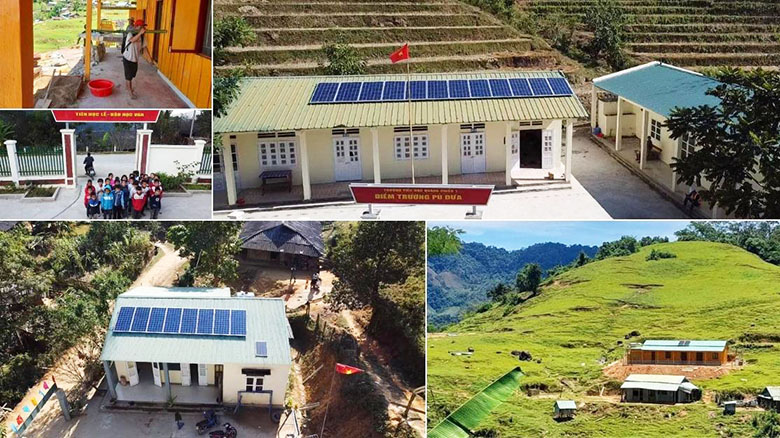 People's lives were still difficult in the high mountains, where villages lived off the national grid. Despite the teachers' efforts and willingness to teach, learning in schools is extremely difficult here due to a lack of electricity and inadequate facilities.
It is always a difficult journey to build schools, bring solar energy to teachers and students, and reach out to disadvantaged households in rural, hilly, and border areas, but that journey is meaningful. Because, in such communal projects, it is not only the light of solar power that shines but also the warmth of faith, hope, love, etc.
Seven months for constructing the school
Tunak village school in Tra Cang commune, Nam Tra My, Quang Nam was one of the most "tough, hard, and time-consuming" projects that the Hearts of Gold Foundation (under Cen Group) has completed.
In the Nam Tra My mountainous district, Tra Cang is a highland commune with steep hills and alternating valleys. The road to Tra Cang must cross the river, climb hills, and navigate slick slopes; there are sections of the road that follow steep slopes, craggy on one side and abyss on the other… As a result, members of the Hearts of Gold Foundation had to carry each basket of sand and cement, as well as every brick, and so on, to build a Tunak school in the middle of the high mountains. Because it was so difficult, the Fund had to build the school with wood rather than bricks.
After seven months of challenging due to difficult terrain and harsh weather conditions, the school was finished, more spacious with classrooms lit by solar power. Learning at the new school will help them have more motivation to develop themselves.
The Hearts of Gold Foundation also provided 54 sets of SolarV portable solar lights for 54 households in Tunak village on this occasion, with the companionship of benefactors. The SV1 New lithium storage battery ( which replaces for accumulator battery) comes with new technology for excellent performance, the lamp can illuminate up to 20 hours on a single charge, assisting people in reducing daily difficulties…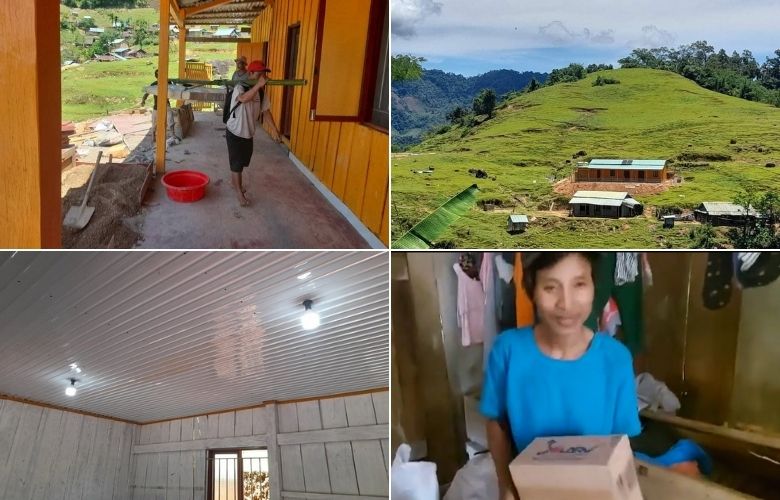 Vu Phong Energy Group has accompanied the school building project and provided portable solar lights and solar power systems and brought solar light to Tunak village.
Bringing solar power to the border area – Muong Lat, Thanh Hoa
Muong Lat is a border district in Thanh Hoa province's northwest part, and it is the province's most distant and poorest district. Because there is no power to the grid in villages along the Vietnam-Laos border in the area, living for the Mong, Dao, Thai, and Muong ethnic groups is still very difficult.
The Light, which is a "long-term" community project launched by JCI East Saigon – JCI Viet Nam, comes to Muong Lat in 2021 to provide clean electricity to develop sustainable values and light up the future for disadvantaged children in rural areas.
Overcoming challenges of the difficult terrain, which included steep hills and high mountains, JCI East Saigon members joined with Vu Phong Energy Group's engineer and representatives from other companion units to visit the Pu Dua and Quang Chieu 1 Primary School (Quang Chieu Commune, Muong Lat District) and Sai Khao School, Tay Tien Primary School (Muong Ly Commune, Muong Lat District) to install solar power systems for schools. On this tour, the units also decided to help and support a new playground for children and solar power systems for the school after viewing the children's severely inadequate infrastructural conditions at Tay Tien Kindergarten.
Thanks to the units' cooperation, the high-quality solar power systems constructed by Vu Phong Energy Group's engineer were finished and turned over to the schools.
The journey with The Light to provide solar power to the border areas of Muong Lat and Thanh Hoa has been arduous but incredibly rewarding for engineers Vu Phong. After giving presents and SolarV solar generators to impoverished people and children in numerous locations around the nation, such as Bu Gia Map – Binh Phuoc, Ta Nang – Lam Dong…, here was Vu Phong's next love-sharing voyage in the project.
Previously, Vu Phong partnered with several other benefactors to bring solar power to remote, mountainous, and border areas, such as with the Voice of Vietnam (VOV) on the project "Light up upland knowledge," assisting Phuc Loc kindergarten in Na Ma village, Phuc Loc commune with electricity, and is the first school in Ba Be, Bac Kan, to be equipped with a solar power system. Or in the project to build 50 toilets for 50 households with girls in Hong Ha commune, a commune in the hilly border area of A Luoi in Thua Thien – Hue province, with the Vietnam Development Efforts Fund (D.O.V.E Fund). Each new toilet features a shower, ceramic tiled walls and floors, and SolarV solar lighting, helping children to use the toilet cleanly and safely…
Vu Phong Energy Group wishes to share and spread positive energy by partnering with donors in community-oriented activities. Vu Phong is also working to achieve the United Nations' Sustainable Development Goals (SDGs), include Goals 7 (Ensure access to affordable, reliable and sustainable energy for all), Goals 4 (Ensure high-quality, fair, comprehensive education, and promote lifelong learning opportunities for all), Goals 5 (Achieve gender equality; empower and chances all women and girls).
2022 is the 14th year of the Vu Phong Energy Group's mission "Develop clean energy for the green environment and sustainable development," as well as the 14th year of the Sustainable Development Goals journey. Vu Phong is confident that, on this new journey, with the joint efforts of the whole team and the confidence and support of customers and partners, Vu Phong will continue to leave its mark and provide value to the community.
More infomation:
*Images from the Hearts of Gold Foundation, JCI East Saigon
Vu Phong Energy Group