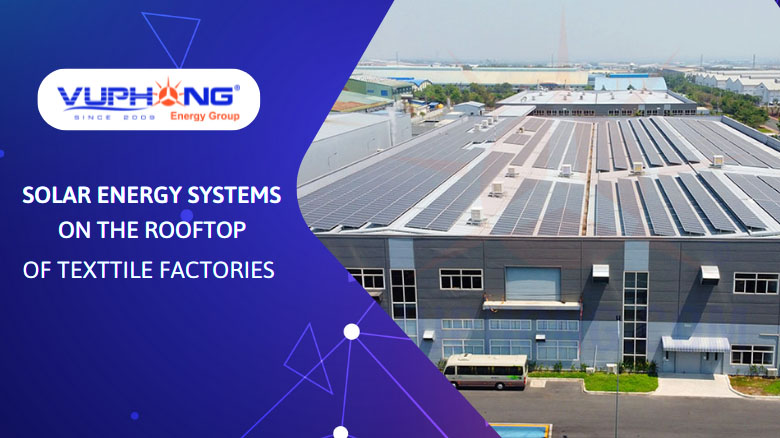 With a "greening" goal toward the circular economy model and sustainable development, many textile and apparel enterprises have invested in or collaborated with investment funds and developers to install solar power systems on the factory's roof, enabling clean energy in production.
Vu Phong Energy Group has already accompanied many textile and apparel enterprises in greening their manufacturing processes and moving toward a circular economic model, as well as the emission reduction goals and the United Nation's Sustainable Development Goals (SDGs). Here are some solar power systems developed and installed on the textile industry's rooftop by Vu Phong Energy Group:
Rooftop solar power system of Eclat – Fabrics Vietnam factory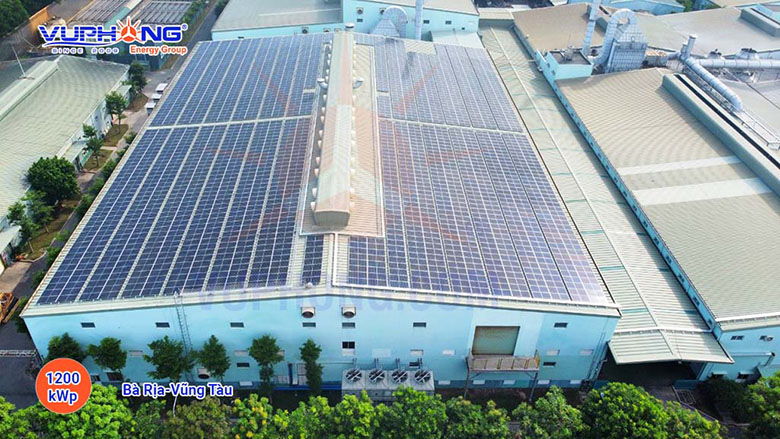 Rooftop solar power system of Eclat – Fabrics Vietnam knitting factory in Ba Ria – Vung Tau province
Eclat – Fabrics Vietnam factory rooftop solar power system at My Xuan A2 Industrial Park, Ba Ria – Vung Tau province. Eclat – Fabrics Viet Nam is a member company of Taiwan's Eclat Textile Group, with a factory capacity of 6,000 tons of fabric per year, specializing in the production of fashionable knitted fabrics, sports fabrics, high-quality clothing fabrics, multifunctional technical fabrics with UV protection for major brands such as Nike, Adidas, Lululemon…
The solar power system uses 2,682 450Wp solar panels installed per international standards, assuring strict technical requirements while maintaining excellent aesthetics.
Rooftop solar power system of Men-chuen factory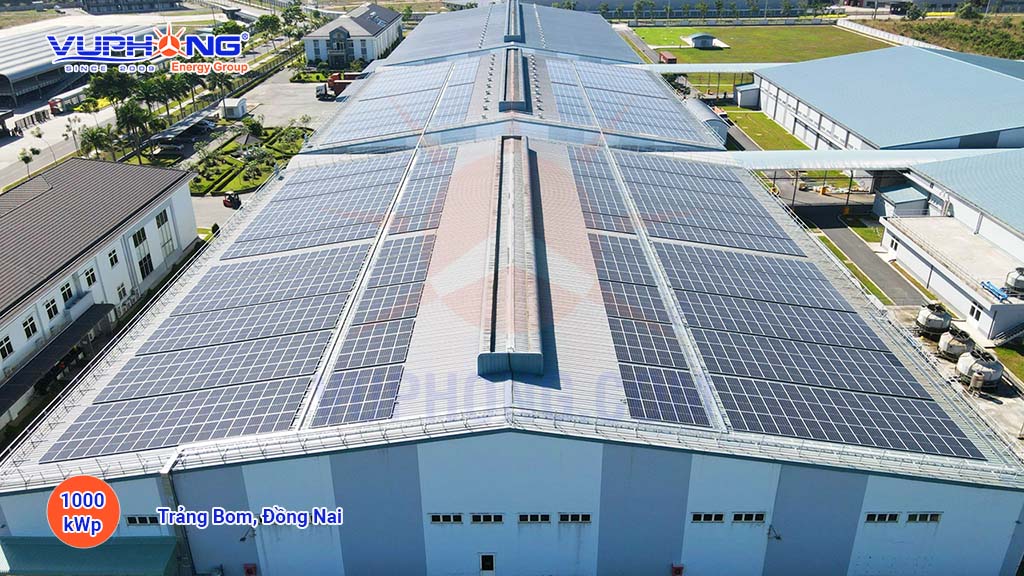 Rooftop solar power system of Men-chuen Viet Nam factory
Vu Phong Energy Group installed the solar power project on the rooftop of Men-chuen Vietnam's factory, a large enterprise in the field of fabric manufacture. This business specializes in making textiles for the textile and footwear industries, with 65% supplied to domestic market and 35% exported to ASEAN nations such as Thailand, Indonesia, the Philippines, and Campuchia… Men-Chuen sought solutions to reduce carbon footprint and power consumption in manufacturing operations and supply chains via clean energy solutions for sustainable growth as a well-known textile manufacturing firm providing textiles to many notable brands globally. And this clean energy system generates enough renewable energy to meet 40% of Men-Chuen's demands.
TotalEnergies has invested in this BLT (Build-Lease-Transfer) solar power project.
BLT (Build – Lease – Transfer) solar power is a flexible cooperation model pioneered by Vu Phong Energy Group and has received collaboration from international investment funds. The BLT model enables businesses to use clean energy with no upfront costs.

Businesses just use the roof of an idle factory and can use clean energy by a system lease contract or a direct power purchase contract. At the conclusion of the contract, the solar power system will be transferred to the company at no cost.
Rooftop solar power system of Green TG factory
Rooftop solar power system of Green TG factory – Enterprises specializing in sewing clothes for export to European markets – USA, Korea, Japan
The solar power system is installed on the roof of the Green TG factory in Tien Giang, a Korean business that exports garments to European markets – the United States, South Korea, and Japan. The project utilizes 2,240 450Wp solar panels and 8 110kW SMA Sunny Tripower CORE 2 inverters – the new inverter series from SMA (Germany) with many outstanding benefits. This inverter line provides maximum design and installation flexibility with 12 sets of maximum power point tracking (MPPT) and 24 monitored strings. Using the integrated software solution SMA ShadeFix, the solar power system's performance is continually optimized. The SMA Smart Connected automatic monitoring service will aid in the early detection of system errors.
Specifically, the ennexOS technology integrated within Data Manager M optimizes PV system communication, monitoring, and control. The simpler administration of systems enables Vu Phong to assist businesses in maximizing their profits from solar power with less time and effort. In addition, it is simpler for companies to actively monitor the performance of the PV system in real time each week or month, allowing them to make production plans that optimize this clean energy source.
This is one of the pioneering projects under the BLT model, which is also motivating many other textile and garment businesses to use clean energy via this collaboration model.
Rooftop solar power system of Radiant International Textile factory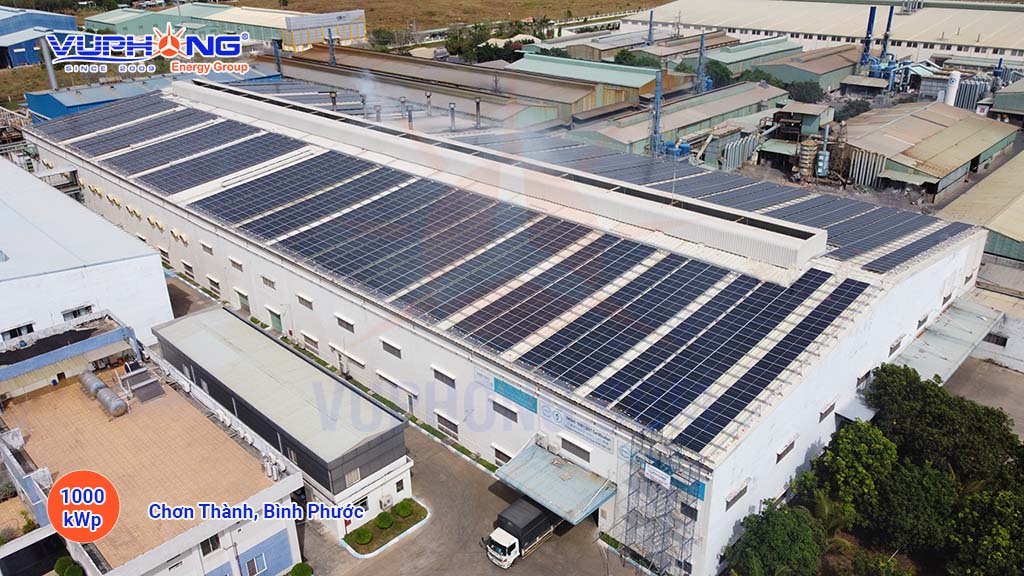 Radiant International Textile factory's rooftop solar power system (in Minh Hung Industrial Park – Korea, Chon Thanh district, Binh Phuoc province) is a project developed using the flexible cooperation model of solar power BLT.
This system utilizes 2,023 solar panels with a capacity of 495Wp and auxiliary frames and conductors with high design durability over a 30-year period. The project was completed and handed over in 2020 and is now running well and efficiently.
Rooftop solar power system of Saigon 3 Garment factory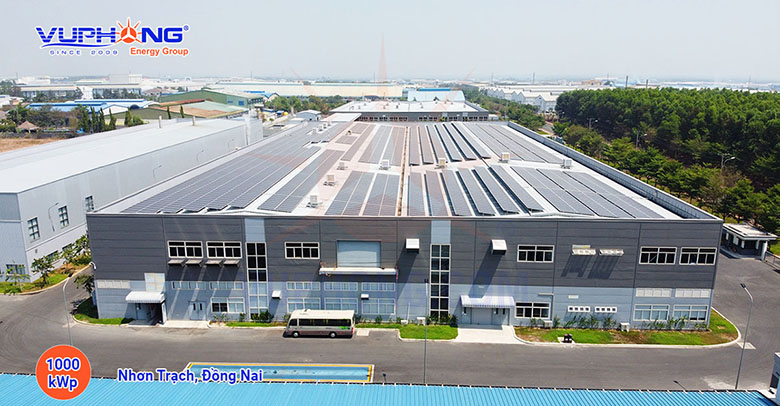 Rooftop solar power system of Saigon 3 Garment factory – Vietnam's leading garment manufacturer and exporter
Saigon 3 Garment was self-invested in a solar power system. Saigon 3 Garment is one of Vietnam's most reputable garment manufacturing and exporting businesses, focusing on the range of Jeans, Khaki, and sweatpants, with a total annual output of more than 12 million pieces. This business gives great attention to environmental issues throughout the manufacturing process, applying ISO 14001 environmental management and the Higg Index program, which strives to develop green, clean, modern, and environmentally friendly factory.
This system uses 2,820 high-performance solar panels with a high-quality auxiliary frame system and conductor with over 30 years of durability…
There are also many rooftop solar power systems with high quality and aesthetics that are installed by enterprises to greenen production; for more projects, please visit: https://vuphong.com/all-projects-solar-wind/.
Read more:
Vu Phong Energy Group is a professional solar power developer and a leading enterprise in the field of renewable energy in Vietnam, providing professional solar EPC general contractor services and Operation & Management, Asset Management services… for solar power and wind power plants, while also researching and manufacturing renewable energy equipment such as solar panel cleaning robots.
Vu Phong Energy Group was honored EPC Company of the Year at The Solar Future Awards 2021, and the sole representative of Vietnam to win The Asian Power Awards 2021 in two categories: Solar Power Project of the Year and Environmental Upgrade of the Year.
Individuals and businesses interested in the BLT model, and clean energy solutions to "greening" production, towards sustainable development, please contact Our Call Center via 18007171 or +84 9 1800 7171 or send an email to hello@vuphong.com for more information.
Vu Phong Energy Group