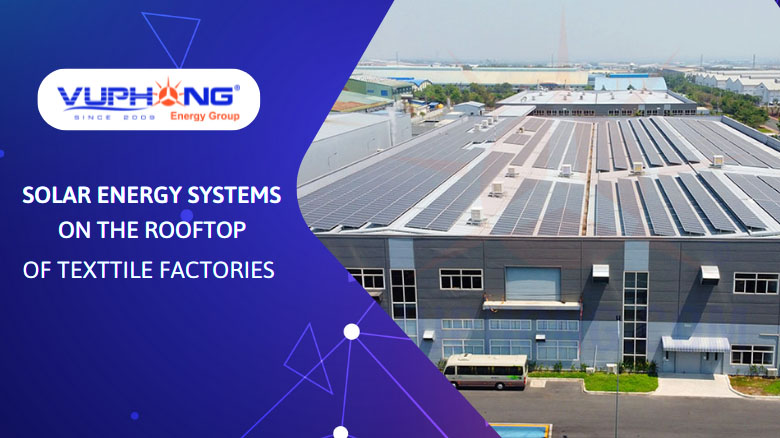 With a "greening" goal toward the circular economy model and sustainable development, many textile and apparel enterprises have invested in or collaborated with investment funds and developers to install solar power systems on the factory's roof, enabling clean energy in production.
Textiles are a key ex-world port sector in Vietnam. Vietnam's textile export market share has increased to second, behind China, in 2021, overtaking Bangladesh. Textile and apparel exports are estimated to exceed 22 billion USD in the first six months of 2022, a 23 percent increase over the same time last year. This is an impressive outcome in the context of the textile and apparel industry has also experienced a difficult period due to the COVID-19 pandemic.
Effectively using Free Trade Agreements (FTAs) is a significant reason for the textile and apparel industry's impressive results. Furthermore, Vietnam's textile and apparel sector is quickly developing "greening" and becoming more sustainable, such as increasing the use of green energy, saving water resources, and employing environmentally friendly materials… As a result, it better fulfills international standards and is widely trusted by consumers.
According to many economic experts, in the development trend, greening the manufacturing process, moving toward the circular economy model, and achieving sustainable development has increasingly become the required need for textile and apparel enterprises in particular and businesses in general. The Vietnam Textile and Apparel Association (VITAS) has set a goal of "greening" with a plan for 2023, textile and apparel enterprises members of the VITAS sustainability committee will decrease energy consumption by 15%, and water consumption by 20%; by 2030, the "greening" of Vietnam's textile industry will be transformed.
Vu Phong Energy Group has already accompanied many textile and apparel enterprises in greening their manufacturing processes and moving toward a circular economic model, as well as the emission reduction goals and the United Nation's Sustainable Development Goals (SDGs). Here are some solar power systems developed and installed on the textile industry's rooftop by Vu Phong Energy Group: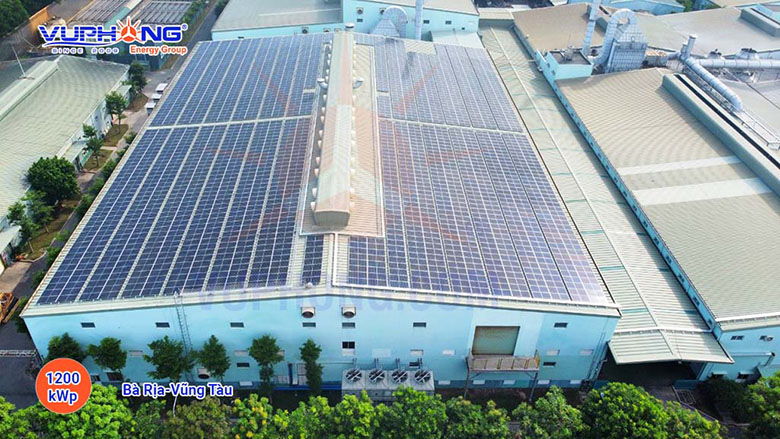 The textile factory rooftop solar power system in the province of Ba Ria-Vung Tau
The textile factory rooftop solar power system in Ba Ria – Vung Tau Province's My Xuan A2 Industrial Park. The factory is owned by a large Taiwan corporation, with a capacity of 6,000 tons of fabric per year, specializing in the production of fashionable knitted fabrics, sports fabrics, high-end clothing fabrics, multifunctional technical fabrics with UV protection effects for major brands such as Nike, Adidas, Lululemon, and others.
The solar power system employs 2,682 solar panels with a capacity of 450Wp that were designed and installed in accordance with international standards, ensuring strict technical standards while maintaining a high aesthetic.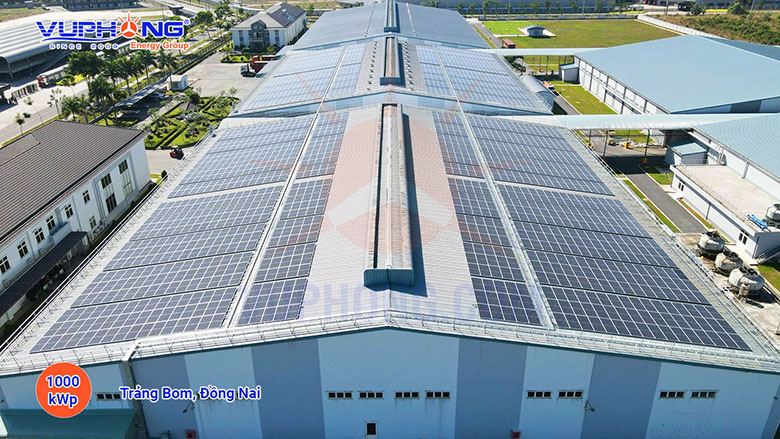 The solar power system comprised 2,348 405W solar panels
Vu Phong Energy Group installed a 1,000 kWp solar power project on the rooftop of a big fabric manufacturing company. This company focuses on making fabrics for the textile and footwear industries, with 65 percent of its output going to local enterprises and 35% going to ASEAN nations including Thailand, Indonesia, the Philippines, and Cambodia…
This is a solar power project installed following the Build – Lease – Transfer (BLT) model and invested by TotalEnergies.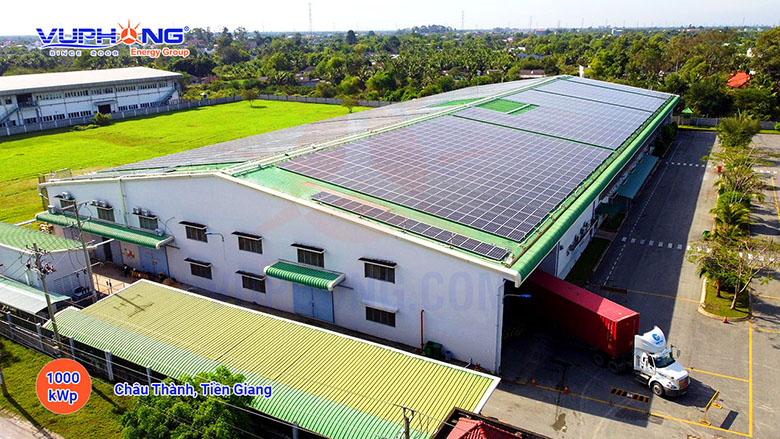 Solar power on the factory's rooftop, which specializes in sewing clothing for export to Europe, the United States, Korea, and Japan.
A Korean company specializing in textile garments exported to markets of European – America, Korea, and Japan erected a solar power system on the factory's rooftop in Tien Giang. The project employs 2,240 450Wp solar panels and 8 SMA Sunny Tripower CORE 2 inverters with a capacity of 110kW – SMA's (Germany) new inverter line with several outstanding advantages. This inverter line ensures maximum flexibility for designing and installing the system, with 12 power-optimized MPPT sets and 24 monitored strings. The solar power system's performance is always automatically optimized thanks to the SMA ShadeFix integrated software solution. The SMA Smart Connected automated monitoring service will aid in the early detection of faults in the system.
The ennexOS technology integrated into Data Manager M, in particular, optimizes PV system communication, monitoring, and control. System management becomes easier, allowing Vu Phong to better support businesses in maximizing profits from solar power while requiring little time and people. It is also easier for companies to actively monitor the effectiveness of PV systems in real time each week, month by month…and then devise an appropriate production plan to maximize the use of this clean power source.
This is one of the BLT model's pioneering projects; it is also a driving force for many other textile enterprises to join in the usage of clean energy via this collaboration model.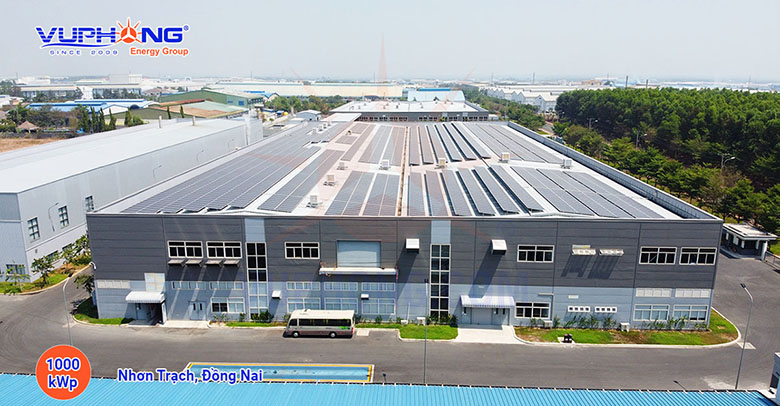 The self-invested solar power system of Vietnam's leading prestigious garment manufacturing and exporting enterprise
The solar power system is invested by a textile and apparel manufacturing enterprise itself. This is one of Vietnam's leading garment manufacturing and exporting enterprises, specializing in jeans, khakis, and sports pants, with an annual production of more than 12 million pieces. This enterprise gives great attention to environmental issues throughout the manufacturing process, applying ISO 14001 environmental management and the Higg Index program, which strives to develop green, clean, modern and environmentally friendly factories.
The solar power system employs 2,820 high-efficiency solar panels, an auxiliary frame system, and high-quality conductors with a design lifetime of more than 30 years…
There are also many rooftop solar power systems of excellent quality and aesthetics installed by enterprises to green production; for more information, please click: https://vuphong.com/all-projects-solar-wind/
Vu Phong Energy Group is a professional solar power developer and a leading enterprise in the field of renewable energy in Vietnam, providing professional solar EPC general contractor services and Operation & Management, Asset Management services… for solar power and wind power plants, while also researching and manufacturing renewable energy equipment such as solar panel cleaning robots.
Vu Phong Energy Group was honored EPC Company of the Year at The Solar Future Awards 2021, and the sole representative of Vietnam to win The Asian Power Awards 2021 in two categories: Solar Power Project of the Year and Environmental Upgrade of the Year.
Individuals and businesses interested in the BLT model, and clean energy solutions to "greening" production, towards sustainable development, please contact Our Call Center via 18007171 or +84 9 1800 7171 or send an email to hello@vuphong.com for more information.
Vu Phong Energy Group