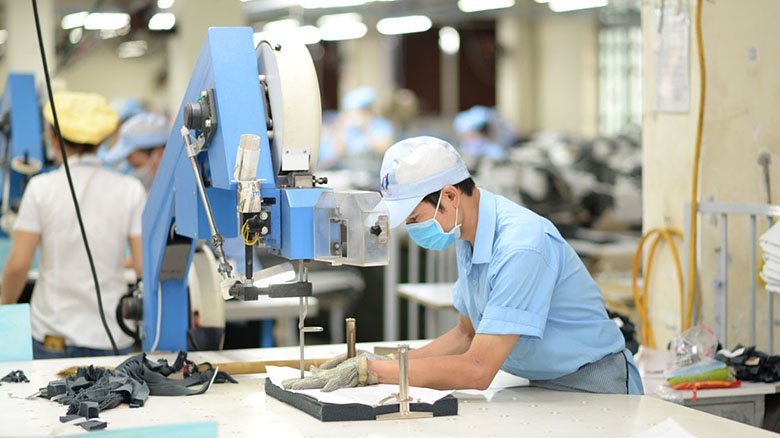 After 9 months of favorable conditions, with export growth of almost 20% – the greatest pace in more than ten years – Vietnam's textile sector faces several challenges in the fourth quarter of 2022, and maybe even in the first half of 2023. Many experts, however, stated that textile businesses had made significant efforts to adapt and overcome challenges…
Inflationary pressures, product traceability requirements, and "greening" production
In the first 9 months of 2022, the textile industry's export turnover reached about 35 billion USD, a 21% increase over the same period in 2021 – the fastest rate in more than 10 years. However, enterprises face significant challenges in the last months of the year. Inflationary pressures cause consumers in major markets such as the United States and the European Union… to cut spending, while markets such as China and Japan… continue to apply strict measures against Covid-19, affecting the supply chain of raw materials and consumer demand for Vietnamese textile products.
Due to excessive inventory and inflationary pressures, U.S. consumers have reduced the pre-order period from 6 months to 3 months, according to new VNDirect Research report  on the textile sector. Because of inflationary concerns, orders at many significant textile businesses stalled in the fourth quarter.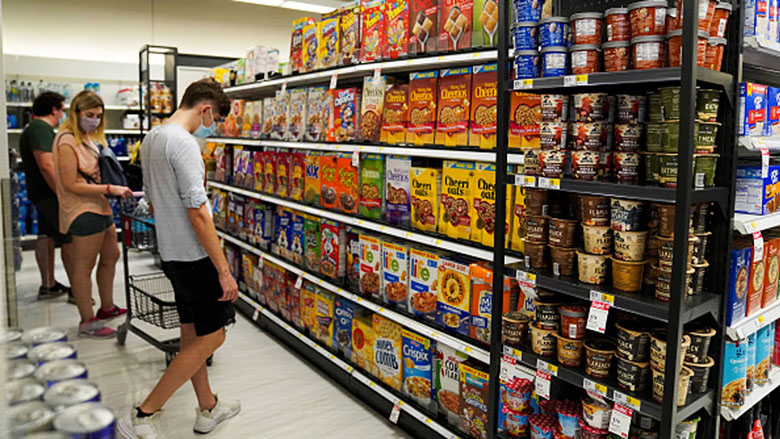 Inflationary pressures make consumers in major markets such as the US, EU … cutting spending, having a big impact on Vietnam's textile enterprises
Traceability requirements for cotton, textiles, and yarn, as well as "greening" requirements from new-generation FTAs (Free trade agreements), are other challenges that Vietnamese textile enterprises must face. New-generation FTAs, particularly the CPTPP and EVFTA, impose rules of origin requirements, requiring yarns and textiles to be made in Vietnam, utilized in Vietnam or newly certified FTA countries of origin, and enjoy preferential taxes. Meanwhile, the textile industry's localization rate is now about 57%, and Vietnam needs import up to 80% of textiles for export garments.
"Greening" the production chain by the circular economy model is an unavoidable demand that enterprises must achieve. Recently, the EU planned to apply many new ecological regulations to various types of products consumed in its 27 member countries, with textiles being the first to be followed, followed by the footwear sector. Textiles entering the EU must have a long life, be reusable, and be recyclable, according to this regulation… The Nordic market also includes eco-label regulations that include recycling, organic ingredients, durability, and product quality… Eco-labels also demand the use of the Best Available Techniques (BAT), which must contain documentation demonstrating that the manufacturing facility has adopted a minimum of BAT water and energy efficiency techniques or initiatives and self-produced solar energy…
Transform to adapt to new trends
According to several textile industry experts, in the face of market challenges, enterprises have been transforming to meet new criteria, overcome challenges, and maintain momentum. Along with diversifying export markets beyond traditional markets, several enterprises have prioritized investment in technology and automation. Some businesses have invested in technology to reduce the quantity of wastewater generated after dyeing, reuse wastewater following treatment, and invest in or collaborate with solar power developers at factories to increase the rate of renewable energy consumption. Some businesses additionally concentrate on establishing an independent material management department, establishing separate standards for each type of fabric, optimizing marking, controlling losses, sorting and leveraging rags to save fabric, and so on.
Likewise, businesses in the global supply chain work hard to meet the new trend's "greening" standards. By 2030, the H&M fashion brand has committed to developing a carbon-neutral supply chain for their factories or subcontracting with suppliers. This implies that its 31 Vietnamese suppliers must fulfill the new standards to meet carbon neutrality targets. Nike, the world's leading fashion business, has announced similar plans affecting over 100 Nike suppliers in Vietnam. ..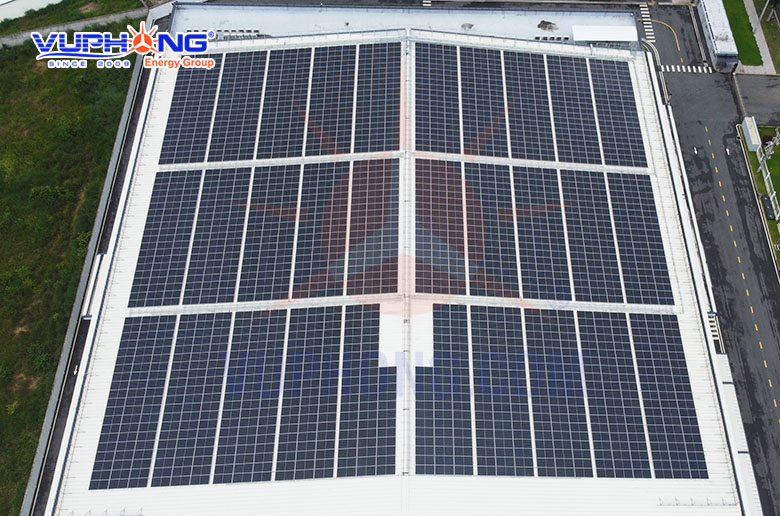 Solar power at a NIKE supply chain factory in Vietnam
Many experts believe that, despite their many challenges, textile enterprises will adapt and have many future growth opportunities, especially if they actively transform and take advantage of FTAs. Furthermore, the requirements for rules of origin in FTAs force textile enterprises to focus on expanding throughout the whole chain, providing an opportunity for the sector to develop sustainably and build a domestic value chain. The textile sector aims for a 5-6% annual growth rate, equal to a production value of around 68-70 billion USD, from now through 2030.
Vu Phong Energy Group