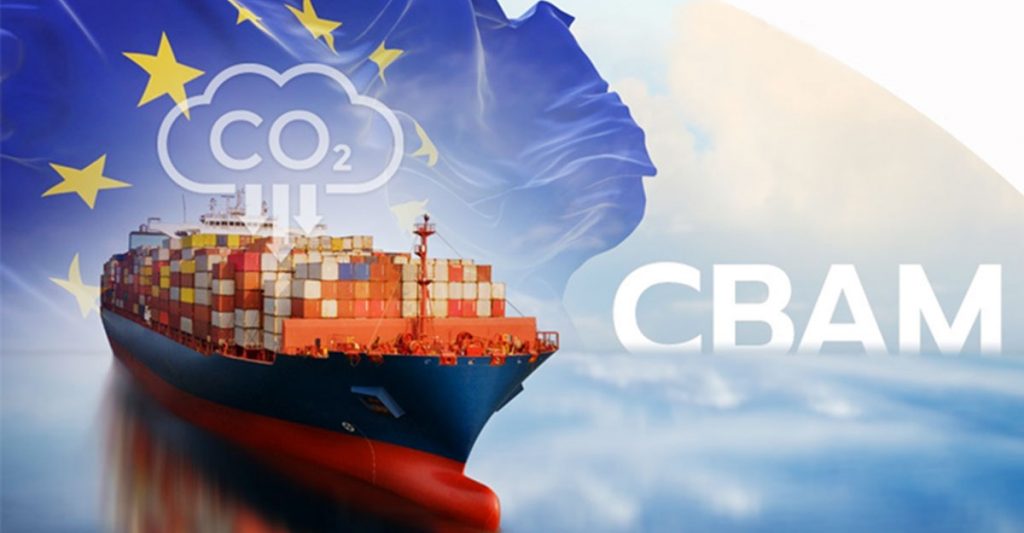 During the transitional phase of the EU's CBAM mechanism, importers of cement, steel, aluminum, fertilizers, and hydrogen products must report direct and indirect greenhouse gas emissions, including emissions from electricity use during manufacture.
Electricity emissions are a part of the report.
According to the EU's Carbon Border Adjustment Mechanism (CBAM) requirements, importers are obliged to submit the electricity consumption (measured in MWh) during the manufacturing of each ton of good, as well as the appropriate emission factor for electricity consumption, for indirect emissions. During the transition phase, indirect emissions are reported for products such as cement, steel, aluminum, fertilizers, and hydrogen, in addition to direct emissions.
As a result, emissions from electricity consumption are a major issue for enterprises in Vietnam, particularly those immediately impacted by the CBAM mechanism in four industrial groups that export to the EU market: aluminum, steel, cement, and fertilizers. Notably, these industries rely heavily on electricity for their production.
According to the announcement by the Climate Change Department, Ministry of Natural Resources and Environment, on December 31, 2022, the emission factor for Vietnam's electricity grid in 2021 was 0.7221 tCO2/MWh. A rough calculation shows that in the cement industry, with an average consumption of about 100 kWh of electricity per ton of cement, the amount of emissions from electricity consumed if taken from the national grid for 1,000 tons is 72.21 tCO2. In the steel industry, with an average electricity consumption of about 400-600 kWh per ton of steel, the amount of emissions from electricity consumed if taken from the national grid for 1,000 tons of steel emissions can reach approximately 288-433 tCO2. Given the increasing trend in steel exports to the EU due to the leverage of the EVFTA (Vietnam-EU Free Trade Agreement), especially in August 2023 alone, reaching 2.31 million tons, reducing emissions from electricity consumption is a challenge that these businesses need to address immediately to alleviate pressure and enhance competitiveness as they enter the CBAM tax phase.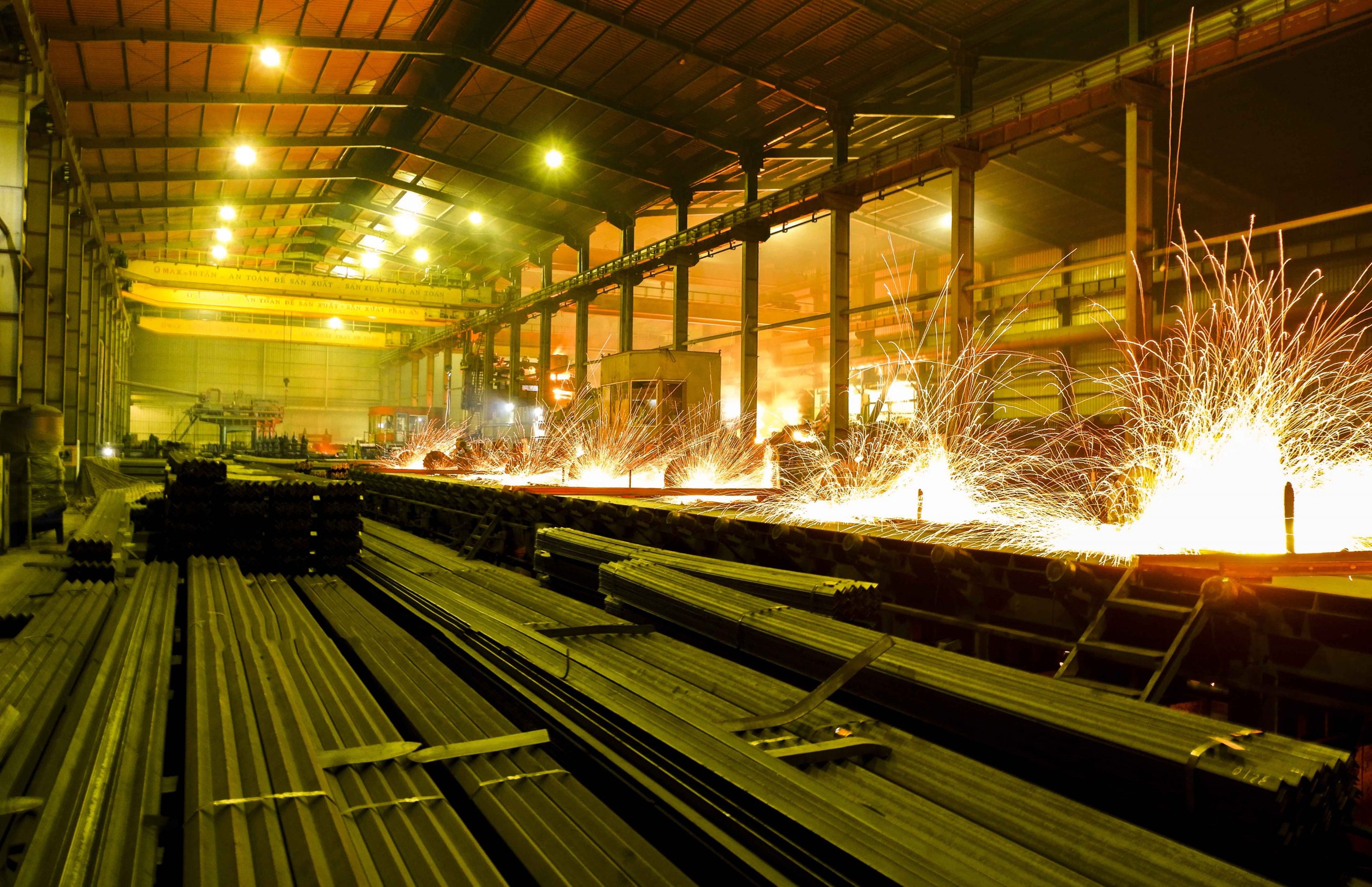 Aluminum, steel, cement, and fertilizer are manufacturing industries that rely heavily on electricity for production (Internet image)
Optimizing electricity efficiency for businesses
Advanced technology plays a vital role in conserving electricity for enterprises production. Many steel and cement enterprises have adopted waste-heat recovery technologies for power generation. For instance, Hoa Phat Steel utilizes German technology to convert excess heat from steel production into input for electricity production, allowing it to self-generate a large portion (up to 75-80%) of the electricity needed for steel production. Similarly, at Do Luong Cement Plant, the excess heat gas power generation system operates based on the principle of extracting heat from the waste gas and excess gas from the clinker production line to produce steam that drives a turbine generator, contributing over 100 million kWh annually to the plant's electricity grid, accounting for 39% of the total electricity consumption of the factory.
Furthermore, by installing solar solutions on factory rooftops, enterprises can enhance on-site power supply, increase self-sufficiency in electricity, and reduce electricity consumption from the national grid. A 3 MWp solar power system on the factory roof could generate around 4,300 MWh of electricity per year in the southern area, thereby assisting the company in reducing emissions by up to 3,100 tCO2 per year.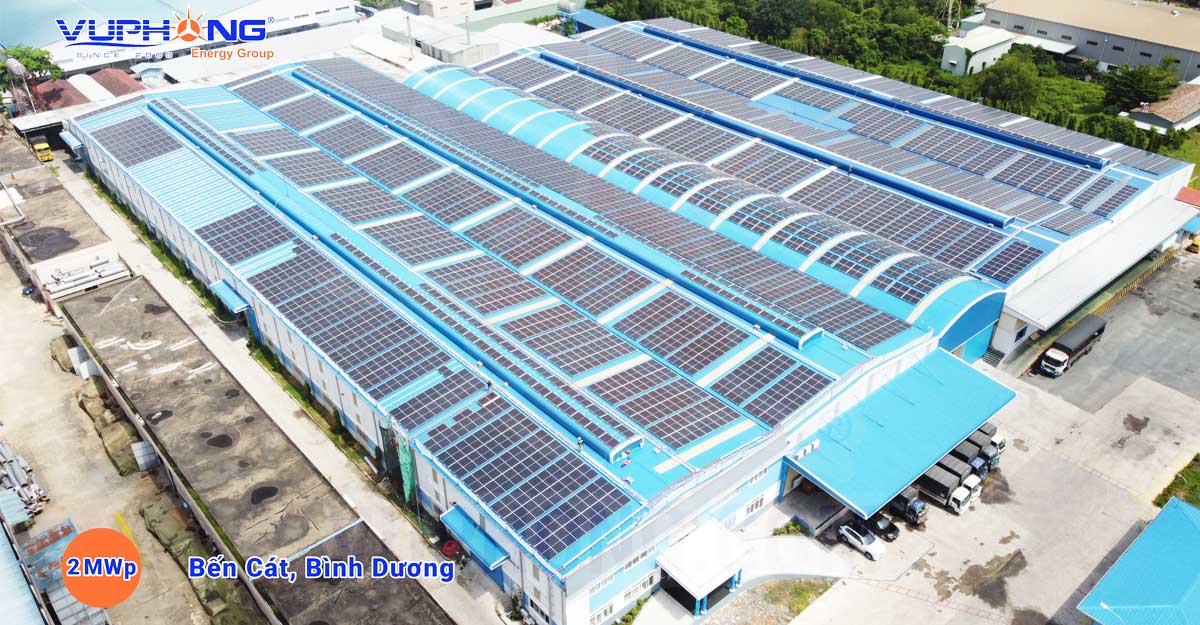 Using solar energy can help businesses reduce indirect emissions
Using the Power Purchase Agreement (PPA) for solar energy without paying for upfront investment and system operating costs is an important advantage for manufacturing enterprises. Furthermore, they can buy electricity cheaper than the current national grid pricing (up to 20-30% lower). Many enterprises, including major companies like Vinamilk, Kem Nghia, Duy Tan, DWS, An Tien Industries (under An Phat Holdings),… have chosen the flexible collaboration approach pioneered by Vu Phong Energy Group in Vietnam.
With the PPA model, Vu Phong Energy Group and investment funds like VP Energy proactively invest in solar power systems on the business rooftops. Businesses can buy electricity at preferential rates through a long-term cooperation contract. At the contract's end, the business can receive the entire system for free (at 0 cost) with committed performance when the transfer exceeds 80-90% under certain conditions. This is an optimal solution that helps businesses tackle both reducing emissions from electricity consumption and optimizing energy costs in production while avoiding investment capital challenges for the system.
The EU's Carbon Border Adjustment Mechanism (CBAM) will formally start the transition phase on October 1, 2023. Many experts believe that in the future, additional nations and significant markets, such as the United States, Japan, and South Korea,… may follow this way by issuing comparable policies and mechanisms that extend to various other goods. As a result, Vietnamese businesses currently participating in or planning to enter the international market in all industries such as textiles, plastics, leather shoes, wood, and so on, must proactively adapt to this new trend and make necessary preparations now during production strategy planning to reduce emissions, including indirect emissions from electricity consumption.
Businesses interested in the PPA (Power Purchase Agreement) cooperation model and clean energy solutions, please contact Our Call Center via 1800 7171 or +84 9 1800 7171 or send an email to hello@vuphong.com for more information.
Vu Phong Energy Group