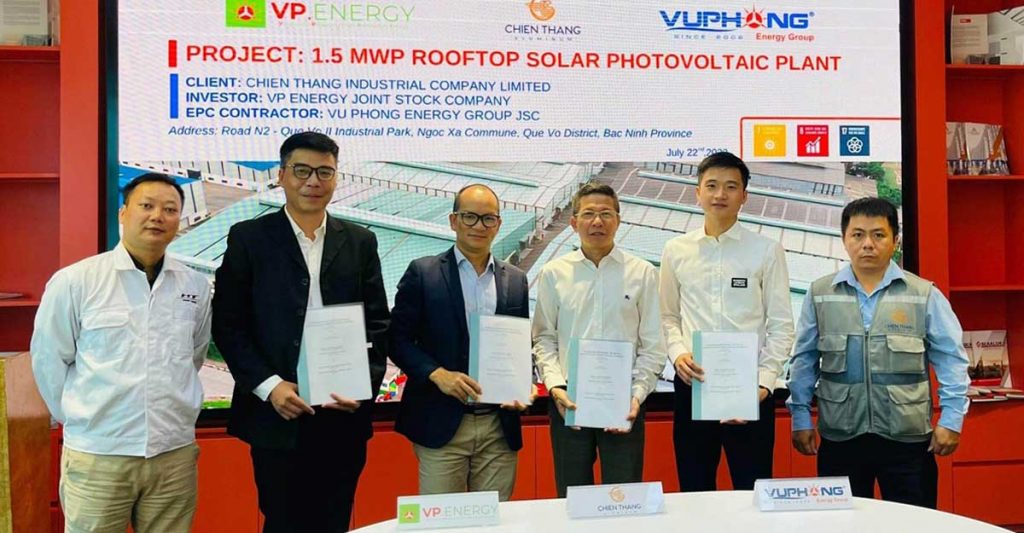 The 1.5 MWp solar power system will be installed on Chien Thang Industrial Company Limited's rooftop. This system was developed under a Power Purchase Agreement (PPA) cooperation model, invested by VP Energy and Vu Phong Energy Group provided EPC general contractor and operation and maintenance (O&M). On July 22, 2023, the signing ceremony took place.
Chien Thang Industrial Company Limited is a well-known aluminum manufacturer specializing in producing shaped aluminum products. Chien Thang Industrial Company Limited has over 20 years of building and development experience and has consistently manufactured and supplied many high-quality aluminum products to the market that meet international and aesthetically pleasing standards. Their products are trusted and utilized by well-known manufacturers such as Honda, Samsung, Yamaha, and others.
In particular, they have invested modern technology and innovation in their manufacturing lines to enhance product quality and meet international demand. Both of factories are equipped with advanced manufacturing and inspection tools imported from abroad, ensuring a closed-loop process that includes stages such as aluminum refining, aluminum pressing, electrostatic powder coating, plating, and wood grain coating, all in accordance with ISO 9001:2015 standards. Furthermore, Chien Thang Industrial Company Limited is now getting assistance from Samsung Electronics in developing a smart factory, upgrading from level 1.1 to level 2.8. Chien Thang Aluminum will take another step toward constructing an eco-friendly and environmentally smart factory by signing the solar power project partnership for the second facility in Que Vo II Industrial Park (Ngoc Xa – Que Vo – Bac Ninh).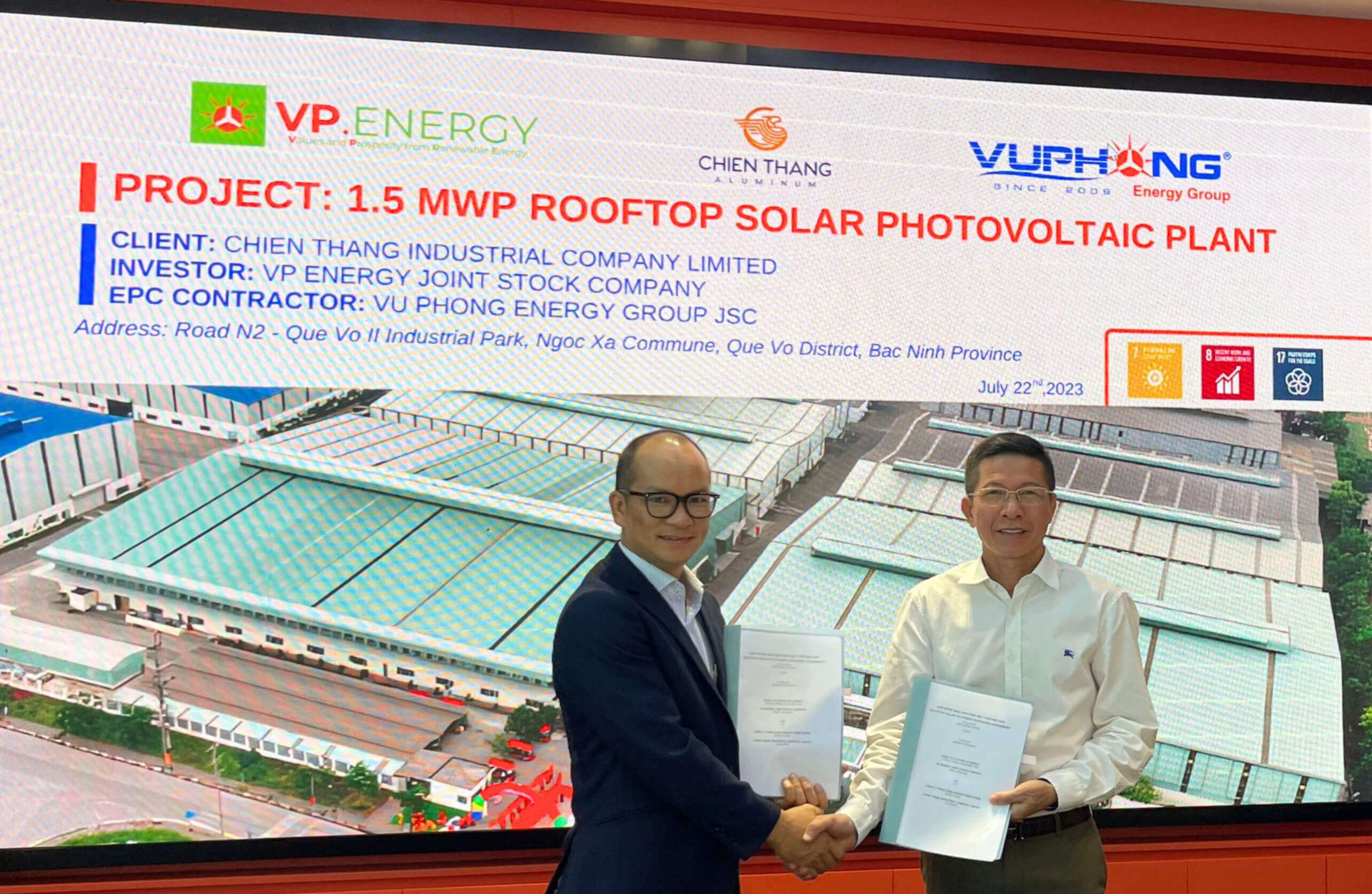 Vu Phong Energy Group and Chien Thang Industrial Company Limited collaborated to develop and use clean energy
The 1.5 MWp solar power system can generate almost 2,000 MWh of electricity to support manufacturing operations, assisting Chien Thang Aluminum in reducing CO2 emissions by about 1,400 tons annually. With the Power Purchase Agreement (PPA) cooperation arrangement, Chien Thang Industrial Company Limited can use the system without investing in or operating it. Instead, businesses can purchase solar power at a lower price than current electricity prices, saving a portion of the energy costs in the manufacturing process.
Mr. Tri, Nguyen Quang, CEO of Vu Phong Energy Group, said that we completed and handed over many solar power systems developed under the PPA model. A 2.9 MWp system at Golden Victory Vietnam Company Limited and a 1.13 MWp system at NAFOCO Lam san Nam Dinh Company Limited are among the outstanding projects in the northern area. All of these projects are now operating stably and with high efficiency. With capacity and experience as Vietnam's leading renewable energy enterprise, Vu Phong Energy Group commits to providing the best companion to Chien Thang Industrial Company Limited and other customers and partners in their journey towards green transformation and sustainable development.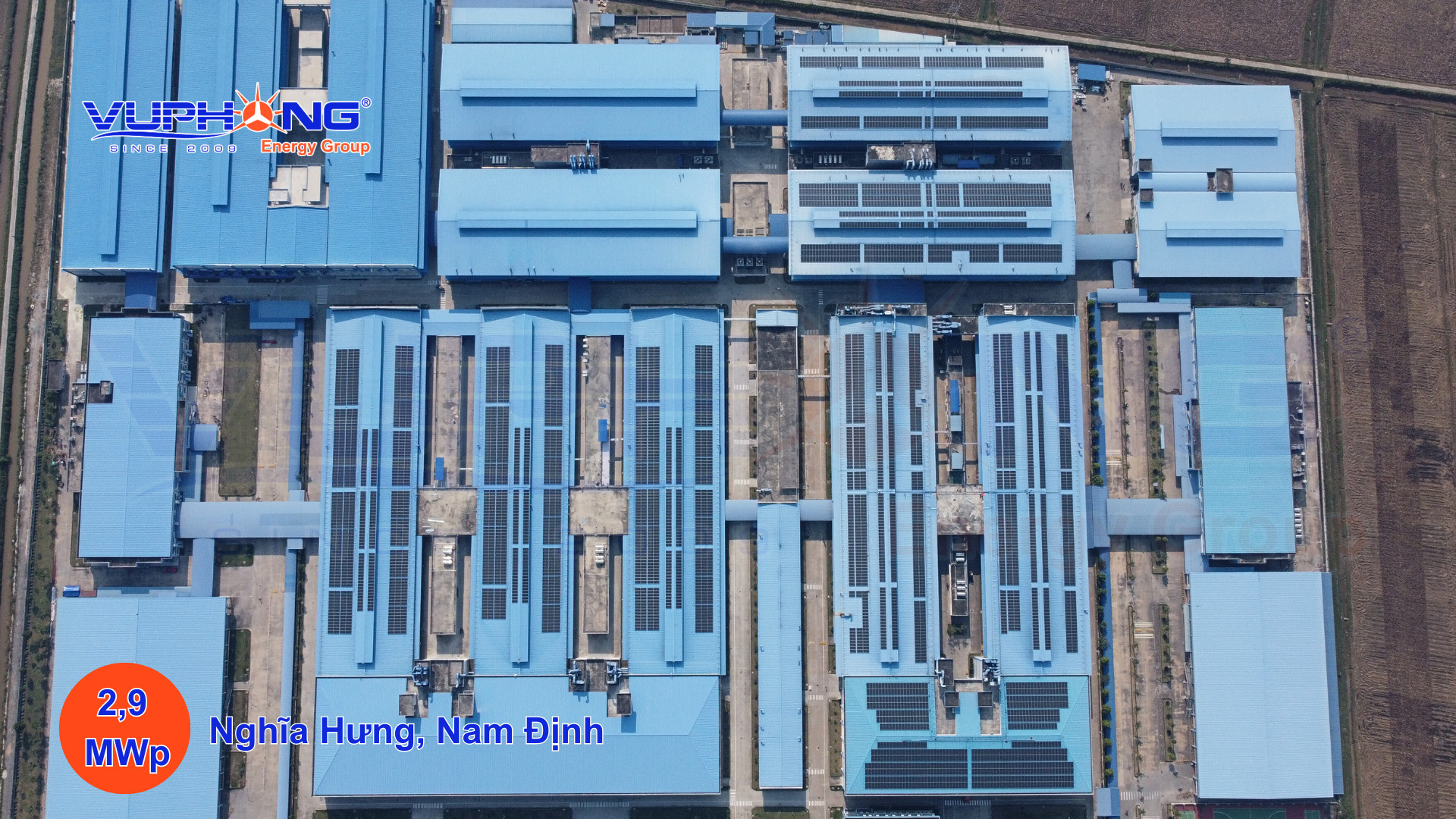 The solar power system on Golden Victory Vietnam Factory rooftop
VP Energy is a subsidiary of Vu Phong Energy Group, well-known in Vietnam as a leading professional solar investment and development business that collaborates with reputable domestic and international people and organizations. VP Energy has completed and transferred over 25 MWp of solar projects and is now developing a series of rooftop solar projects nationwide.
Recently, VP Energy has signed a contract to develop a 3.5 MWp solar power system for the Quang Quan Plastic Factory. This project involves installing three solar systems totalling 3.5 MWp at two industries in Quang Quan's Dong Van 1 Industrial Zone (Duy Tien, Ha Nam) and one facility in the Tu Ha Industrial Cluster (Huong Tra, Thua Thien Hue). Vu Phong Energy Group will provide these systems to EPC general contractor as well as Operation and Maintenance (O&M).