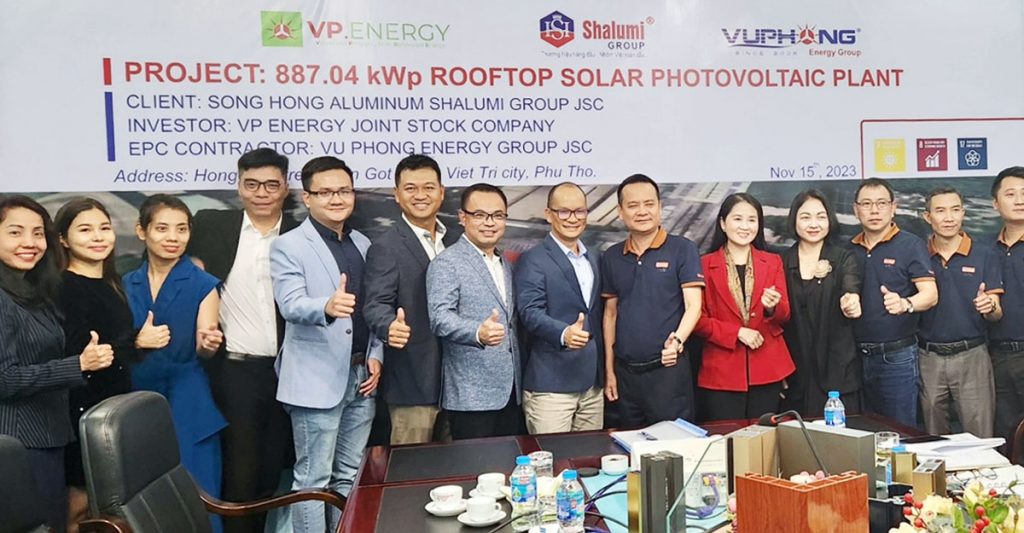 On November 15, 2023, at the Song Hong Aluminum Shalumi Group Joint Stock Company (Viet Tri, Phu Tho), a signing ceremony took place to collaborate to develop a rooftop solar power system. The system has a capacity of 887 kWp, developed through a Power Purchase Agreement (PPA) collaboration, with VP Energy as investor, Vu Phong Energy Group providing Engineering, Procurement, and Construction (EPC) services, as well as Operation & Maintenance (O&M).
Song Hong Aluminum Shalumi was established in 1999 as a state-owned enterprise fully owned by the Ministry of Construction. Renowned for being a pioneer in manufacturing shaped aluminum profiles in Vietnam, after nearly 25 years of development with outstanding growth in production capacity and consumption, Shalumi Song Hong Aluminum has become one of the largest companies in Vietnam in this industry.
Specializing in the production and business of shaped aluminum profiles, billet raw material aluminum, and processing products from aluminum profiles, Song Hong Aluminum Shalumi currently leads the market in color plating anodized aluminum technology products. Additionally, it is a trailblazer in manufacturing aluminum products for interior and exterior use, as well as aluminum frameworks for household elevators…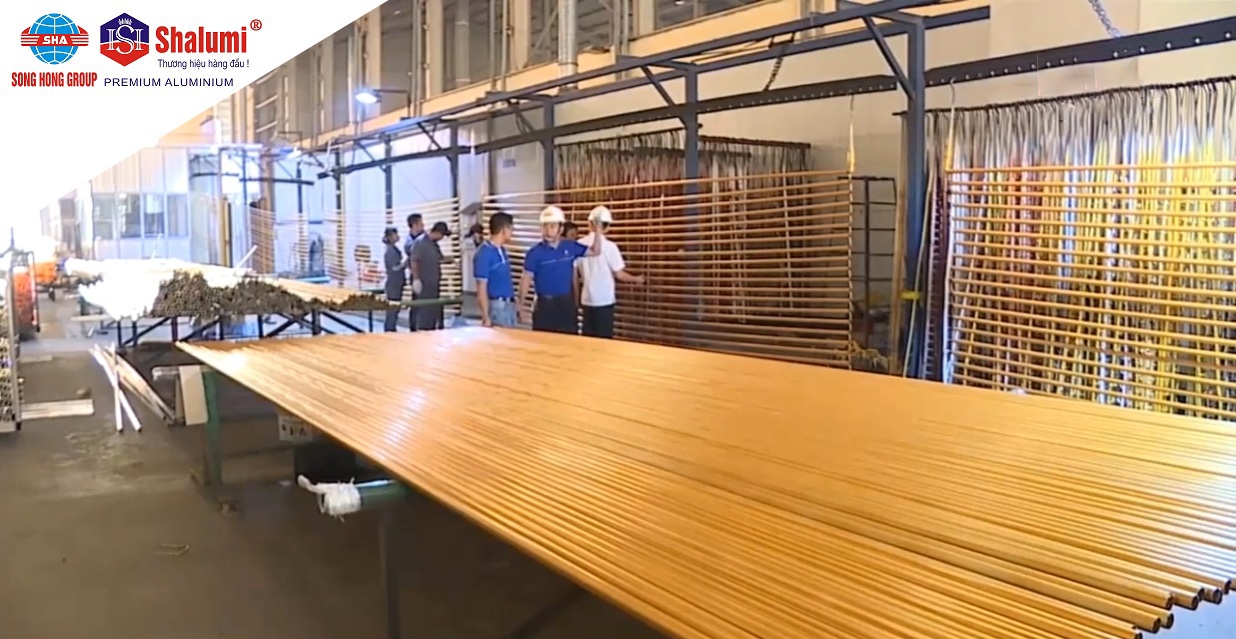 Song Hong Aluminum Shalumi is one of the largest companies in the production of shaped aluminum profiles in Vietnam
Shalumi boasts outstanding production capabilities with an casting plant with a capacity of 18,000 tons/year, extrusion factories with a capacity of 16,000 tons/year, an power coating factories with a capacity of 14,000 tons/year, a wood grain film coating factories with a capacity of 6,000 tons/year, and a anodizing facrtories with a capacity of 21,000 tons/year. Not only widely consumed and holding a large market share domestically, but the company's products have also been exported to major international markets such as the US, EU…
With the goal of growth, maintaining Shalumi's position, and expanding the market, Song Hong Aluminum Shalumi is investing in additional machinery and upgrading technology to introduce high-quality Anode aluminum, powder-coated aluminum products with a warranty of up to 30 years to meet the demands of the high-end domestic market and export to the US, Canada, Germany, India,… Additionally, Shalumi has planned the development of a solar power system to save energy costs, reduce emissions, and create more environmentally friendly products, contributing to environmental protection and sustainability.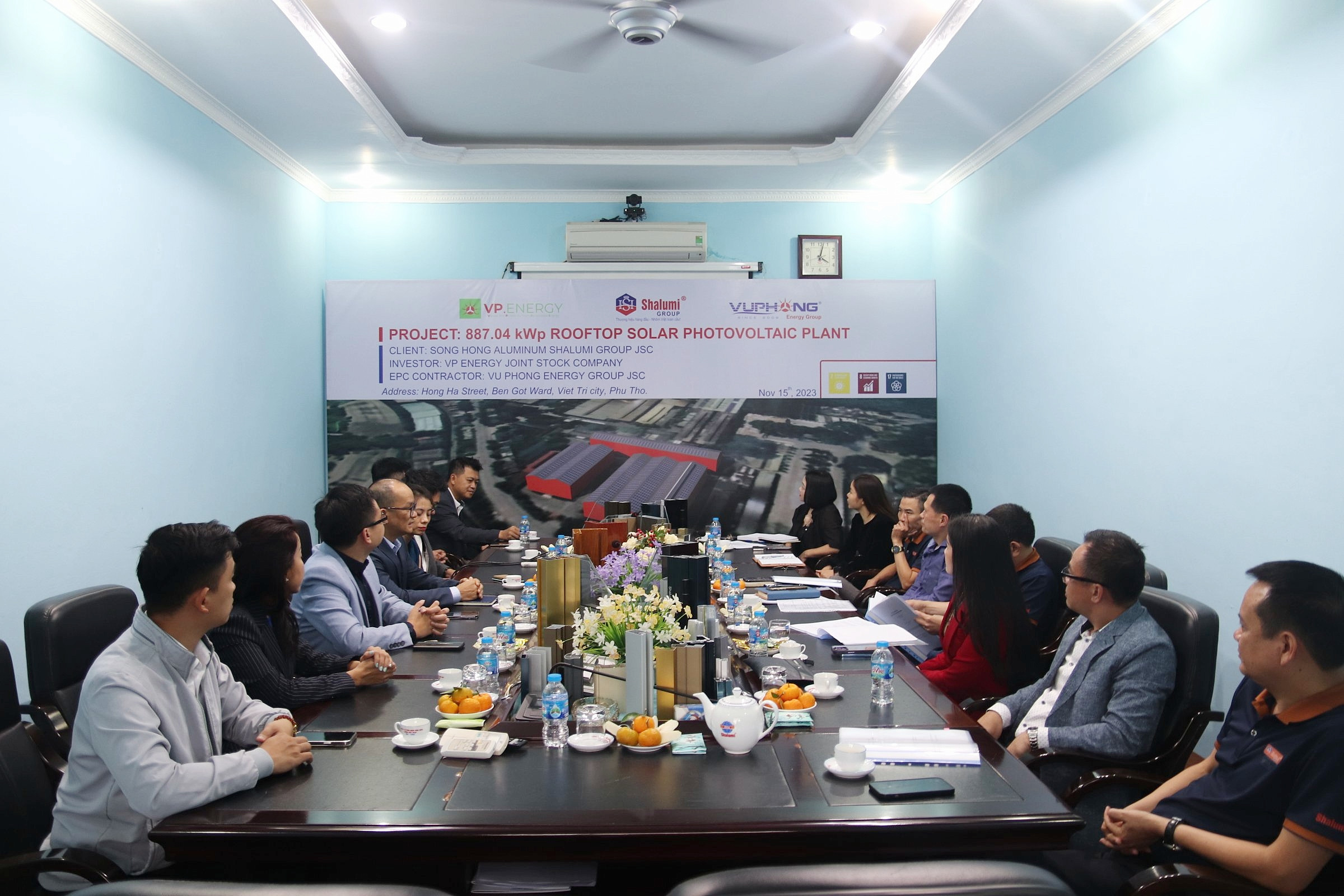 Solar power system development signing ceremony at Song Hong Aluminum Shalumi factory
Signing the rooftop solar power system development agreement on the plant is regarded as a significant step forward in Song Hong Aluminum Shalumi's plans. Shalumi, in particular, does not have to worry about the system's investment and operating costs, allowing for optimal capital flow for machinery investment and technology upgrades. Not only does this allow Shalumi to purchase solar power at a significantly lower cost than current electricity prices, saving energy costs during production, but at the end of the collaboration contract, Shalumi can also receive a free transfer of the system, with a committed capacity of more than 80-90% depending on conditions.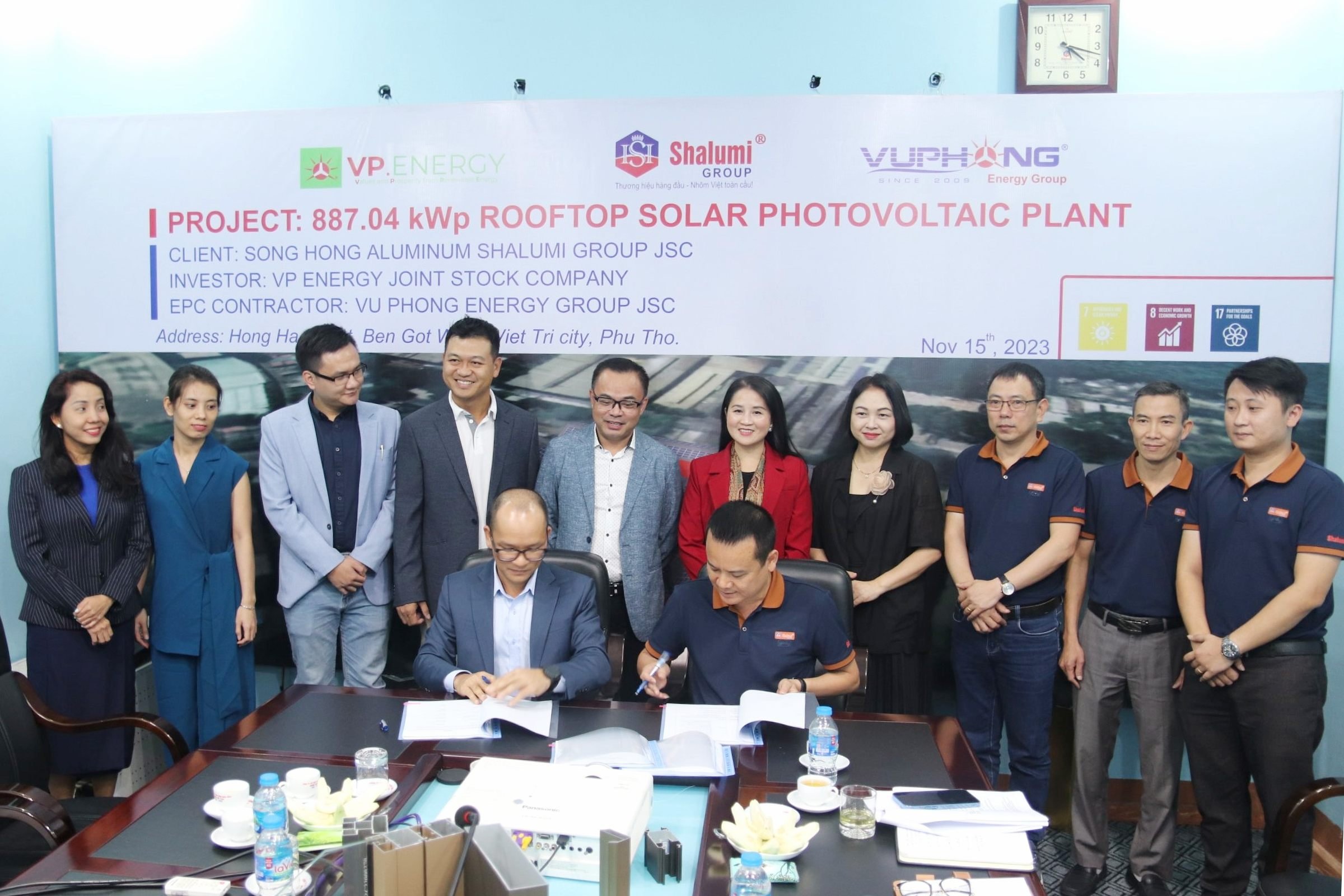 Meaningful moment marking the cooperation between the parties
Using clean energy for production activities is a trend and is becoming an essential need for many businesses, especially those participating in global supply chains, exporting goods to international markets such as the EU, the US,… The green transition of businesses is also significantly meaningful in contributing to the country's common goal of reducing greenhouse gas emissions, aiming to achieve net-zero emissions by 2050.
Businesses interested in clean energy solutions, please contact Our Call Center via 1800 7171 or +84 9 1800 7171 or send an email to hello@vuphong.com for more information.
As a leading professional solar power developer and renewable energy enterprise in Vietnam, Vu Phong Energy Group accompanies businesses on the journey of green production and sustainable development:
A flexible cooperation Power Purchase Agreement (PPA) model as a solar power project developer, particularly with the participation of many reputable international and domestic investment funds – enables enterprises to utilize clean energy without paying investment costs.
Professional EPC contractor services are provided by a team of highly specialized and experienced design engineers; construction engineers who strictly comply with design drawings standards, adhere to international technical standards and use carefully chosen genuine materials.
Optimizing systems with high-quality operation and maintenance (O&M) services shows capacity via years of practical O&M at large-scale solar power plants and hundreds of rooftop systems for manufacturing enterprises.
More over, Vu Phong Energy Group accompanies customers in their journey toward sustainable development by offering media assistance and being available to give SDG-ESG advice, supporting in registering for I-REC international renewable energy certificates…
In addition, Vu Phong Energy Group has a subsidiary, VP Carbon Solutions, which focuses on providing solutions to accompany businesses in effectively reducing greenhouse gas emissions, aiming for carbon neutrality. The main services of VP Carbon Solutions include: Registering and trading International Renewable Energy Certificates (I-REC); Consulting on registering Certified Emission Reductions (CERs) certificates, and ESG consulting for businesses.
Vu Phong Energy Group