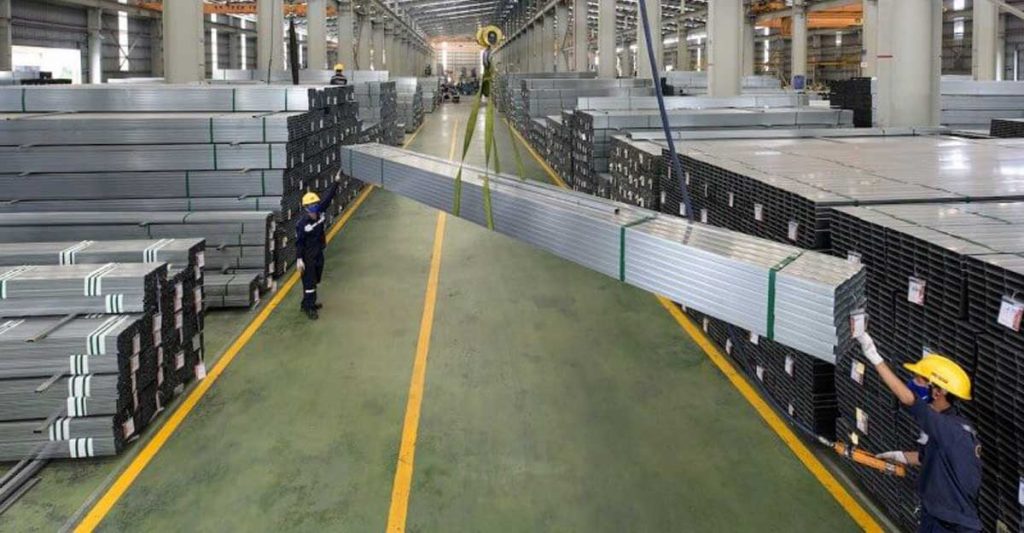 As of October 1, 2023, the EU's Carbon Border Adjustment Mechanism (CBAM) has officially entered its transition phase. Iron and steel is one of the first six industries to be impacted by the CBAM during this initial phase.
The 'greening' challenge for iron and steel industry enterprises
The transition phase of the CBAM runs from October 1, 2023, to December 31, 2025. During this period, importers in the EU will be required to report the amount of goods affected by CBAM and the associated emissions. This may encompass direct and indirect emissions from electricity consumption in the manufacturing process. Iron and steel is one of the six sectors affected by CBAM in this phase, including cement, iron and steel, aluminum, fertilizers, hydrogen, and electricity.
Among the four primary goods Vietnam significantly exports to the EU affected by CBAM – aluminium, iron and steel, cement, and fertilizer – iron and steel products alone make up 96% of the total value. In 2022, the EU's iron and steel imports from Vietnam reached $2.1 billion. According to General Department of Customs statistics, various types of exported iron and steel amounted to 988,000 tons in August 2023. Overall, in the first eight months of 2023, Vietnam exported 7.38 million tons of iron and steel valued at $5.69 billion, a 24.4% increase in volume compared to last year. Vietnam's export of various iron and steel in the first eight months of 2023 mainly increased due to exporting to the EU market (27 countries), more than twice as much as last year's, reaching 2.31 million tons. In contrast, steel exported to the ASEAN market was 2.34 million tons, a 4.6% decrease compared to last year (1).
With the EU amending regulations on imposing safeguard measures on certain imported steel products – effective from July 1, 2023 – Vietnam's steel exports to the EU are expected to continue favorably in the near future. Under the new regulations, any WTO member country classified as a developing nation is exempt from application if its export share to the EU remains below 3% of the total import value for each product type. Many other countries like China, India, Malaysia, Brazil, and Vietnam also benefit from this expanded quota exemption.
However, to seize this opportunity's effectiveness and enhance market competitiveness, 'greening' to reduce emissions is a common challenge for many iron and steel industry businesses. This is because Vietnam's average emission level for iron and steel is high, around 2.51 tons of CO2 per ton of raw steel (compared to the global average of 1.85 tons of CO2 per ton of raw steel). This calculation only considers indirect emissions from electricity consumption. For an average electricity consumption of 400-600 kWh per ton of steel, the emissions from electricity consumption for 1,000 tons of steel from the national grid can reach around 288-433 tons of CO2.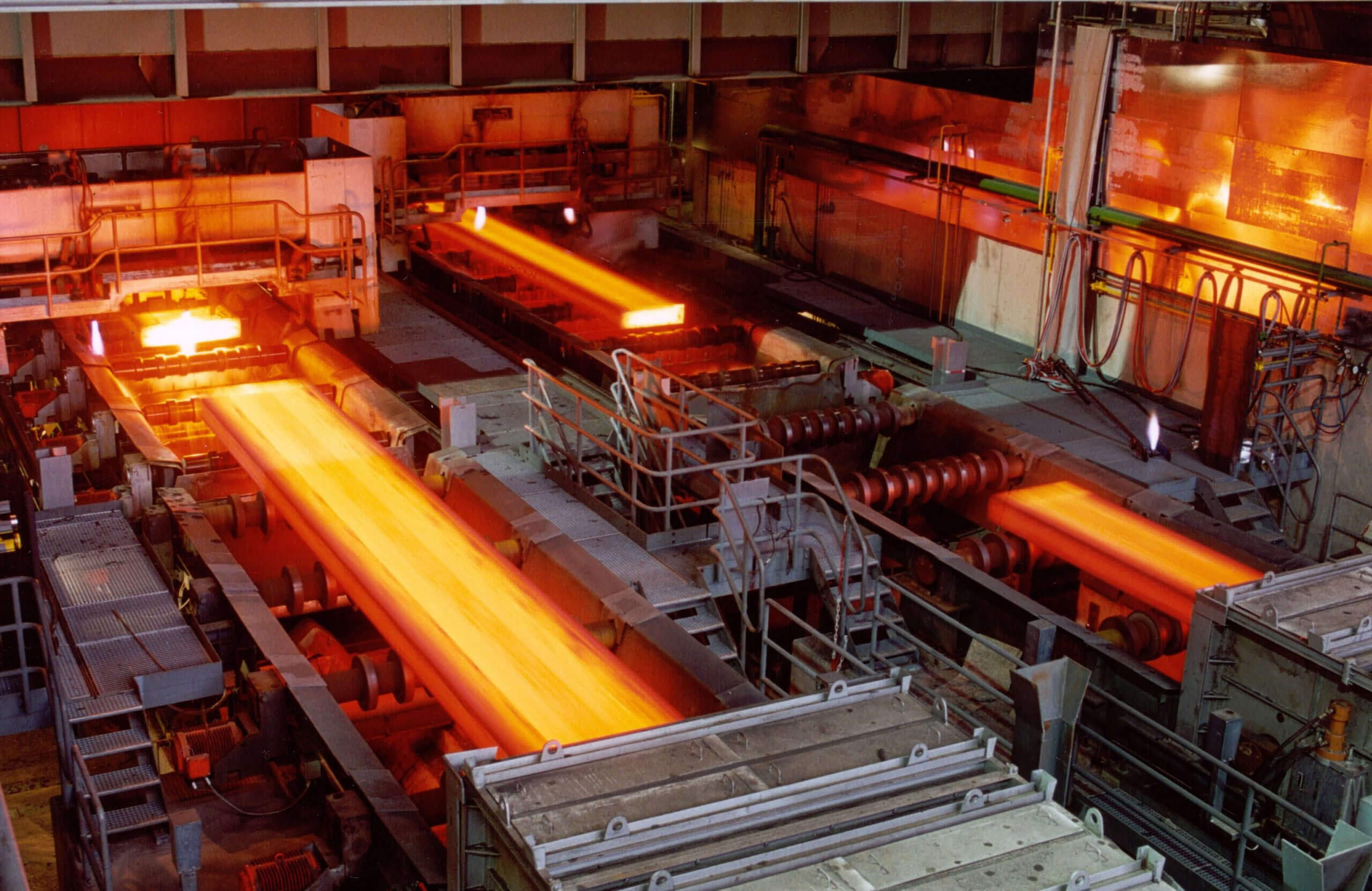 The average emissions of iron and steel in Vietnam are currently high ( Internet illustration)
'Greening' and reducing greenhouse gas emissions in the steel industry is not only necessary for each company as per international market demands for sustainable development, but it also significantly contributes to the country's general goal of reducing emissions and achieving net-zero emissions by 2050. According to experts' calculations, the steel industry is responsible for 7% of the country's total emissions and about 46% of industrial processes.
Clean energy for iron and steel production
In the trend of going green, many iron and steel industry businesses are making efforts by optimizing technologies, using energy-saving solutions, renewable energy, and harnessing excess heat during production for electricity…
To accompany iron and steel industry businesses in Vietnam in using renewable energy for green production and reducing greenhouse gas emissions, Vu Phong Energy Group continues to promote forward with the implementation of Power Purchase Agreements (PPA) for solar energy. This is a flexible cooperation model that allows businesses to use solar energy at a lower cost (up to 20-30% cheaper than current electricity prices) without the need for initial capital investment and system operation, while meeting the requirements for emission reduction, ESG practices, and sustainable development.
Many businesses, including industry leaders in Vietnam such as Vinamilk, Duy Tan Plastic, Kem Nghia, An Tien Industries (under An Phat Holdings)… have chosen this model.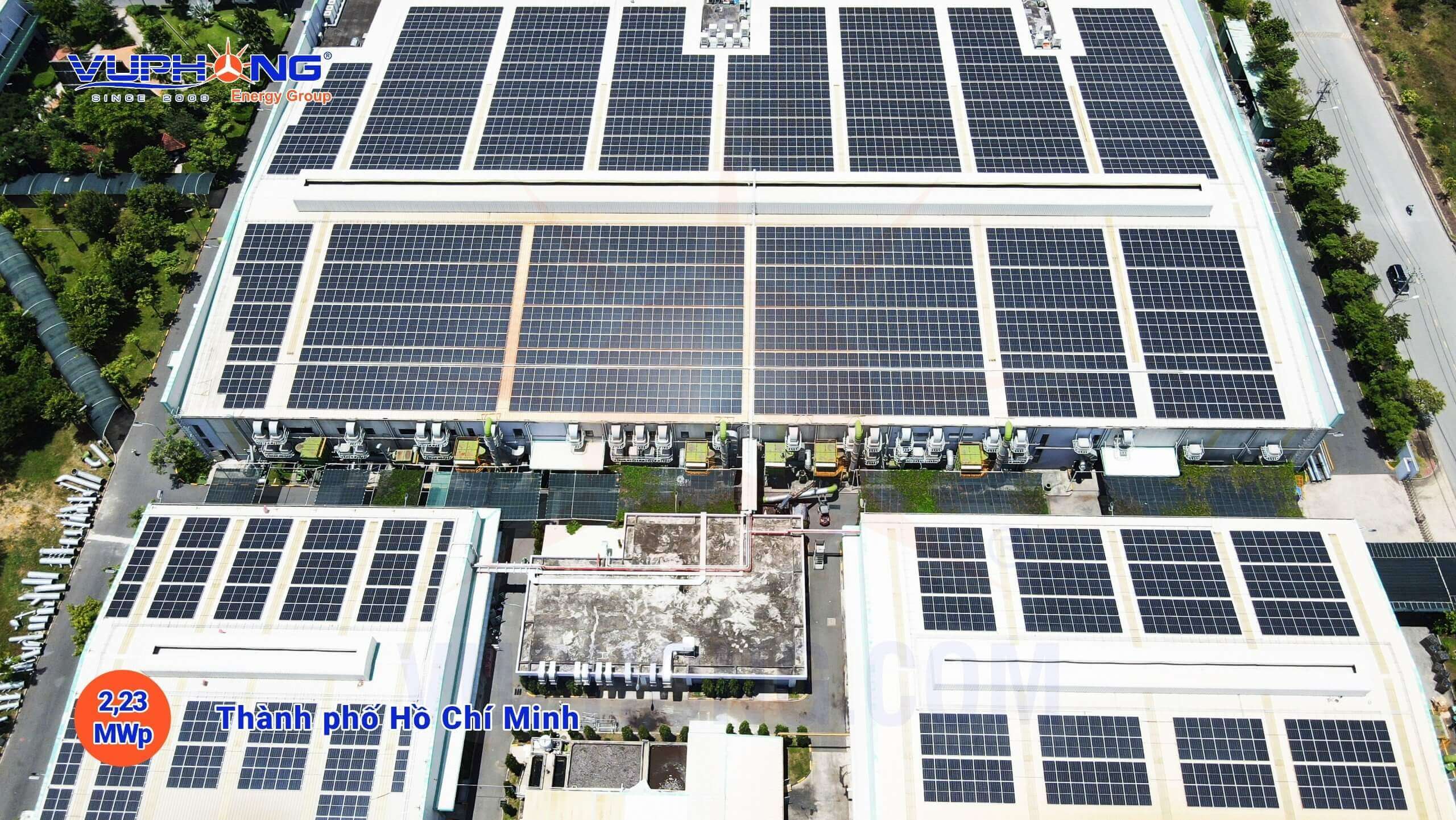 Solar power system on the roof of Kem Nghia factory in Tan Phu Trung Industrial Zone (HCMC)
In addition to providing Power Purchase Agreement (PPA) cooperation solutions, EPC solutions, and professional Operation and Maintenance (O&M) services, Vu Phong Energy Group also supports businesses in registering for the International Renewable Energy Certificate (I-REC) through our subsidiary, VP Carbon Solutions. Owning the I-REC helps businesses meet international requirements in demonstrating the use of renewable energy.
As a leading professional solar power developer and renewable energy enterprise in Vietnam, Vu Phong Energy Group accompanies businesses on the journey of green production and sustainable development:
A flexible cooperation Power Purchase Agreement (PPA) model as a solar power project developer, particularly with the participation of many reputable international and domestic investment funds – enables enterprises to utilize clean energy without paying investment costs.
Professional EPC contractor services are provided by a team of highly specialized and experienced design engineers; construction engineers who strictly comply with design drawings standards, adhere to international technical standards and use carefully chosen genuine materials.
Optimizing systems with high-quality operation and maintenance (O&M) services shows capacity via years of practical O&M at large-scale solar power plants and hundreds of rooftop systems for manufacturing enterprises.
Moreover, Vu Phong Energy Group accompanies customers in their journey toward sustainable development by offering media assistance and being available to give SDG-ESG advice, supporting in registering for I-REC international renewable energy certificates…
Businesses interested in clean energy solutions, please contact Our Call Center via 1800 7171 or +84 9 1800 7171 or send an email to hello@vuphong.com for more information.
Vu Phong Energy Group
(1) Data from General Department of Customs (Vietnamses)
(2) Data from Energy Conservation Research and Development Center – ENERTEAM
*Source: Internet
Read more: