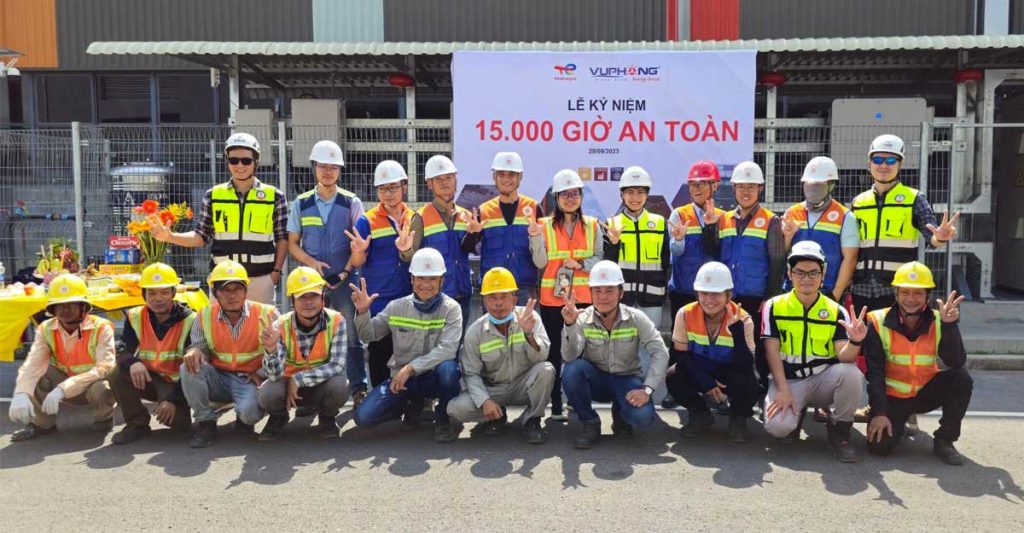 On September 29, 2023, the project management of the rooftop solar power system celebrated a milestone of 15,000 safe man-hours at the construction site in Dong Nai. TotalEnergies, the project's investor, recognized Vu Phong Energy Group's achievement in ensuring safety throughout the project.
The rooftop solar power system has a total capacity of 1.15 MWp and construction commenced in mid-July 2023. The project management implemented HSE (Health, Safety, and Environment) activities throughout the construction process to guarantee worker safety, well-being, and environmental cleanliness. The project has almost completed 100% of the planned work and is anticipated to be handed over soon.
Labor safety is always a top priority for Vu Phong Energy Group in creating high-quality clean energy systems. At Vu Phong Energy Group, the establishment and maintenance of the HSE management system are conducted systematically, aligning with international standards such as ISO 45001 (Occupational Health and Safety Management System), ISO 14001 (Environmental Management System), and ISO 9001 (Quality Management System).
Vu Phong Energy Group has strictly adopted HSE procedures in this project, including:
Adhering strictly to labor safety measures, particularly while working at heights or with electrical equipment, and ensuring that work areas are clean, tidy, and equipped with necessary safety features such as stairs, handrails, barriers,… as regulations. Workers are provided with the necessary tools and equipment, including work protection gear such as shoes, helmets, gloves, and standard safety harnesses,…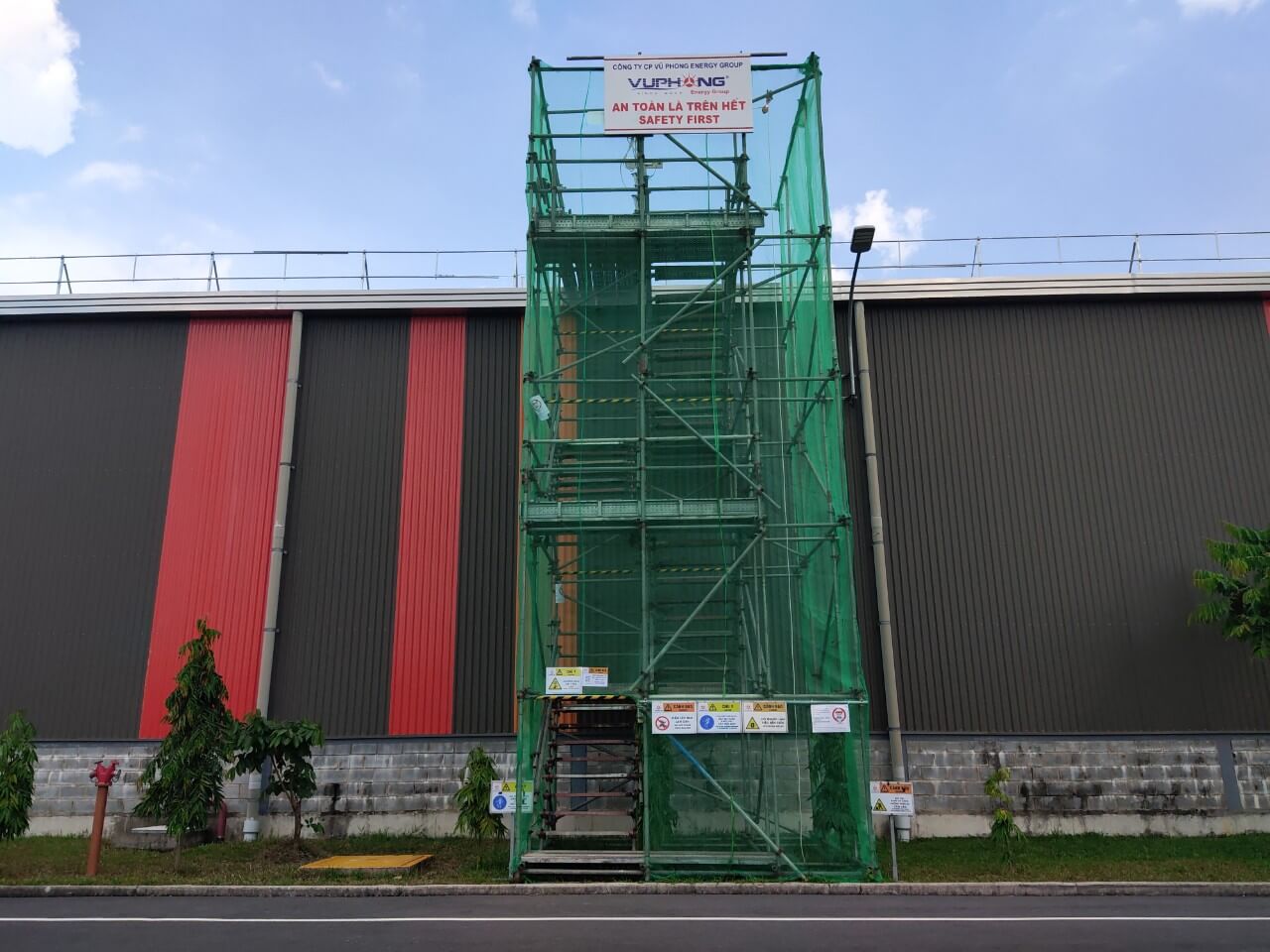 Area safely secured with scaffolding
Complete provision of regulations, instructional boards, safety warning signs, frequent machinery and work equipment checks, especially the daily maintenance of Toolbox Meetings (TBM). Though lasting 10-15 minutes, these morning Toolbox Meetings (TBM) hold significant value, assist the project management and team members in updating the work progress, noting important aspects for the day, ensuring strict adherence to HSE, and also serve as a platform for team members to suggest improvements and enhance work efficiency;
Toolbox Meetings (TBM) regularly conducted at the beginning of each day contribute to the safest and most efficient work practices
Regular organization and participation in occupational safety training programs;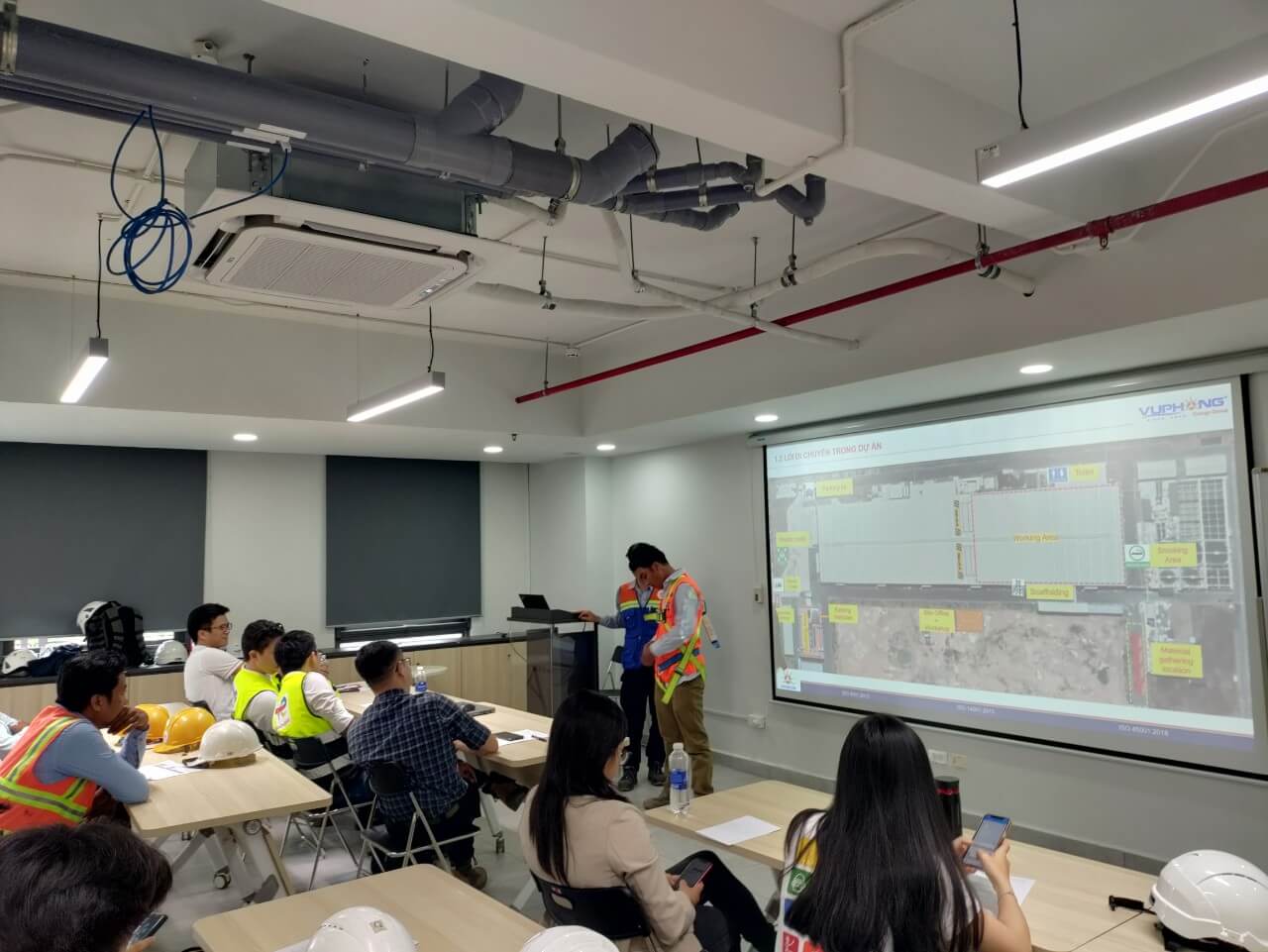 Occupational safety training and workshops are frequently organized
Periodically release HSE newsletters to enhance safety awareness and eliminate potential hazards;
Manage and assess potential risks proactively to effectively prevent them;
Remain prepared and proactive in all emergencies.
The installation and construction of the solar power system are proceeding safely and on time due to the rigorous and synchronized implementation of these measures, as well as the collective efforts of the HSE department, project supervision department, and especially the proactive engagement of all construction team members. TotalEnergies recognizes Vu Phong Energy Group's efforts to ensure safety throughout the project by celebrating 15,000 safe man-hours.
Previously, in 2022, Vu Phong Energy Group was honored by TotalEnergies with a Certificate of Appreciation for achieving zero recordable incident throughout projects. Additionally, the group was recognized as The 2022 Best EPC Contractor in Vietnam.
As a leading professional solar power developer and renewable energy enterprise in Vietnam, Vu Phong Energy Group accompanies businesses on the journey of green production and sustainable development:
A flexible cooperation Power Purchase Agreement (PPA) model as a solar power project developer, particularly with the participation of many reputable international and domestic investment funds – enables enterprises to utilize clean energy without paying investment costs.
Professional EPC contractor services are provided by a team of highly specialized and experienced design engineers; construction engineers who strictly comply with design drawings standards, adhere to international technical standards and use carefully chosen genuine materials.
Optimizing systems with high-quality operation and maintenance (O&M) services shows capacity via years of practical O&M at large-scale solar power plants and hundreds of rooftop systems for manufacturing enterprises.
Moreover, Vu Phong Energy Group accompanies customers in their journey toward sustainable development by offering media assistance and being available to give SDG-ESG advice, supporting in registering for I-REC international renewable energy certificates…
Businesses interested in clean energy solutions, please contact Our Call Center via 1800 7171 or +84 9 1800 7171 or send an email to hello@vuphong.com for more information.
Vũ Phong Energy Group