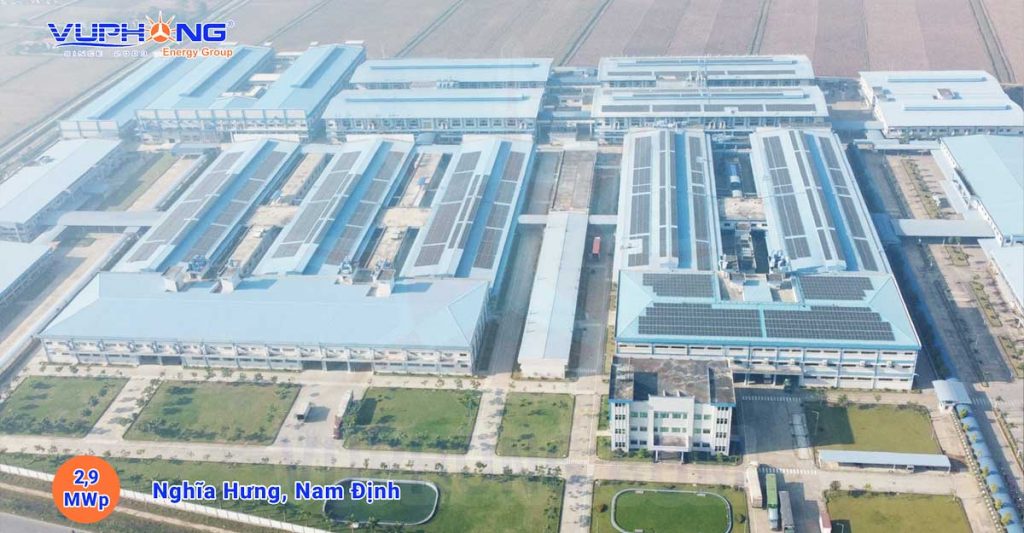 Many footwear businesses are promoting the greening of their manufacturing processes, as well as on the adoption of green standards and regulations the origin of goods to take opportunities of the FTAs.
Growth prospects in the period 2022-2031
Vietnam presently ranks second in the world in terms of footwear exports, behind only China, and third in terms of manufacturing, following only China and India.
The advantages of FTAs have been used by leather and footwear enterprises and have been a driving force for this sector to overcome challenges and recover strongly after the Covid-19 epidemic. Footwear exports reached 14 billion USD in the first seven months of this year, up 13% from the same time last year, with several regions seeing a significant increase, including the North American market (24%), and the European Union – EU (17.5%).
According to the "Research Report on Footwear Industry in Vietnam, 2022-2031" from one of the world's leading market research companies, Research and Markets, Vietnam's footwear production and exports will continue to grow between 2022 and 2031. This report shows that two "giant" brands  in the global footwear industry, Nike and Adidas, have selected Vietnam as their primary manufacturing location, and that a portion of the global footwear supply chain is progressively transferring from China to Vietnam due to lower prices. Nike presently has over 100 suppliers in Vietnam, with 96 of them located in the south. Meanwhile, by 2021, Vietnam will generate around 40% of Adidas' entire footwear production.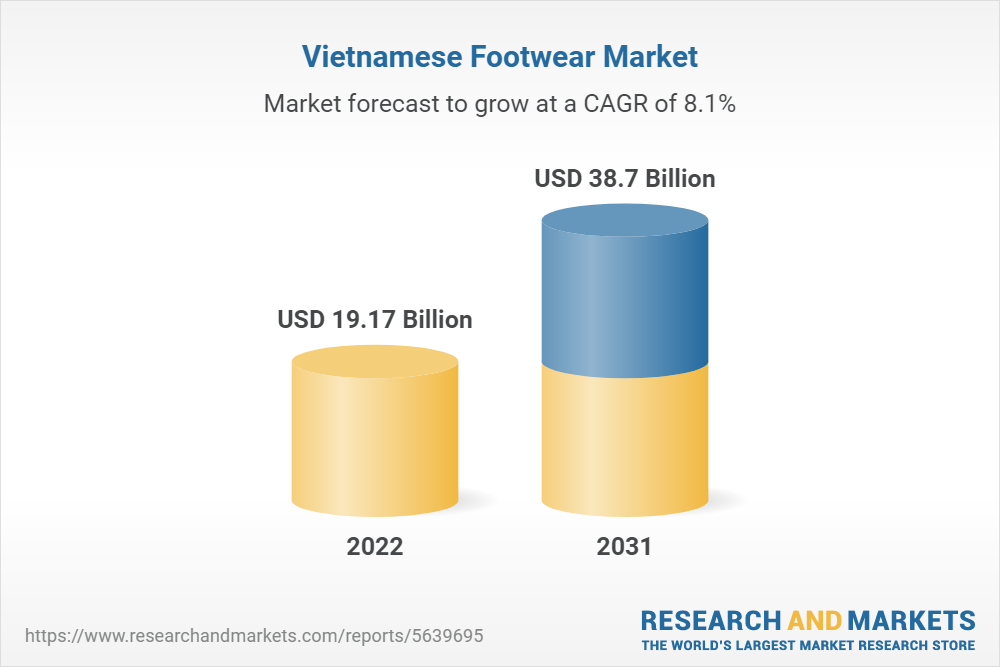 The Vietnam footwear market is expected to increase at an 8.1% compound annual growth rate (CAGR) between 2022 and 2023 (Image source: Research and Markets)
The trend of greening production's transformation
Sustainable production and consumption, as well as a preference for green, clean, and environmentally friendly products, are becoming global trends, resulting in regulations and increasingly stringent environmental and community responsibility criteria for manufacturing enterprises, including footwear enterprises.
The German House of Representatives passed The German Supply Chain Due Diligence Act in 2021, which requires businesses to fully comply with human rights and some environmental due diligence requirements in their supply chains. This Act will take effect on January 1, 2023, and will significantly impact the footwear industry's supply chain when exported to the EU market.
When exporting to the EU market, however, Vietnam's footwear products will benefit from a tax differential of 3.5%-4.2% when compared to competitors. The benefits of tariff reduction and elimination in the EU have enabled Vietnam's leather and footwear products to account for more than 80% of the market share in this market. As a result, many enterprises have been interested in the reception, proactive adaptation, compliance with green standards as well as regulations on the origin of goods, and implementation innovation.
Furthermore, experts predict that in the near future, consumers will be more interested in sustainable consumption, requiring manufacturers to respond more to material traceability issues, prioritize using recycled or recycled materials, reduce carbon emissions and environmental impacts in the manufacturing process… This is also an important cause that motivates enterprises to promote the "greening" transition, meeting green production standards such as implementing social and environmental responsibilities and reducing emissions… Many businesses have decided to compete based on environmental standards rather than low labor costs. Some large enterprises have actively invested, increasing the adoption rate of 4.0 technology in production equipment, improving productivity, quality, and working conditions, moving toward smart management, developing factories that produce recycled materials, and utilizing clean energy such as solar power…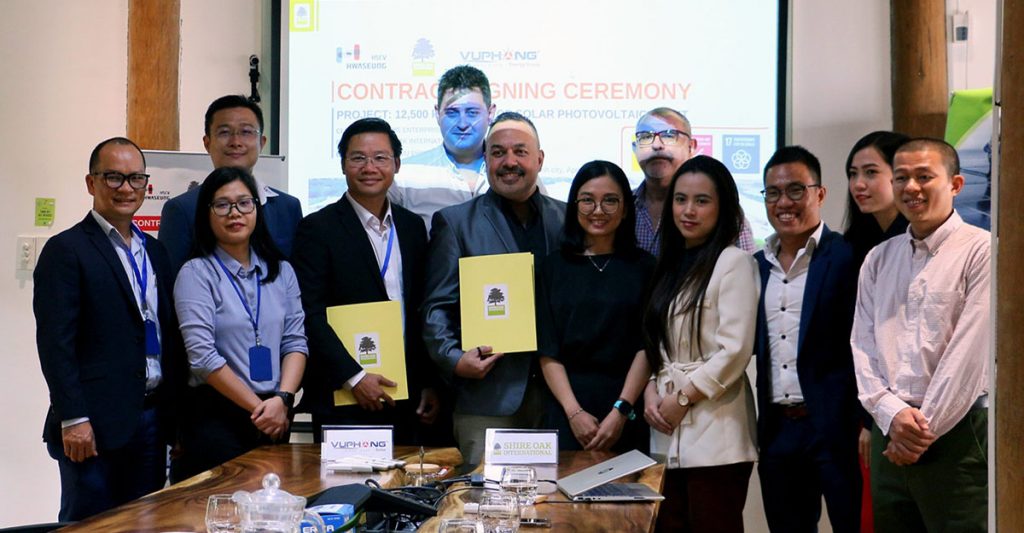 Vu Phong Energy Group signed a cooperation agreement and is implementing a chain of rooftop solar power systems with a total capacity of more than 12.5 MWp on the roofs of factories owned by Hwaseung Enterprise Group (Korea)
The transition of "greening" to satisfy green standards in order to increase export occurs not only in the footwear industry, but also in many other industries like textiles, plastics, agricultural products, and so on. And when it becomes a trend, every business that wants to continue in the "race" must meet it. Identifying the attitude to change and swiftly adapt will be a chance for companies to thrive and flourish sustainably.
Businesses interested in clean energy solutions to greening production, towards sustainable development, please contact Our Call Center via 1800 7171 or +84 9 1800 7171 or send an email to hello@vuphong.com for more information.
More information:
Vu Phong Energy Group