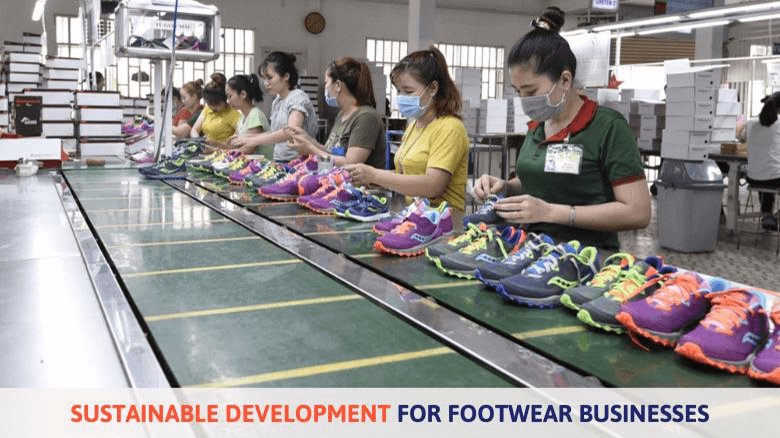 Vietnam's leather and footwear industry is expanding rapidly. However, when deeply involved in the global supply chain, domestic enterprises' position is still lower than FDI enterprises. Towards sustainable development and environmental protection, solving technological issues, enhancing production capacity… is regarded as a motivating force in helping businesses enhance their positions.
Footwear exports recovered actively
According to statistics from the General Department of Customs, Vietnam's export turnover of leather and shoes of all kinds climbed by 7% each year between 2016 and 2020, increasing continually between 2016 and 2019, but decreasing in 2020 owing to the effect of the Covid-19 pandemic. Footwear exports have improved strongly since 2021. The industry's export turnover reached more than 14 billion USD in the first seven months of this year, increasing 15.1% from the same time in 2021. Footwear exports climbed by 13.3% (to 11.79 billion USD), while suitcases, bags, and pairs increased by 20%. (reaching 2.02 billion USD). The whole footwear-handbag industry is predicted to rise by 10-15% in 2022 compared to 2021, reaching around 23-25 billion USD.
Vietnam's top five footwear export markets are the United States, Europe, China, Japan, and Korea. The US remains the greatest export market, with a total export turnover of more than $6 billion. Notably, footwear exports to countries with which our nation has free trade agreements (FTAs) are also increasing. For example, the EVFTA member market climbed by 18.2%; UKVFTA increased by 10.9%; CPTPP increased by 10.5%…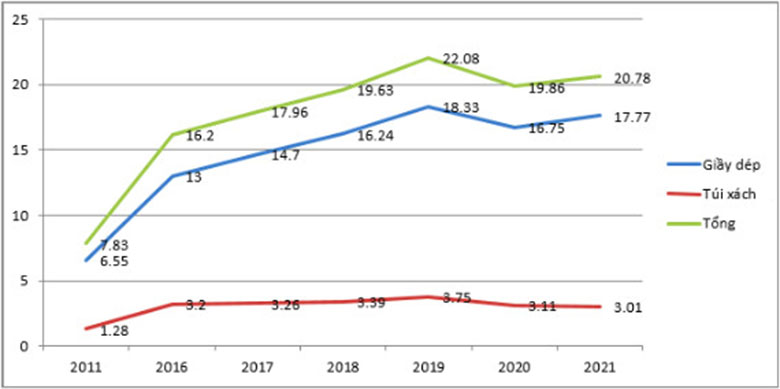 Footwear export turnover 2011 – 2021 (Unit billion USD, Source: Lefaso)
Vietnamese footwear enterprises have several potentials to engage deeply in the global supply chain. However, the position of domestic enterprises in comparison to FDI enterprises remains low. Domestic enterprises account for 80-90% of the roughly 1,700 footwear enterprises in Vietnam, however, the majority are small and medium enterprises. Meanwhile, although accounting for 10% of all enterprises, the export turnover of FDI enterprises accounts for 70-80% of the industry's entire export turnover. Exports of FDI enterprises accounted for 79.56% of total exports in the first seven months of this year, totaling 10.99 billion USD.
According to industry experts, in order for leather and footwear products to remain competitive, manufacturing capacity, particularly quality, must be improved. Along with it, working toward sustainable development and environmental protection and resolving technological and raw material issues… will be driving forces in helping to strengthen the position of the leather and footwear industries.
Which is the solution for the leather and footwear industries?
Many people believe that in order to develop more sustainably, improve their position, and engage more deeply in the global supply chain, leather and footwear companies should be directly involved in the design process and R&D – the stage that adds the most value to the product. In addition, it is vital to secure the source of raw materials and to focus on the flow of raw materials toward sustainable development, green and clean manufacturing. For example, the new TPU class replaces EVA in the manufacture of footwear accessories used by many major shoe brands around the world. Leather and footwear businesses may advantage from import opportunities from countries having FTAs with Vietnam, particularly the EU – a market with excellent and high-value raw materials. Enterprises should also invest in importing new technologies and equipment in the context of sustainable manufacturing, using green and clean technologies.
Many large worldwide brands are now committed to solving problems related to natural ecosystems, including sustainability in business objectives, production processes, and communications across the enterprise's activities. Sustainability criteria are gradually becoming common requirements for both the export and local markets. As a result, leather and footwear businesses must evaluate long-term investments methodically and provide the required resources to satisfy environmental and sustainable development requirements.
To address financial issues, footwear businesses may proactively seek preferential policies, credit capital, green finance, and flexible collaboration models such as the PPA (Power Purchase Agreement) solar power model. Many FDI enterprises are using this collaboration model to use clean energy without having to invest in solar power systems, thereby helping to meet the criteria for greening production and environmental protection while still being able to prioritize capital flows for technology investment and production capacity improvement.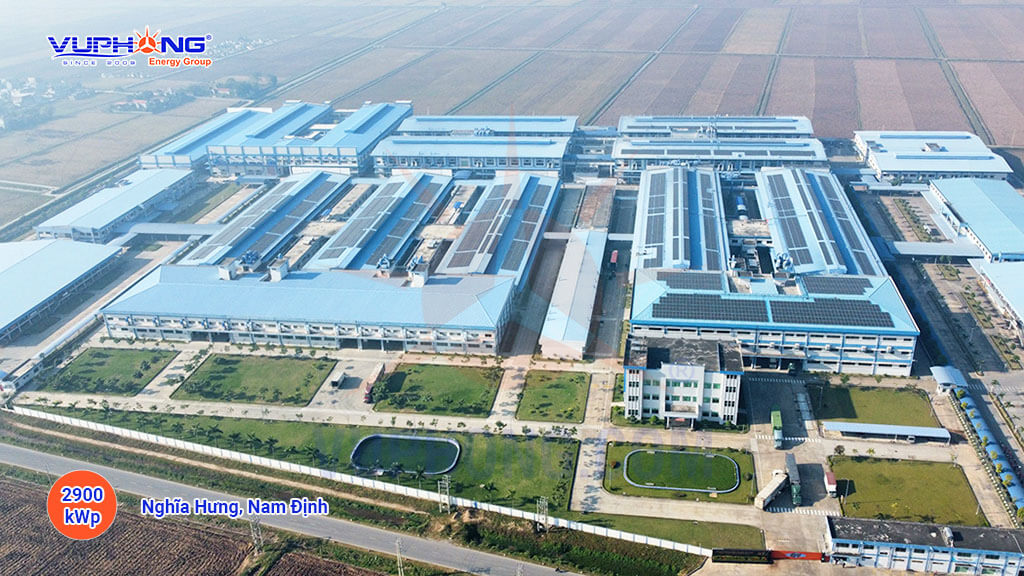 Solar rooftop power system of Golden Victory Vietnam factory – an FDI enterprise is participating in the global supply chain of leather and footwear industry
In the PPA cooperation model, Vu Phong Energy Group and our partners are investment funds that will invest in high-quality solar power systems on the roof of the enterprise, selling electricity or leasing the system for a long time at a reasonable cost. Businesses just use the roof of an idle factory and can use clean energy to serve production and business. At the conclusion of the contract, the solar power system will be transferred to the company at no cost, and system performance commitment when transferred over 80-90% depending on conditions.
Utilizing the opportunities afforded by FTAs and preferential policies, as well as flexible collaboration models, would aid leather and footwear companies in bolstering their position and integrating themselves more fully into the global supply chain.
 More information:
Businesses interested in the PPA (Power Purchase Agreement) model, and clean energy solutions to greening production, towards sustainable development, please contact Our Call Center via 1800 7171 or +84 9 1800 7171 or send an email to hello@vuphong.com for more information.
Vu Phong Energy Group