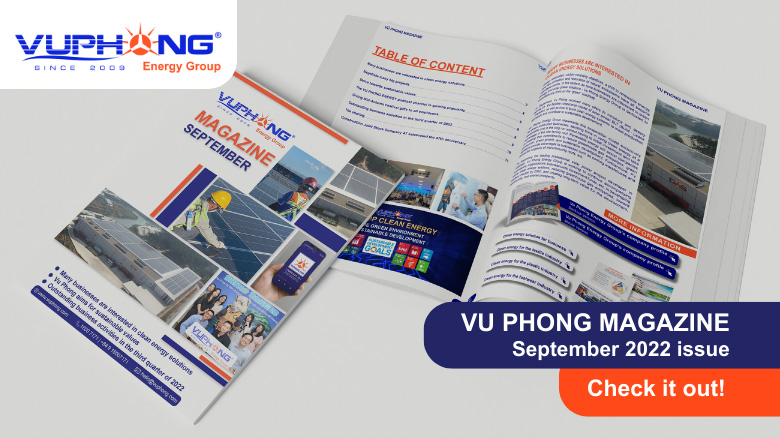 Green restoration, carbon neutrality objectives, a shift to renewable energy, and the protection and restoration of natural ecosystems have all become inevitable trends. In this context, as more businesses are interested in clean energy and solar power solutions – Vu Phong Energy Group is dedicated to manufacturing firms on the "green" roadmap.
Please read Vu Phong Magazine of September 2022 at the link below:
In September, Vu Phong received many offers to introduce and deeply advise on the flexible cooperation model of solar power PPA (Power Purchase Agreement), as well as how to build clean energy systems to meet production demands and contribute to sustainable development. Vu Phong Energy Group is actively supporting consulting solar power solutions for manufacturing enterprises, particularly through negotiating contracts to develop clean energy systems with many businesses
Vu Phong Energy Group coordinates, organizes, and participates in numerous activities promoting sustainable values such as education, employment, biodiversity protection, ecosystems, and so on. Vu Phong Energy Group recently collaborated with Wilderness Foundation Africa (WFA) to host an exciting seminar for Vu Phong employees. The seminar was part of the Wild Rhino campaign | Vietnam, Be My Hero, a campaign to educate the public on the current situation of the rhino poaching crisis in African countries, which  helped change perceptions and, ultimately, completely end the global market for rhino horns. Joining together to protect biodiversity is also the spirit of Vu Phong Energy Group while pursuing Sustainable Development Goal 15 – SDG 15 (Protect, restore and promote sustainable use of terrestrial ecosystems, sustainably manage forests, combat desertification, and halt and reverse land degradation and halt biodiversity loss).
In this september, Vu Phong Energy Group took part in the "Program to exchange and promote cooperation between businesses, entrepreneurs, visiting lecturers, and alumni – FET Company Day 2022" organized by the Faculty of Engineering Technology in collaboration with the Student Employment & Business Relations Center, Nguyen Tat Thanh University. The program aims to promote cohesion and unity in the strategic partnership "Schools and Enterprises," develop a "Practice" environment for students, and best meet the requirements of enterprises. This is an important activity for Vu Phong Energy Group in our pursuit of sustainable values, particularly Goal 8 – Decent work and economic growth – and Goal 4 – Ensure decent education for all.
Outstanding activities details of Vu Phong Energy Group, please read Vu Phong Magazine of September 2022 at the link below:
 More information:
Vu Phong Energy Group