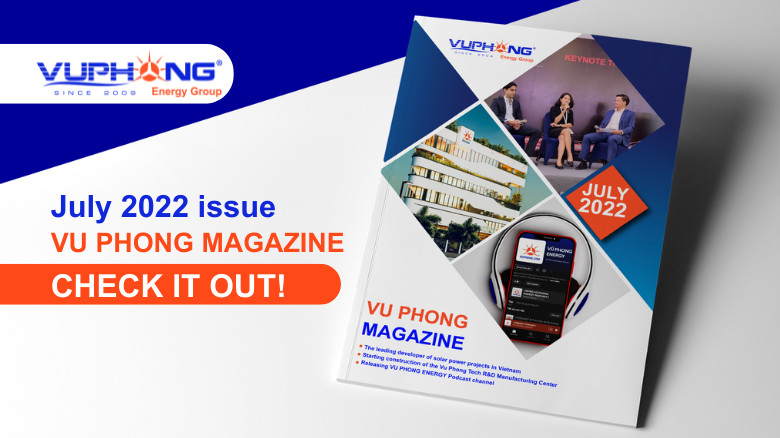 Vu Phong Energy Group positions to become the leading professional solar power project developer in Vietnam, while maintaining the leading enterprise's position in research and development, provide services as an EPC general contractor, Solar as a Service (SaaS) or Build-Lease-Transfer (PPA) model, Operation & Maintenance (O&M), Asset Management (AM) for solar power, wind power, and other types of renewable energy.
Please read Vu Phong Magazine of July 2022 at the link below
To becoming the leading professional solar power project developer in Vietnam, Vu Phong Energy Group is working to continue accompanying individuals, organizations, business units, investment funds, etc. in developing more clean energy systems, reducing greenhouse gas emissions, toward carbon neutral by 2050, and creating long-term value for the environment, community, and shared prosperity.
This is also the spirit of the United Nations Sustainable Development Goals (SDGs), especially goals like Goal 7 – Affordable and clean energy, Goal 8 – Decent work and economic growth, Goal 13 – Climate action, and Goal 17 – Partnerships for the goals...
Vu Phong Magazine of July 2022 was updated with the vision, core values, and highlighted activities of Vu Phong Energy Group. Vu Phong Magazine also features an architectural perspective of the Vu Phong Tech Renewable Energy Equipment Manufacturing and Research Center in Saigon Hi-Tech Park (SHTP). The building has a scale of 01 basement, 6 floors and a terrace. Vu Phong Tech – a subsidiary of Vu Phong Energy Group – will  concentrate on R&D robotic products, monitoring and data collection equipment, as well as employing artificial intelligence (AI) technology and the Internet of Things (IoT) in the renewable energy market.
July 2022 Vu Phong Magazine also updated news on Vietnam's clean energy market, the activities of associate companies, and introduced the month's highlight news.
Let's read the Vu Phong Magazine. Thank you for always loving, trusting, and accompanying Vu Phong Energy Group. Wish you a new month full of energy and success!
Please read Vu Phong Magazine of July 2022 at the link below
Read more:
Vu Phong Energy Group