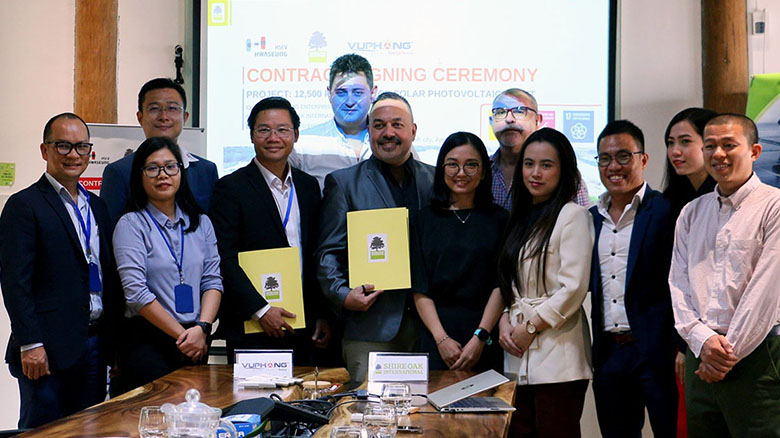 Vu Phong Energy Group collaborated with Shire Oak International Group for a larger project to develop a chain of rooftop solar power systems with a total capacity of more than 12.5 MWp on the roofs of factories owned by Hwaseung Enterprise Group (Korea) in Vietnam.
Hwaseung Enterprise would purchase electricity from the systems to serve factory manufacturing activities. It is estimated that by utilizing this solar power source, Hwaseung Enterprises would be able to reduce total greenhouse gas emissions at its facilities by up to 20%. They will begin a plan to install solar power systems at all current Hwaseung Enterprise locations across the world to meet the company's goal of reducing 50% carbon emissions by 2030.
Shire Oak International Group invests in and develops the solar power system chain, whereas Vu Phong Energy Group provides general contractor (EPC) services. As a result, this project will be the next solar power project to be developed under the PPA (Power Purchase Agreement) model. Many investment funds and enterprises, particularly those in the process of "greening" manufacturing, are interested in this model.
These systems, via self-produced & self-consumed of power, will help cut greenhouse gas emissions, green the economy, and promote sustainable development while not putting pressure on the transmission grid system – electricity distribution. This is important in Vietnam's effort to implement the commitments made at COP26, particularly the commitment to reduce net emissions to "zero" by the middle of the century.
Mr. Phong, Pham Nam, Chairman of the Board of Directors of Vu Phong Energy Group, stated at the project's kick-off ceremony, "Vu Phong Energy Group is very pleased to accompany corporations in this project and is committed to creating the highest quality works, bringing the best profits to customers and partners while contributing to promoting the energy transition and reducing greenhouse gas emissions, towards the goal of carbon neutrality in 2050 as the Prime Minister's committed at COP26."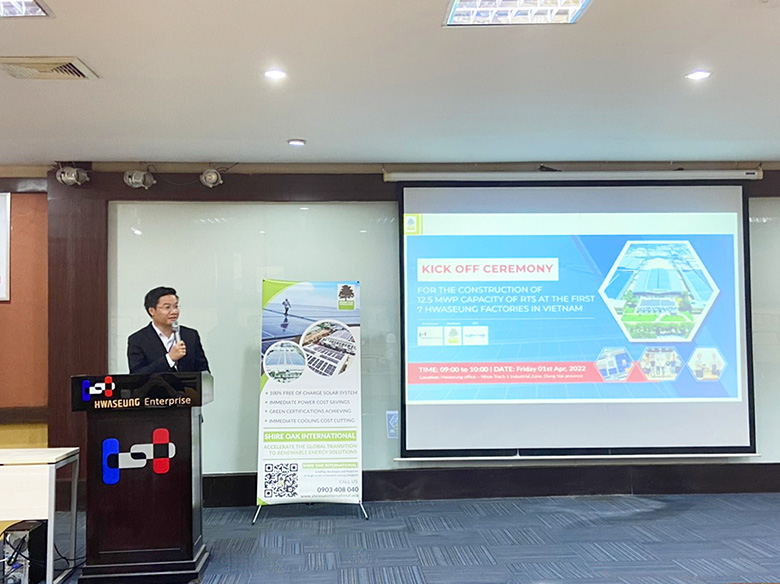 Mr. Phong, Pham Nam – Chairman of the Board of Directors of Vu Phong Energy Group – at the Kick off ceremony of the project
Accompanying two large corporations from Korea and the United Kingdom to develop a clean energy system chain in Vietnam demonstrates Vu Phong's commitment to achieving the United Nations' Sustainable Development Goals, the most visible of which is Goal 7 (affordable and clean energy), Goal 8 (Decent work and economic growth), Goal 13 (Climate action), and Goal 17 (Partnerships for the Goals).
Other images from the signing ceremony of the cooperation: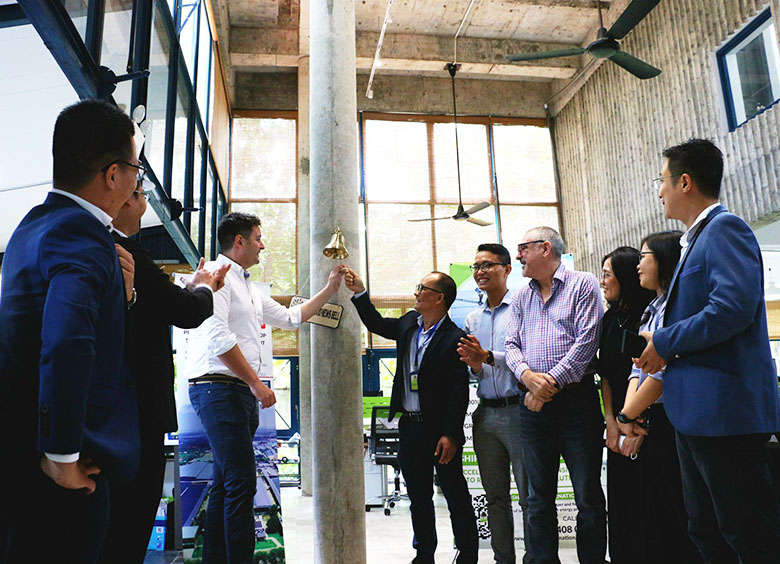 Mr. Mike Edge, Investment Director of Shire Oak International Group, and Mr. Tri, Nguyen Quang, General Director of Vu Phong Energy Group, rang the bell to mark the two parties' partnership in the new project.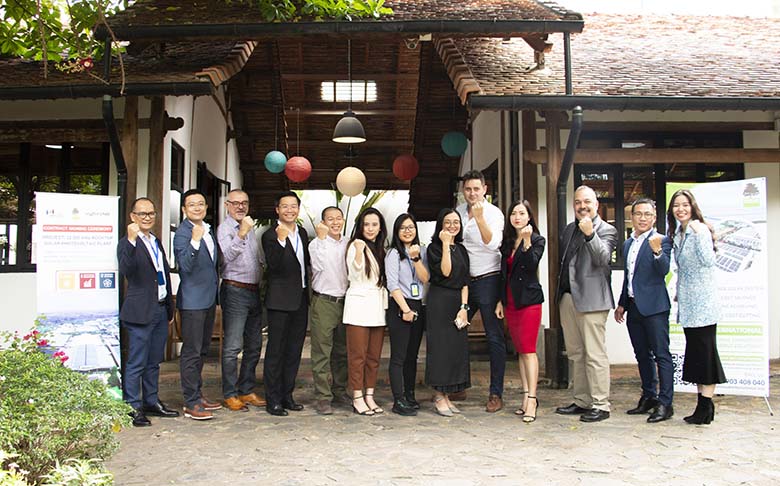 Vu Phong Energy Group and Shire Oak International join hands to develop high-quality clean energy systems
Vu Phong Energy Group