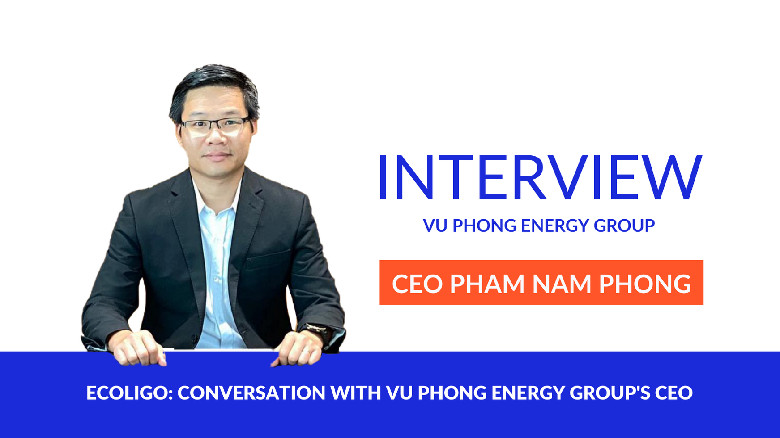 Since entering the Vietnamese market in February 2020, ecoligo has had a great partner at our side: Vu Phong Energy Group, a general contractor and Vietnam's market leader for the installation and maintenance of photovoltaic systems. 
The cooperation between ecoligo and Vu Phong Energy Group has already resulted in 16 successful solar projects, all of which are in operation. We caught up with Mr. Phong Pham, CEO of Vu Phong Energy Group, to find out more about the company and its place in Vietnam's solar landscape. 
Hello Mr. Phong Pham. Tell us about Vu Phong: Who started the company? How many people do you employ?  
I founded Vu Phong in 2009. Until now we have approximately 150 key staff working in our head office and other 9 branches across Vietnam, and around 200 mobilized staff working in solar construction sites.  
What makes Vu Phong different from other solar companies in Vietnam?  
Vu Phong Energy Group is different from most solar companies in Vietnam for two main reasons. Firstly, since the company was founded, we have built up a large network of reliable and innovative partners. Together with them, we aim to become the market leader in the installation of photovoltaic systems and be at the forefront of research and development on solar energy. The belief in and passion for renewable energy has been ingrained in Vu Phong Energy Group's DNA for more than a decade, and not just since this industry has been promoted by the government. With this vision in mind, we have created our microcosm together with investors, developers, suppliers, manufacturers, and wholesalers of solar products. We can therefore work very reliably, quickly, and with high quality.  
The second factor is our set of core values which emphasizing personnel and Integrity. My dedicated team with high integrity is the engine that drives the business forward.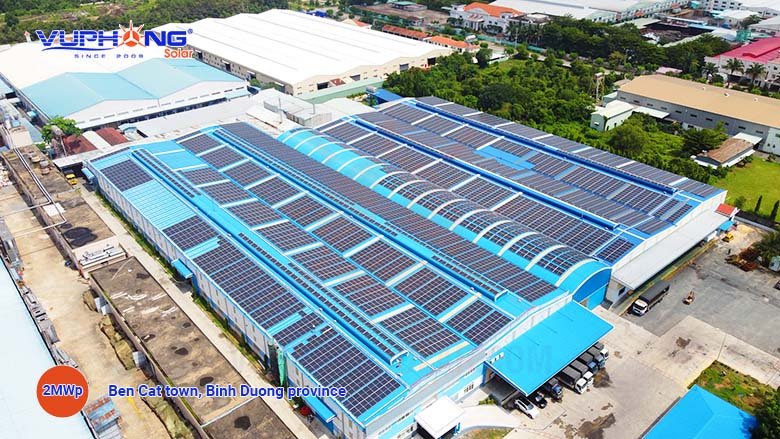 A solar panel system on the factory's roof installed by Vu Phong and ecoligo is an investment fund.
Why does your team enjoy working for you?  
From my perspective as a leader, I have always tried to nurture the best environment for my team to develop, to understand themselves, and figure out the most suitable career path so that they would feel happy every day going to work, knowing that this is the work they love to do, they could do it best, and their contribution is well acknowledged. But this question might be better answered by the team!  
Ms. Van Nguyen – CSR: I especially like the responsibility that comes with my job. Every day we face new challenges and try to master them with a lot of innovation and energy. In addition, at Vu Phong Solar I have the opportunity to constantly develop myself and improve my qualifications.  
Ms. Anh Huynh – Human Resources: In no company I worked for before joining Vu Phong Solar, I was proud of my work and job. Here it is different. You can consider Vu Phong Solar as a big family where everyone helps everyone. Professional development is encouraged, especially through the mentorship program, and the well-being of the members is paramount.  
Mr. Minh Tieu – Sales: I love working here because the working atmosphere is very relaxed and everyone can openly communicate their ideas and feelings without hesitation.  
What's the most interesting project you're working on right now and why?  
To be honest, I find all projects interesting, because otherwise, I wouldn't do them. That's a really difficult question for me. Besides the solar projects, we also supervise an annual competition for young entrepreneurs at the University of Ho Chi Minh City, where I have been a coach for five years. Being an entrepreneur myself, I want to support young people as much as possible, so this is a project I particularly enjoy.  
How do you see the solar boom in Vietnam? Will it continue? How will a change in feed-in tariff affect this?  
You have to look at this from two sides. On the one hand, I very much welcome the boom in solar because it has turned the whole perception of the industry upside down. Whereas a few years ago people thought solar energy was useless, today you see thousands of factory roofs equipped with solar systems. The future of solar energy shines brighter than ever. On the other hand, we need to consider if such a fast increase is sustainable, as there are still limitations such as grid transmission capacity. I would prefer the increase to happen step by step.  
What's the biggest challenge for you?  
A major challenge for us will be to deliver consistently high quality even as the company grows strongly and the number of orders increases. However, we firmly believe that we can keep up with this rapid development thanks to our many years of experience in the field of solar energy and our large network of reliable partners. 
What's most important to your customers?  
Quality. That is why it is also one of our most important company values. We have signed contracts for solar projects for over 20 years. Only through consistently high quality will these projects be successful in the long term.  
How do ecoligo and crowd investors make your business easier?  
ecoligo stands for an innovative way of raising capital. It makes the financing of projects as efficient as possible. There are many small to medium-sized companies in Vietnam with a sufficiently large roof area that would be suitable as an investment opportunity, so there's great potential. ecoligo has created a win-win situation for investors and companies.  
How can solar energy help the people of Vietnam?  
Solar energy helps to reduce and better control electricity costs. And for people who have had to live without access to electricity, solar energy is a life-changing opportunity. 
Source: ecoligo