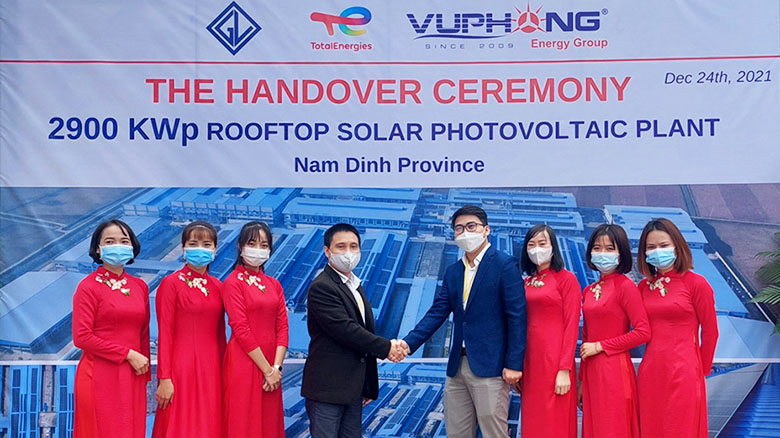 This morning, December 24, 2021, Vu Phong Energy Group has officially handed over a 2,9 MWp rooftop solar photovoltaic plant of Viet Nam Golden Victory Company Limited's shoe factory (Nghia Hung, Nam Dinh). TotalEnergies has invested in this project, which is being carried out under the PPA (Power Purchase Agreement) model, with Vu Phong Energy Group serving as the EPC general contractor.
The project began in October 2021, with 5,372 high-efficiency 540W solar panels, 24 high technology inverters with the efficient up to 98.8 %, an auxiliary frame system and high-quality conductors with a durability of more than 30 years. With a capacity of 2,9 MWp, the system will generate more than 4,000,000 kWh each year, assisting in the reduction of more than 2,600 tons of CO2/year emissions, the equivalent of planting around 4,700 trees.
Vietnam Golden Victory Co., Ltd. will employ solar electricity at a lower cost for operation and production. For an FDI enterprise participating in the global supply chain, as Vietnam Golden Victory, an outsourcing specialist for the world's largest shoe brand NIKE, the renewable energy doesn't only help to save costs but also assists in meeting "greening" production standards when NIKE and a variety of other international corporations have committed and implemented to reduce greenhouse gas emissions, such as using low-carbon materials and decarbonizing the supply chain. NIKE has pledged to cut greenhouse gas emissions by 65% in facilities it owns or operates and 30% across its whole supply chain by 2030.
TTotalEnergies and Vu Phong Energy Group: Driving Renewable Power Development in Vietnam
he 2,9 MWp rooftop solar photovoltaic plant of Vietnam Golden Victory Co., Ltd. is also a new step in the TotalEnergies's effort to develop cleaner power. TotalEnergies has set a development roadmap: by 2030, the proportion of its sales of petroleum products will reduce from 55% to 30%; the growth in energy production will be based on LNG and renewable power; and by 2050, it will reach zero carbon emissions. And Vietnam Golden Victory's rooftop solar power project is also in this development roadmap.
According to Mr. Tri, Nguyen Quang, CEO of Vu Phong Energy Group, Vietnam Golden Victory Co., Ltd.'s rooftop solar power project is one of the large projects Vu Phong Energy Group has completed for the investor TotalEnergies in the North by the end of 2021. Aside from this project, Vu Phong Energy Group is working on several new projects in other provinces, all of which are based on the PPA (Power Purchase Agreement) model. "We are working hard to continue to create high-quality and aesthetically pleasing clean energy systems, accompanying businesses on the journey of "greening" production and sustainable growth, and responding to the best investor trust." These are also specific actions that Vu Phong Energy Group and its customers and partners are taking to reduce greenhouse gas emissions and carbon neutralization that Vietnam committed to at the COP26 Conference. – said, Mr. Tri, Nguyen Quang.
More information:
TotalEnergies, founded in 1924, is one of the three largest French corporations and one of the world's top five energy groups. TotalEnergies employs nearly 100,000 people in 130 countries across all sectors of the Oil and Gas industry – Natural Gas Exploration & Production, Refining, Chemicals, Marketing, and Solar Energy. TotalEnergies is currently focusing on transitioning to using low-carbon sources with two pillars of LNG and renewable energy, with the goal of achieving net-zero emissions by 2050.
TotalEnergies has invested in clean energy projects in Vietnam. And Vu Phong Energy Group has accompanied TotalEnergies in many solar power PPA projects in Dong Nai, Nam Dinh…
Many businesses are choosing PPA (Power Purchase Agreement) solar power as a solution to save energy expenses and "green" production. Businesses will be able to use clean power at a price that is always lower than the price of EVN electricity. Meanwhile, businesses do not need to invest capital; takes advantage of the idle roof of the factory, avoid spending expenses and human resources on deployment, and own the complete system with a capacity guarantee of up to 80-90% after the contract period. Furthermore, businesses benefit from a variety of practical benefits such as reduced heat for the building, increased life of the factory roof, increased brand image value, implementing international commitments on sustainable development, and so on. With investment units, this is an effective and sustainable method of investing in renewable energy.
Individuals and businesses interested in the PPA model, please contact Our Call Center via 18007171 or +84 9 1800 7171 or send an email to hello@vuphong.com for more information.
Vũ Phong Energy Group