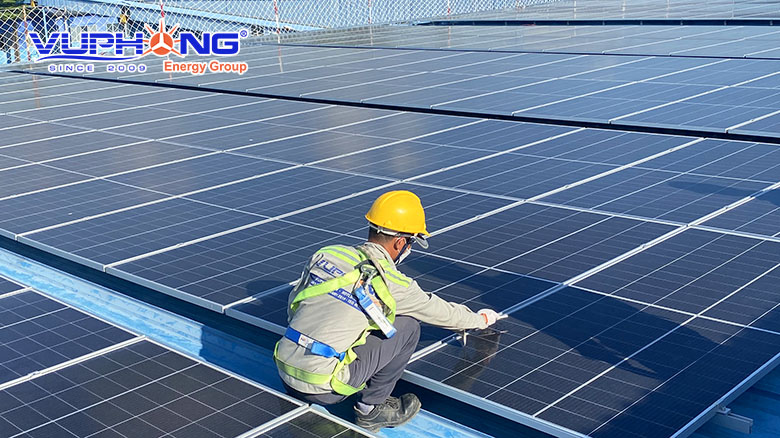 Update: The university's shift to clean energy will be completed, and campus greenhouse gas emissions will be reduced even further, with the construction of a second solar-generating facility during the next three years.
Future solar at Stanford is becoming even more promising.
More than two decades before California's target of a carbon-free grid by 2045, Stanford will be able to use 100 percent renewable electricity in three years thanks to a new solar generating facility, the university's second.
Stanford announced an agreement to work with Recurrent Energy on an 88-megawatt solar photovoltaic project that will be built in central California, close to Lemoore, to complete the university's transition to sustainable energy. In late 2021, the plant is expected to start operating.
Stanford's current greenhouse gas emissions are already 66 percent lower than peak levels because to innovations from the state-of-the-art Stanford Energy System Innovations (SESI). Four years earlier than the renewable energy target set in the university's long-range planning process, the new solar plant, to be known as Stanford Solar Generating Station #2, is predicted to reduce GHG emissions even further, to 80% below peak levels.
The new facility will supplement Rosamond, California's 67-megawatt Stanford Solar Generating Station #1 and the campus's 5 megawatts of rooftop solar power, both of which went online in 2017. The combined output of the three systems will be sufficient to meet the university's yearly electrical needs for clean, renewable energy each year.
Stanford President Marc Tessier-Lavigne said, "As a university, we are pursuing an ambitious strategy to significantly reduce our carbon footprint, and our second solar facility is a key new component of that effort. Sustainability is a top priority for our local community and Stanford. The conclusion of our switch to renewable energy relies on the innovative research of Stanford faculty and students and represents a significant step forward in our mission to create a sustainable learning environment for our campus.
Switching to renewable energy sources
Stanford University launched a plan in 2008–09 to improve energy efficiency and use innovative, clean, and renewable energy on campus. The plan includes high efficiency standards for new buildings, ongoing efficiency improvements for existing buildings, and SESI, a sophisticated energy-management system with thermal energy storage that the university developed to heat and cool campus buildings. More than 155 buildings on campus have been refurbished, and a heat recovery system driven by electricity has replaced a fossil fuel-based energy supply.
The new Stanford campus in Redwood City, which is slated to open in 2019, will have a minimal carbon footprint and be on the road to becoming carbon-free thanks to a smaller SESI installation that will supply its electricity.
Click the image to enlarge it. (Stanford University provided the photo.)
When the SESI electricity-powered heating and cooling plant took the place of an old, gas-fired cogeneration plant that had served the institution since 1987, Stanford was able to reduce its greenhouse gas emissions by 50% in that year.
According to Joseph Stagner, Stanford's executive director of sustainability and energy management, "once we built the new plant, we were able to acquire control over all electrical purchases and obtain the kind of electricity we desired. The leadership of the institution immediately responded, saying, "Let's go produce that clean power and assist lessen our reliance on fossil fuels for campus operations."
The institution expanded its clean power portfolio to 65 percent when Stanford's first solar plant went online in 2016, above the state minimum of 27 percent, and has since further decreased campus greenhouse gas emissions to 66 percent below peak levels.
By 2025, the university's long-term plan calls for an 80% reduction in all campus GHG emissions. Nonetheless, Stanford would achieve its objective four years ahead of schedule and decades ahead of statewide standards if it completely switches its electrical source to clean renewable energy by 2021. California passed legislation earlier this year mandating that all electricity be carbon-free by the year 2045.
The remote installations won't be directly hooked to the campus. In essence, they will inject clean electricity into the state's power grid, allowing Stanford to draw from it an amount equal to their output.
Stanford avoided the need for transient measures like buying renewable energy and carbon offsets, which grant credit for renewable resources even if the power comes from other sources, by seeking direct, long-lasting modifications to its infrastructure.
A plan for reducing emissions in the future
The university is researching additional innovations as it works to reduce its greenhouse gas emissions, such as a new lake water heat-exchange system that will supply more clean heat through SESI, converting the last of the outlying campus buildings that still use natural gas for heating to the SESI clean hot water supply system, and finishing the conversion of the Marguerite, Stanford's free community shuttle bus fleet, to electricity.
When put into place, these additional modifications would raise Stanford's GHG reduction to 90%. The remaining 10% of GHG emissions are produced by various minor labs and construction operations. In order to create strategies for replacing them with carbon-free alternatives, Stanford will inventory them in 2019.
"Stanford's thoughtful and thorough strategy to decreasing greenhouse gas emissions dovetails with the interdisciplinary research and teaching on campus and our dedication to being a good neighbor and citizen," said Robert Reidy, vice president for land, buildings, and real estate.
A Sustainability Design Team will investigate these and other solutions for a carbon-free Stanford as part of the university's new long-term plan.
The academic efforts and programs in sustainability have grown in scope throughout time, contributing to Stanford's international reputation for tackling significant environmental and energy-related problems. Hundreds of Stanford's laboratories, research centers, and student groups are currently working to find solutions to the most pressing issues confronting humanity, such as food security, clean water, global warming, and clean energy.
The university's Precourt Institute for Energy, Woods Institute for the Environment, and TomKat Center for Sustainable Energy are just a few of the institutions where about 225 academic and staff members are working on energy-related projects. In order to promote interdisciplinary collaboration, the Jerry Yang & Akiko Yamazaki Environment and Energy Building was constructed in 2008.
Sustainability objectives will require ongoing campus-wide involvement. The My Cardinal Green program at Stanford offers financial and other incentives in addition to providing participants with personalized recommendations that are pertinent to their lives.
The Sustainability Year in Review provides more information on the initiatives and achievements that have helped Stanford become a more ecologically conscious university.