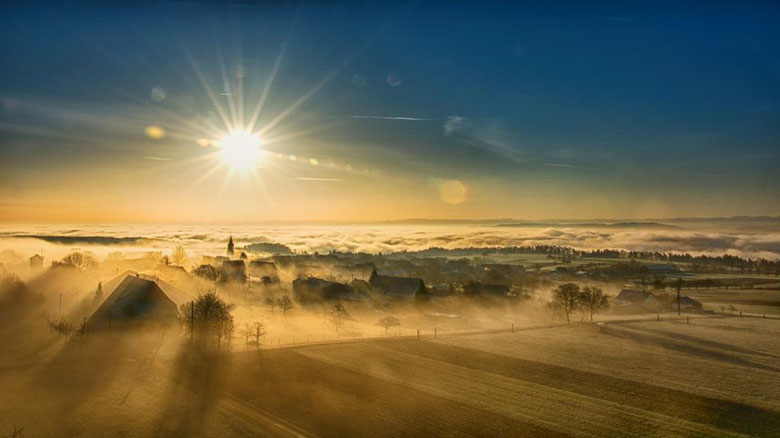 Part of investors' fascination with Tesla has long been the company's focus on the evolution of manufacturing hardware and software.
The plan to integrate energy generation and storage — to "create stunning solar roofs with seamlessly integrated battery storage," as described in Master Plan, Part Deux — has also provided allure. Sure, the Tesla acquisition of SolarCity and how it has been rolled into Tesla has been controversial, but solar is a necessary element of Tesla's EV + solar power + battery storage vision for a sustainable future.
When, on April 6, Tesla CEO Elon Musk made a confirmed visit to Buffalo to scope out the RiverBend plant, a 96-acre site at a sharp turn on the Buffalo River, the media, plant workers, and Tesla fans were all a-flutter. No, Musk has not spent much time on the premises at what's called Gigafactory 2 (perhaps no time before this), but he has personally supervised the design and testing of the solar tiles that are Tesla's next-gen solar rooftop product there.
Photo by dmoberhaus on Foter.com / CC BY
Tesla's vision for an independent renewable energy future is growing on people, and Musk says this will be the biggest year yet (by far) for the energy portion of the company.
The Energy Triumvirate: Transportation, Home Solar, & Battery Storage
What happens when a family opts to spend tens of thousands of dollars for a renewable energy system consisting of an all-electric EV, a solar system with a couple dozen panels, and a smart battery situated in the cellar?
On sunny days, photovoltaic panels can supply all of the household's electricity needs and charge their car's electric battery, too. Once these areas are replenished, the rooftop-generated power can supply what the stationary battery needs, extending the home's capacity for nighttime energy demand and cloudy days. If all those needs are met, the unit's digital control system automatically sends any excess energy into the power grid, typically offering the family some compensation from the local grid company.
What else does the 3-way renewable energy system provide? It offers security against rising energy costs. As part of the "Internet of Things," the system's connected software can enable the family to assess how the system is producing, consuming, and storing electricity. It can also monitor what portion of solar production is being directed to the grid.
One out of every two orders for rooftop solar panels in Germany is now sold with a battery storage system. 120,000 households and small businesses that host solar power only represent a small section of Germany's 81 million people, but battery prices have dropped so dramatically that Germany's development bank has now eliminated the 2013–2018 battery rebates that had reduced costs by 30%.
Although 2018 was not as robust a year for US solar companies as had been anticipated, low component pricing is helping drive volume demand in 2019. In the US, the Solar Energy Industry Association (SEIA) increased its 2020 to 2023 solar-installation projections by 3.2 GW in late 2018 due to a spurt of utility-scale project signings. And as utility-scale solar systems continue to get cost competitive in more places, so do rooftop solar systems.
The price tag of a full renewable energy residential package depends on many factors, such as the dwelling's size, the building's orientation to the sun, and the selection of EV, solar panels, batteries, and management systems. What is certain, however, is that with top-of-the-line technology and lots of sunlight, an owner can save significantly on electricity bills.
Tesla's Vision of Energy Independence is Taking Stride across the Globe
Tesla's Powerwall, a retail energy storage solution, is already being used to store energy from renewables on a massive scale. In Q4 2018, the energy generation and storage side of Tesla's business amounted to $371.5 million (up almost 25% year over year).
Due to growing concerns about the environmental impacts of fossil fuels and the capacity and resilience of energy grids around the world, engineers and policymakers are increasingly turning their attention to their own energy storage solutions. Analysts are finding consensus — a green future of an electric vehicle in every garage, a solar array on every roof, and a battery in every basement is now more pragmatic than romantic. Evidence is compiling around us to ground how renewable energy and batteries will fundamentally reshape the electricity system.
As batteries become cheaper and more powerful, they will increasingly store the uneven output of wind and solar power. If there's doubt, just look to Florida, where the Florida Power & Light Company (FPL) has announced plans to build the world's largest battery energy storage system adjacent to an existing solar power plant. Other storage systems will soon dot the Florida landscape, so, alongside efficiency upgrades to existing combustion turbines at other power plants, FPL will be able to replace 1,638 MW of traditional generating capacity.
FPL's increased knowledge of how to optimize solar and batteries as well as the new technologies' rapidly declining costs are a signpost to utilities around the US and world.
Then there's ScottishPower, which has unveiled a $2.65 billion investment program for 2019 to target large-scale battery storage and public EV charging points. The investment, the company's largest in a single year, comes after the sale of ScottishPower's thermal generation business late last year.
The money earmarked for 2019 forms part of a wider, triple-the-amount investment program slated to take place between 2018 and 2022. Those amounts break out to 40% on new renewable generation, 42% on smarter networks, and 15% on innovative services and products for the firm's approximately 5 million customers.

Image by winterseitler/pixabay
Power systems producer Siemens Corp. will team up with 3 US Department of Energy R&D energy labs to test new technologies to bolster electricity supply, options, and resiliency in the years ahead:
National Renewable Energy Laboratory in Golden, Colorado;
Oak Ridge National Laboratory in Oak Ridge, Tennessee; and,
Pacific Northwest National Laboratory in Richland, Washington.
The collaboration is expected to leverage Siemens' experience commercializing innovative power system technologies by supplying its Software Defined Inverter (SDI) technology, which, once validated, could be incorporated into new technologies to strengthen and modernize the nation's electric grid, including microgrids and distributed energy resources such as energy storage.
Final Thoughts
Tesla's first grid-scale battery in South Australia paved the way for a virtual power plant plan that will include rooftop solar systems on 50,000 homes in the next 4 years and link them them together with grid storage facilities to create the largest virtual solar power plant in history. This project is having ripple effects that reverberate around the world. The crux of it all is governments that have the political will to engage in such transformative programs.
The global energy storage systems market is projected to jump $301.4 billion by 2025 from $196.7 billion in 2017, according to one report. The Energy Storage Association, a US-based trade group, says that the global energy storage market will grow exponentially to an annual installation size of over 40 GW by 2022 — from an initial base of only 0.34 GW installed in 2012 and 2013.
Economics and release from fossil fuels aren't always the main motivation of battery system buyers. Many people want to be independent of the power companies and rising prices. Others simply want to be part of the future. There are many reasons to get battery storage. Those reasons are reaching more and more consumers, large and small.
Source: Cleantechnica.com