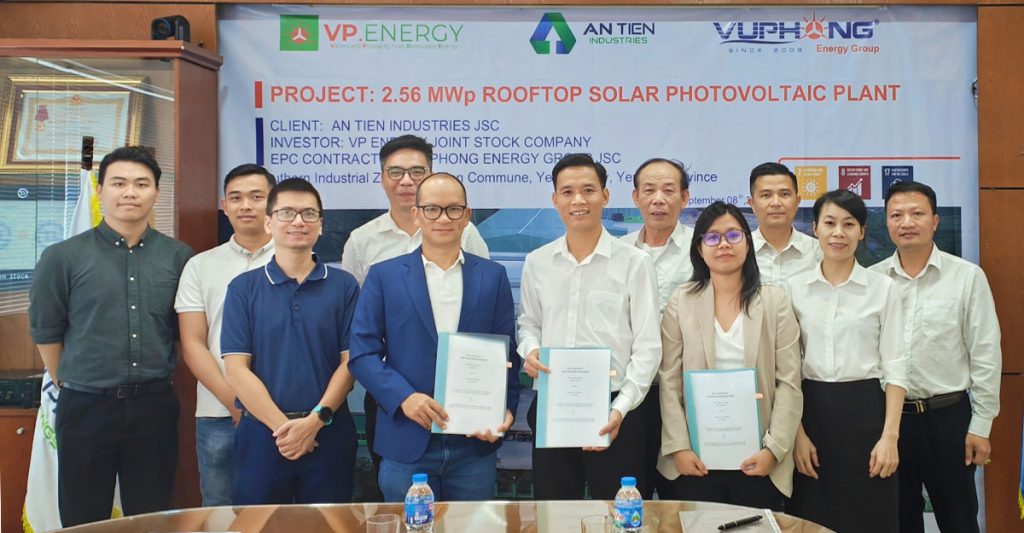 On September 8, 2023, An Tien Industries, VP Energy, and Vu Phong Energy Group joined in signing a collaboration aimed at developing a solar rooftop system at the An Tien Industries factory in the Southern Industrial Park, Van Phu Commune, Yen Bai City, Yen Bai Province. The system has a capacity of 2.56 MWp and will be developed through a Power Purchase Agreement (PPA) model.
An Tien Industries, a subsidiary of An Phat Holdings Joint Stock Company, was established in 2009 and is currently recognized as one of Vietnam's leading plastic additives manufacturers. Their product range includes Ancal plastic additives, CaCo3 ultrafine stone powder,… Thanks to a well-trained and experienced team, along with modern manufacturing technology, An Tien Industries has established a strong presence not only in the domestic market but also internationally – spanning over 60 countries and territories worldwide, including major markets in Europe, Japan, Australia, the United States, and China…
Both of An Tien Industries' manufacturing plants are designed to modern standards and equipped with production lines from Germany and Taiwan. Particularly, in the global green trend, An Tien Industries and An Phat Holdings have developed compostable plastics (Compound Bio) and are actively promoting the development of bioplastic compounds (Ancal Bio) to ensure a stable supply of raw materials for environmentally friendly plastic products. Using solar power to support manufacturing operations represents a significant step for An Tien Industries in its journey towards sustainability and green transformation.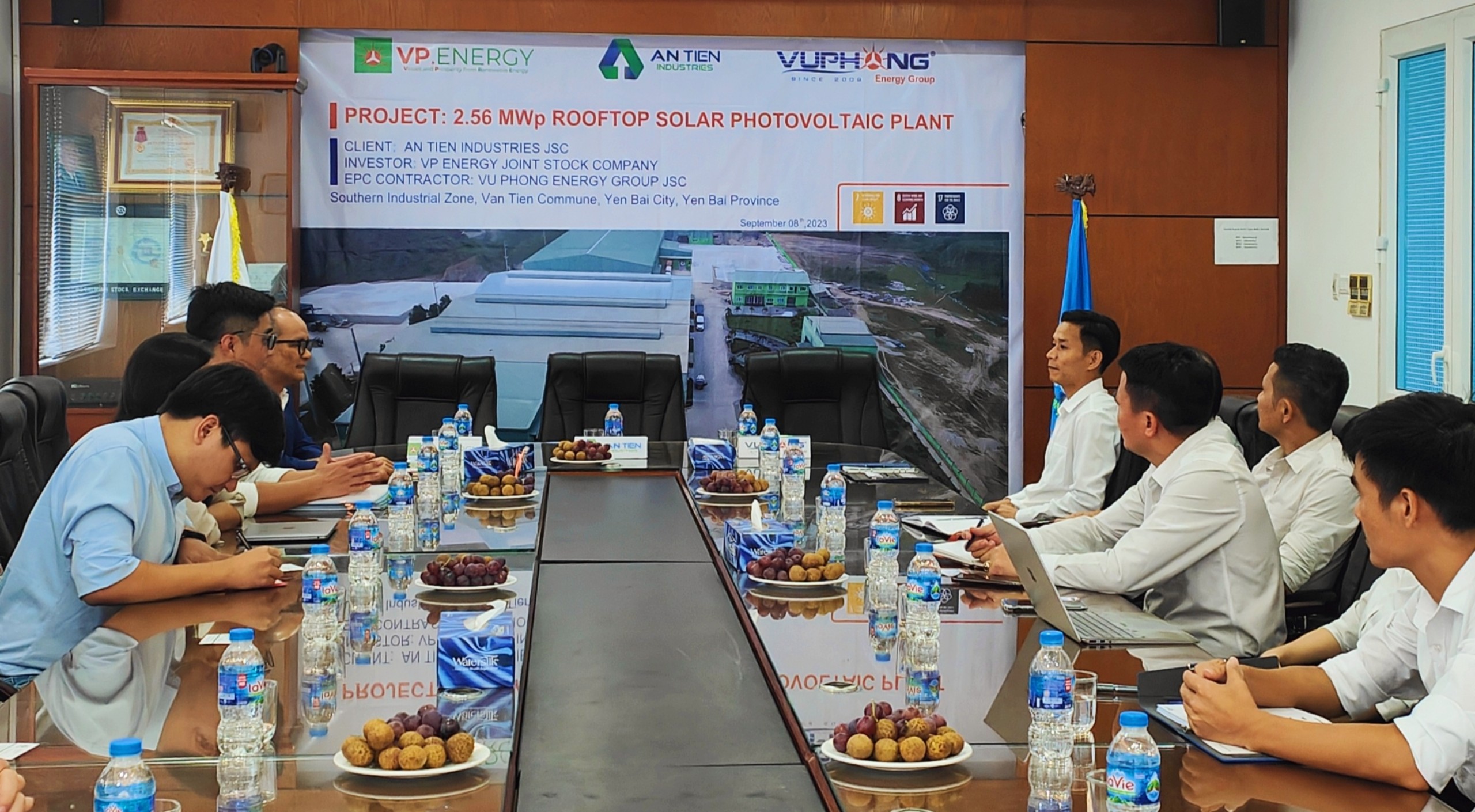 At the Signing Ceremony for solar rooftop development at An Tien Industries factory
With a capacity of 2.56 MWp, this system can generate over 3,200 MWh of electricity to support manufacturing operations yearly, helping reduce emissions by more than 2,300 tons of CO2 annually. With the Power Purchase Agreement (PPA) collaboration, An Tien Industries won't have to worry about investment and system operation costs. This will allow them to optimize their capital for research, product development, and business expansion. VP Energy will invest in the system, while Vu Phong Energy Group will provide Engineering, Procurement, and Construction (EPC) services as well as operation and maintenance (O&M). Not only will An Tien Industries benefit from significantly cheaper solar power, compared to current electricity rates, for energy cost savings during production, but after the cooperation agreement ends, they will also receive a free system transfer with an assured capacity of 80-90%, depending on conditions.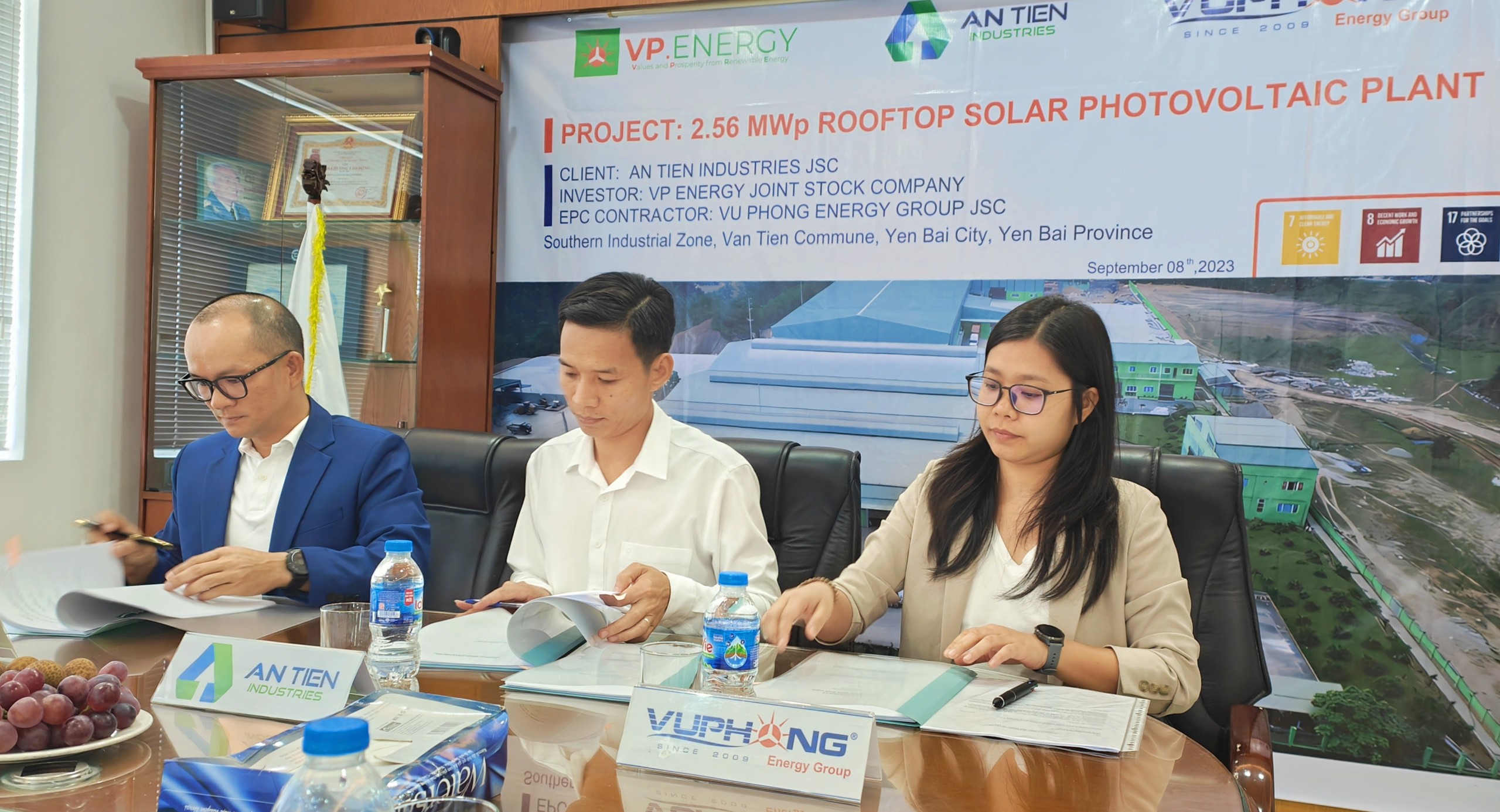 Representatives from An Tien Industries, VP Energy, and Vu Phong Energy Group sign a collaboration agreement for solar power development
In the trend of companies increasingly adopting green production solutions and reducing greenhouse gas emissions to meet green standards and practice ESG, the Power Purchase Agreement (PPA) solar power collaboration model is being prioritized. Recently, VP Energy has also invested in and developed a series of rooftop solar projects for businesses under the PPA model, such as the 1.5 MWp system on the roof of Chien Thang Aluminum factory, and 3 systems with a total capacity of 3.5 MWp at the three factories of Quang Quan Plastics in Ha Nam and Thua Thien Hue,… All these systems are developed and operated by Vu Phong Energy Group.
Using clean energy for production not only helps companies reduce greenhouse gas emissions and meet mandatory green standards in the new global trend but also plays a crucial role in contributing to the country's overall goals of emissions reduction, aiming for 100% renewable energy and Net Zero in Vietnam.
Businesses interested in clean energy solutions, please contact Our Call Center via 1800 7171 or +84 9 1800 7171 or send an email to hello@vuphong.com information.
As a leading professional solar power developer and renewable energy enterprise in Vietnam, Vu Phong Energy Group accompanies businesses on the journey of green production and sustainable development:
A flexible cooperation BLT (Build – Lease – Transfer) model as a solar power project developer, particularly with the participation of many reputable international and domestic investment funds – enables enterprises to utilize clean energy without paying investment costs.
Professional EPC contractor services are provided by a team of highly specialized and experienced design engineers; construction engineers who strictly comply with design drawings standards, adhere to international technical standards and use carefully chosen genuine materials.
Optimizing systems with high-quality operation and maintenance (O&M) services shows capacity via years of practical O&M at large-scale solar power plants and hundreds of rooftop systems for manufacturing enterprises.
Moreover, Vu Phong Energy Group accompanies customers in their journey toward sustainable development by offering media assistance and being available to give SDG-ESG advice, supporting in registering for I-REC international renewable energy certificates…
Vũ Phong Energy Group
Read more: