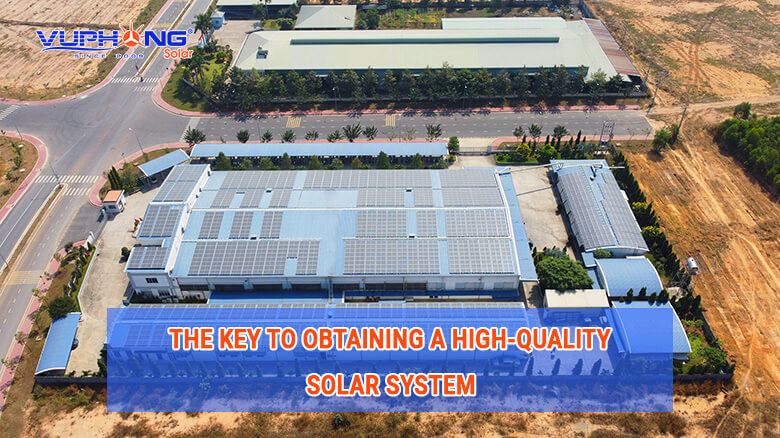 Solar power is a low-risk, low-cost investment that is being chosen by many households and businesses to save money on electricity while also increasing income. However, to do so, the solar power system must ensure high construction quality as well as stable operation and efficiency.
The risks when a Solar Power System Installation does not guarantee quality
Photovoltaic panels in a solar power system absorb sunlight and generate direct current via the photovoltaic effect. The inverter (inverter) converts direct current (DC) to alternating current (AC), which is then routed to the electrical cabinet to power existing electrical equipment in the home/company and connected to the grid. As a result, if the solar power system does not ensure quality and safety, it will not only reduce the system's efficiency and life, but it may also pose risks of short-circuit, electric fire, and serious damage. People's and property rights must be respected.
Many factors influence the performance, life, and safety of a solar power system, but they all stem from one of two groups of causes:
First, the materials are of poor quality
Solar panels, panel frames, inverters, electrical cabinets (DC/AC protection and distribution cabinets), conductors, ladders, specializing in accessories… are all components of a solar power system. Any component of poor quality can reduce the system's life and performance during operation, especially key components such as solar panels and inverters. The solar panel is formed by connecting photovoltaic cells in series. Solar panels with high efficiency, high quality, and uniformity are made from high-quality cells.
On the contrary, cells (cell types) will make up low-quality panels. In the cells, even though the measurement still produces electricity, but if taking an EL test, cracks will appear. During operation, under the influence of solar heat, the cracks will widen for the cell to break the circuit, leading to reduced efficiency or damage to the battery panel. In addition, the photovoltaic panels generated by the waste cells will have lower efficiency and quickly degrade inefficiency, adversely affecting the efficiency of the operating system.
Even though the measurement still produces electricity in the cells, cracks will appear if an EL test is performed. Under the influence of solar heat, the cracks will widen during operation, allowing the cell to break the circuit, resulting in reduced efficiency or damage to the battery panel. Furthermore, the photovoltaic panels generated by the cells will have lower efficiency and quickly degrade inefficiency, negatively impacting the operating system's efficiency.
Second, the design and installation do not comply with the specifications
This is a common reason why solar power systems do not guarantee safety, longevity, and certain safety. Many design and assembly errors can reduce performance, affect the roof, and even cause the phone to explode, such as:
Frame girders lack a safe height, have a large slope, have no waterproofing measures, anchor frames…
Calculation of solar panel frame is not reasonable to shaded panels after installation
Inaccurate load capacity, load-carrying capacity in local weather conditions, and system elevation…
The system is not properly grounded or lightning protected.
Protect connection points that are not sure
The setup and location of the lines and the inverter are not pretty neat or safe.
Only when the rooftop solar power system is designed and installed according to standard techniques and quality assurance will the system operate stably, efficiently, safely, and effectively, ideal for owner-investor.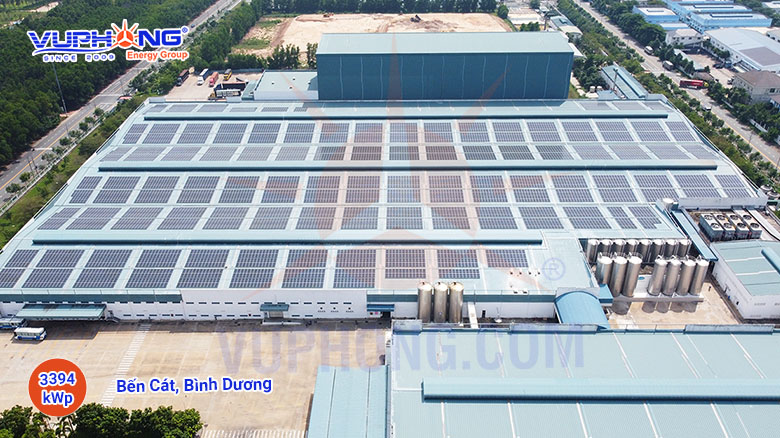 Solar power systems must be designed and installed using industry-standard techniques to achieve maximum efficiency.
Vu Phong Energy Group is committed to ensuring the highest quality for each system by paying close attention to each stage
Operating in the field of solar power since 2009, Vu Phong Energy Group is known as a pioneer in the construction and installation of solar power in Vietnam, and the company currently holds a leading position in the industry, having earned the trust of many customers. Quality, responsibility, and dedication have built Vu Phong Energy Group reputation. Vu Phong Energy Group is always committed to bringing the best quality by being careful in every stage of implementation with any solar power system, regardless of location or size:
Professional system design is possible thanks to a team of highly qualified and experienced engineers
Engineers from Vu Phong Energy Group will survey the roof's current state to calculate the structure and the best direction to install the solar panel truss. The height of the frame is also carefully calculated to ensure that the solar panel rig is not shaded, reducing performance. The engineers will design the appropriate system based on the roof structure. For example, if the roof is corrugated iron or tile, the truss will be completely installed from specialized materials such as anode aluminum rails and accessories, hot-dip galvanized screws, durable 304 stainless steel bolts, anti-oxidation, and so on to ensure the roof does not leak and the truss lasts a long time.
When working on a flat roof, a truss frame must create a 10-15 degree slope to the south, so that the solar panel surface receives the most sunlight, allows the system to perform optimally. This truss prioritizes the use of hot-dip galvanized steel material, in conjunction with anode aluminum rail and accessories, and 304 stainless steel… Furthermore, if the floor cannot be fired or shot out of the new frame, concrete pillars will be poured to anchor the pin frame and provide the best waterproofing.
Engineers at Vu Phong Solar will also calculate to prevent lightning and protect the DC/AC layer, allowing the system to operate safely and reliably even in extreme weather conditions. Furthermore, engineers will calculate the solar power system in detail so that it does not interfere with the existing activities on the roof, such as installing the panel frame high to take advantage of the living space in the yard, upstairs, away from emergency exits, maintenance…
Genuine, hand-picked materials
To ensure the overall quality of the system, all materials for solar power systems, whether major or minor, are carefully selected from leading domestic and international prestigious brands. Section conductors, cable ladder, and switchgear protection systems are specialized types built following Vietnamese standards (TCVN) on solar power as well as electricity in houses and public works. The wire, for example, is a specialized DC wire that provides a voltage of 1,500V, a 1-way switch MCB of 1,000V, a DC-AC lightning cut-off filter, a hot-dip cable ladder, a power cable selected according to the job working current, point connect to the house that the right rule and public rate…
Vu Phong Energy Group only uses genuine products from the beginning of the brand, with a global reputation, such as LG solar cells, Hanwha Q- cell solar panel, Longi solar cell, Fronius inverter, ARM Solar inverter, SMA inverter… All products have a Certificate of Origin (CO – Certificate of Origin), Quality Certificate (CQ – Certificate of Quality). Special, Vu Phong Energy Group is also a strategic partner in Vietnam of LG Solar; Vu Phong Energy Group Board of Directors directly visited the production plants, technology lines … of many partners such as LG Solar, ARM Solar… All products have a Certificate of Origin (CO) and a Quality Certificate (CQ – Certificate of Quality ). Especially, Vu Phong Energy Group is also a strategic partner of LG Solar in Vietnam; Vu Phong Energy Group Board of Directors personally visited the production plants, technology lines, and other facilities of many partners, including LG Solar, ARM Solar, and others.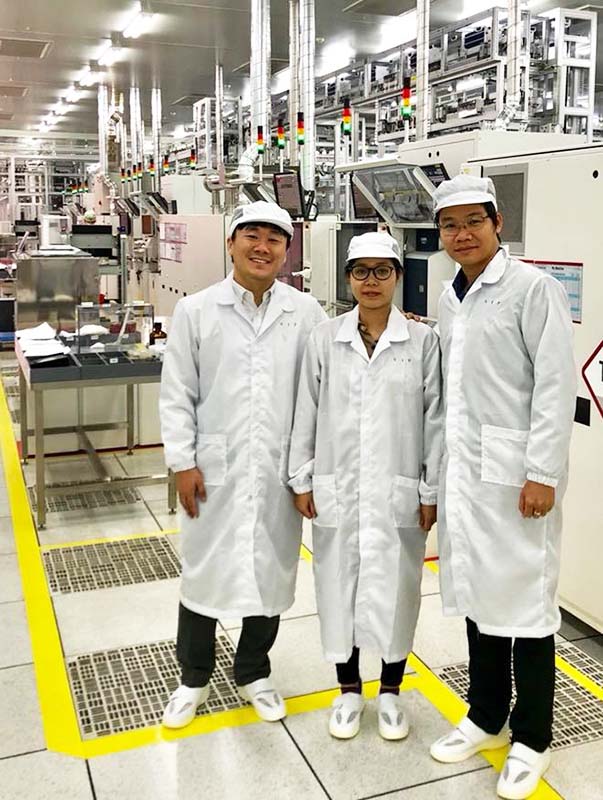 Mr. Pham Nam Phong (far right), General Director of Vu Phong Energy Group Power Joint Stock Company, at LG Solar's Korean factory.
Construction and installation adhere to design specifications
The experienced construction engineers at Vu Phong Energy Group will ensure the installation of technical standards, adhere to design drawings, and strictly adhere to ISO 9001: 2015, ISO 14001: 2015, and ISO 45001:2018. Engineers will specifically check the solar power system after construction using specialized test equipment for solar power as well as the electrical system:
Measure I-V to check the performance of the panel truss and detect any errors during panel installation, such as shaded, damaged panels, loose jacks, and so on.
Perform a temperature test to ensure that the device's operating temperature is within the allowable range and to aid in the detection of installation errors. The tested equipment includes panels, wires, connection points, switchgear, dashboard, and inverters.
Check the ground resistance to ensure the system is within the allowable resistance range.
It also measures the insulation of all conductive devices in the system, the quality of electricity generated by the inverter, the tightening force of bolts, and so on.
All of these checks are performed to ensure that the system operates safely and efficiently after it is handed over to the customer.
Not only does Vu Phong Energy Group ensure each stage of Consulting, Design, Material Supply, Construction, and Installation (EPC: Engineering – Procurement – Construction), but it also provides professional O&M services, which help the system operate stably and with high performance throughout the life cycle, providing the best system safety and maximum profit for the investor.
"Developing clean energy for a green environment in Vietnam" is Vu Phong Energy Group mission, and the company is committed to carrying out that mission with dedication and professionalism on every system, from power systems to power systems. Solar power on household roofs, solar power systems on factory, office, and commercial building roofs, solar power systems combined with high-tech agriculture, and so on, up to large-scale solar power plants of hundreds of MWp.
The above information is basic; for a detailed price list and equipment parameters, please email hello@vuphong.com, accept solar power quotes, or call toll-free 18007171 for Vu Phong Energy Group support's technical consultant.
Vu Phong Energy Group is a unit with more than 12 years of experience as a general contractor of rooftop solar power construction for individuals, businesses, factories, and solar farms, with a team of more than 350 employees by the end of the year 2019, has built more than 500MWp and is operating more than 325MWp of solar power plants, achieving ISO 9001: 2015, ISO 14001: 2015, and ISO 45001: 2018 international certification by SGS Global, committed to bringing customers high-quality, high-efficiency solar power projects with a lifespan of more than 30 years.
Vu Phong Energy Group