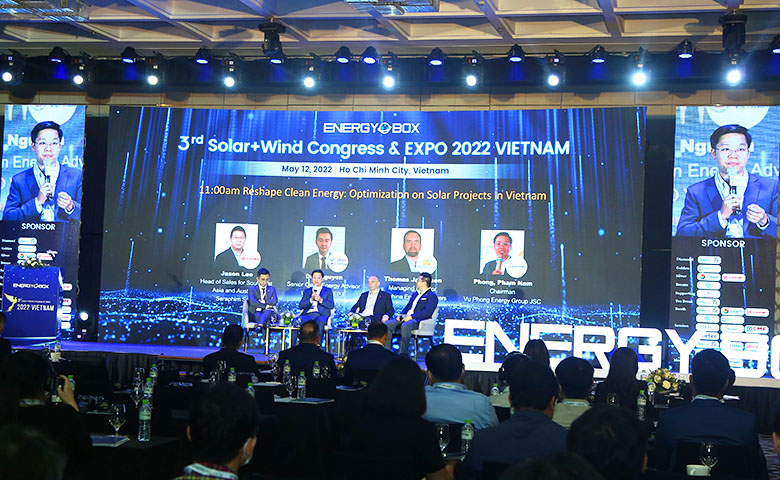 Many optimize the efficiency of solar power projects solution were shared by speakers at the 3rd Solar+Wind Congress & EXPO Vietnam 2022, to be held on May 12, 2022.
Optimize the efficiency of solar power projects
3rd Solar+Wind Congress & EXPO Vietnam 2022 organized by Energy Box, has attracted a large number of delegates, such as regulatory agencies, businesses in the field of renewable energy, financial institutions, and market analysts. At the conference, the speakers and attendees enthusiastically shared and discussed issues and solutions in the development of solar and wind power projects in Vietnam, as well as the actions of the businesses industry in the trend of green consumption and toward sustainable development goals, especially in the context that Vietnam is trying to reduce emissions, the goal of achieving net-zero carbon emissions by 2050 as committed at COP26.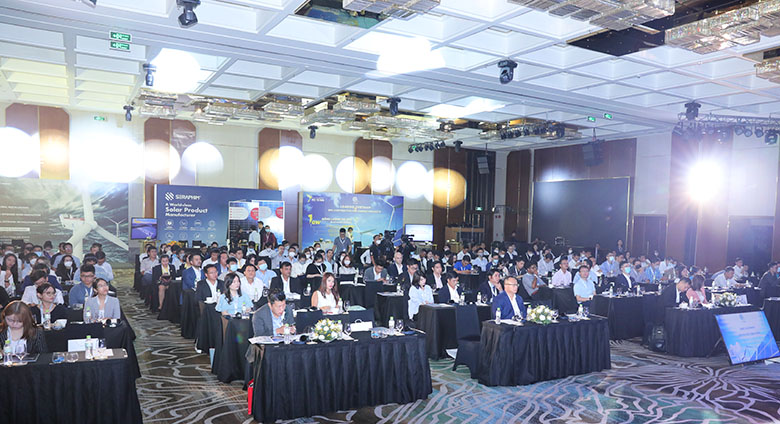 3rd Solar+Wind Congress & EXPO Vietnam 2022 in Vietnam attracted a large number of delegates from regulatory agencies and renewable energy companies.
One of the remarkable and highly interesting contents at the event was a session on solutions to optimize operational efficiency as well as profit for solar power projects. In it, Mr. Phong, Pham Nam – Chairman of the BOD of Vu Phong Energy Group – shared the benefits of O&M work for solar power projects that are in the operating stage. When managing the actual operation, Vu Phong engineers optimized the O&M process for solar power plants, built a statistical table of hundreds of errors that often arise; as well as proposed the plan to fix the errors, optimizing plant operations. With those methods, the solar power plant is operated with rate of availability is up to 99.99%.
"Technical problems or some weather conditions such as heavy rain, dust, etc. can reduce the operating efficiency of the plant, affecting the profits of investors. The O&M service that we provide will help investors solve these problems" – Mr. Pham Nam Phong said.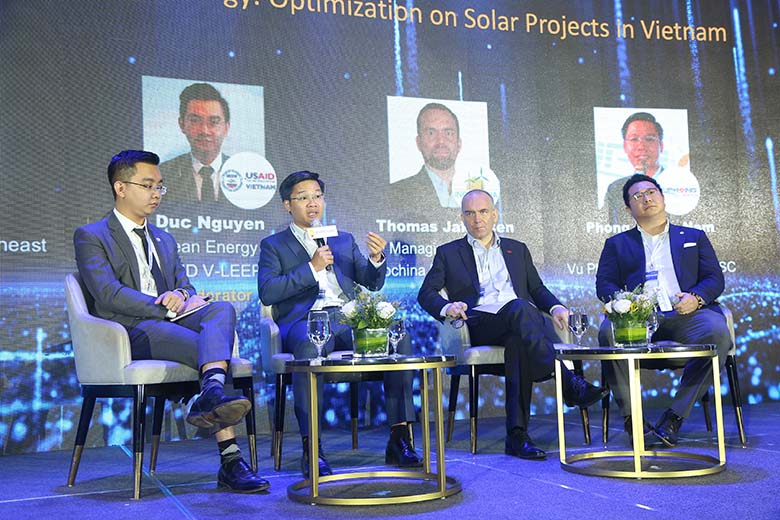 Mr. Phong, Pham Nam – Chairman of Vu Phong Energy Group – had been a panelist at the event
In addition to the O&M solution, another solution that will help optimize efficiency for solar power projects is to use solar panels and inverters to optimize performance. Renewable energy industry technology is developing very quickly, materials such as solar panels, and inverters are constantly being improved to improve efficiency. With solar power projects in the research and development stage, investors should choose high-quality materials to optimize capacity as well as system life.
Besides the technical solutions shared by Mr. Phong, Pham Nam, financial solutions were also mentioned by other speakers in the session. Combining many solutions will help optimize operational efficiency for solar power projects as well as profits for investors.
As the leading renewable energy enterprise in Vietnam, Vu Phong Energy Group specializes in providing high-quality EPC, O&M, and Asset Management services… for solar and wind power plants. Especially, through the cooperation and technology transfer with leading enterprises such as Bouygues, AC renewable…, with the actual operation process at large capacity solar power plants, the Vu Phong team has high experience in optimizing O&M for solar power plants, as well as taking control in technology.
The O&M service will help reduce risks during plant operation, detect problems at the earliest and minimize system repair time, helping the solar power plant operate stably with high efficiency, improve the Levelized Cost of Energy (LCOE), and improve ROI, bring the highest economic benefits to the investor.
For individuals and businesses interested in the O&M service for solar farms and O&M service for rooftop solar system power, please contact Our Call Center via 18007171 or +84 9 1800 7171 or send an email to hello@vuphong.com for more information.
Read more:
Vu Phong Energy Group