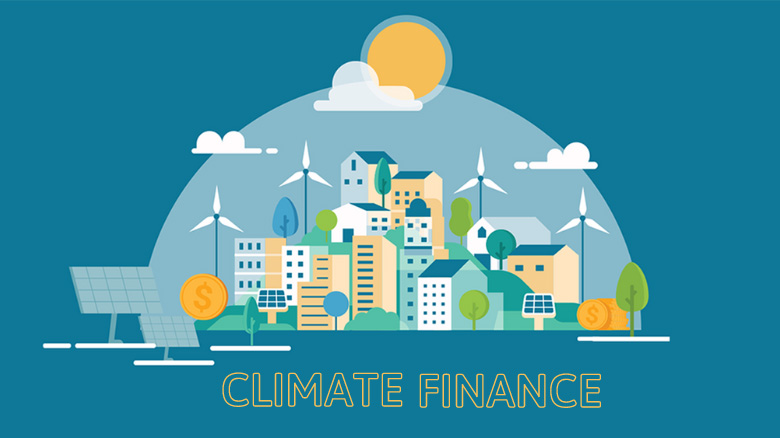 Commitments to reduce greenhouse gas emissions and achieve carbon neutrality have been proposed, as many initiatives to fight climate change have also been presented. However, in order for these initiatives to be implemented and climate targets to be realized, a major challenge must be overcome – finances. Climate finance has emerged as a major concern and a key topic within the framework of COP27.
Climate finance in developing countries needs $2.4 trillion every year.
According to data released at the United Nations Framework Convention on Climate Change (COP27), the world will need between $4 trillion and $7 trillion per year to transition to sustainable development and fulfil the Paris Agreement on Climate Change objectives. Developing and emerging countries' annual climate finance needs are anticipated to be $1.3 trillion by 2025 and up to $2.4 trillion by 2030. This money is required to phase out fossil fuels, invest in renewable energy and low-emission technology, and deal with the impacts of extreme weather events.
This will be a major challenge if financial pledges do not keep pace with demand. Since COP15 took place in Denmark in 2009, countries have pledged to mobilize $100 billion yearly to assist developing countries in dealing with climate change and implement targets by 2020. This goal, however, was not met. In 2020, nations only achieved $83.3 billion. Financial assistance is still entirely voluntary, with no legally obligatory papers. Meanwhile, with a yearly need of $1.3 trillion, the climate finance required for developing countries is more than ten times that of $100 billion.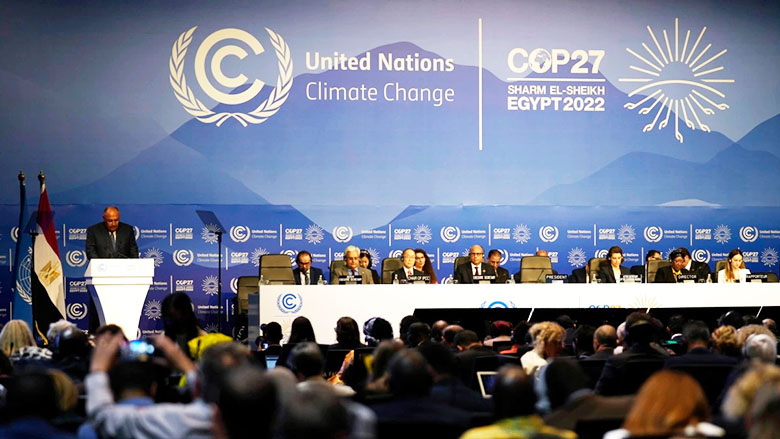 For the first time in history, a separate heading on climate finance is on the official agenda at COP27 (Internet photo)
As a result, climate finance received the greatest attention during COP27. This is also the first time this issue has a separate heading on the COP's official agenda. Climate change losses and damages are officially included in the negotiations. It is not a basis for attribution responsibility or claims compensation but a global financial mechanism based on an international treaty. According to UN Secretary-General Antonio Guterres: "A Pact in which wealthier countries and International Financial Institutions provide financial and technical assistance to help emerging economies speed their renewable energy transition. That model is necessary for all."
However, according to Professor Johan Rockstroem, Director of the Potsdam Institute for Climate Impact Research: "This is the first meeting in Africa, and it is the first time that loss and damage will be negotiated. Because it is such a sensitive subject, it is hard to predict whether or not concrete results will be obtained."
Vietnam is actively seeking solutions to attract finance to assist with the energy transformation
Commitment to emission reduction and carbon neutrality goals, Vietnam is accelerating the energy transition and promoting a circular economy model towards sustainable development. Finance is also a challenge that Vietnam is attempting to solve throughout this process.
The World Bank estimates that Vietnam will need an extra $100 billion to cope with climate change by 2025, and $373 billion to achieve zero emissions by 2050. As a result, Vietnam needs 473 billion USD to adapt to climate change and achieve the COP26 target of zero net emissions. This major challenge will be difficult to solve even with domestic resources. Vietnam is actively seeking solutions to attract finance to assist with energy transformation. Vietnam, along with India and Brazil, is one of ten nations that received 50.4 billion USD in green finance in 2021, accounting for 76% of green finance for emerging markets.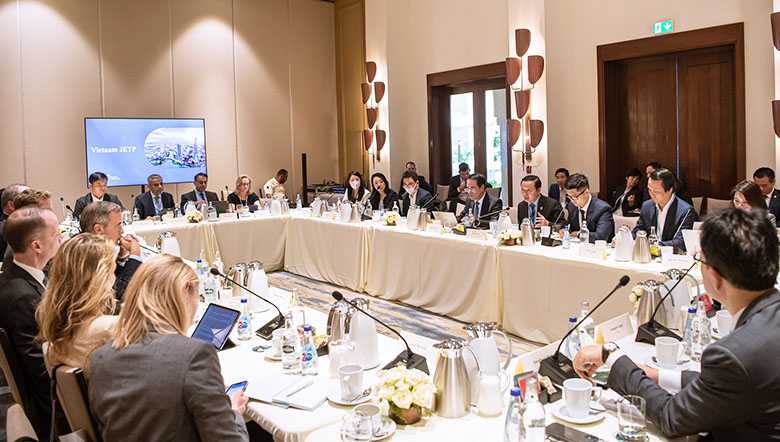 Within the scope of COP27, the Roundtable on financial attraction to support Vietnam delivering on climate change commitments was held (Image: Natural Resources & Environment News)
Recently, within the framework of COP27, the Minister of Natural Resources and Environment – Mr. Ha, Tran Hong and the Vietnamese delegation attending the COP also participated in many conferences, bilateral and multilateral meetings to find solutions to climate finance issues, such as the Roundtable on financial attraction to support Vietnam delivering on climate change commitments – organized by the Glasgow Financial Alliance for Net Zero (GFANZ); World Bank (WB) high-level meeting, on the issue of accelerating emissions reduction programs using results-based climate finance; Bilateral working sessions with Citi banks, Standard Chartered Bank…
Vu Phong Energy Group, with the mission of "Develop clean energy for a green environment and sustainable development," is actively accompanying the development of clean energy projects, contributing to Vietnam's energy transition and fulfilling its climate goals. Vu Phong has worked with many clients and partners to create renewable energy projects in Vietnam, including prestige business units, organizations, and international investment funds. In particular, the PPA (Power Purchase Agreement) solar power model pioneered by Vu Phong Energy Group with the participation of many international investment funds is a practical solution that many businesses in Vietnam choose in the roadmap to green production, emission reduction goals, and environmental protection.
More information:
Vu Phong Energy Group