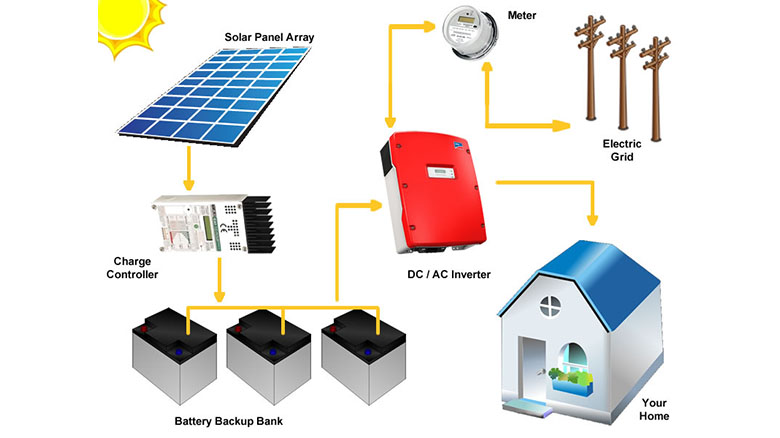 When the electricity goes out, a backup power system provides a seamless, clean, silent and ecologically friendly way to power your home or office. Backup power can be used to maintain energy for critical loads or to power a whole home or office – for a matter of hours or indefinitely. Standard systems include an inverter, batteries, battery charge controller and circuit protection. When utility power is restored, the inverter switches automatically back to battery-charge mode.
Benefits of a Back Up Solar Power System for Your Home or Office
When Mother Nature or a rolling blackout comes your way, you want to be prepared. If you run a small office, a medical clinic or other small business, this may mean the difference between servicing your clients and closing the doors. If you are at home, it's a great comfort to be able to have the radio or TV on to find out what is happening in the outside world, to have a few lights remain on and keep the food in the refrigerator from spoiling.
Maximizing Efficiency with a Back Up Solar Power System in Emergencies
Back Up Power System2Our Backup Power System (BPS) automatically provides power to priority circuits for two to 12 hours when utility power fails for any reason. That's long enough to get through the majority of power outages. Still not enough? We have solutions that integrate a small, gas-powered DC generator to keep the batteries charged for as long as propane or natural gas is available. They turn on and off automatically to keep the batteries charged up.
The BPS is a great system, even when you already have an electric start backup generator. You can reduce the run time on your generator and save all that noise and fuel – up to 90 percent of it! All you have to do is have the BPS as your primary backup. It runs quietly, and will turn on the main generator only when it's necessary to charge the batteries.
Since the system is battery-based, solar power and wind power may also be used to charge it up. However, it's not necessary to have a solar power or wind power system installed first. Those can be added later when your budget allows.
The BPS is available in 200 to 5,000 watt models with up to 9,000 watt surge capacity to start motors.
In keeping with our solar power philosophy, the BPS is modular. You can easily enhance the system later. An additional cabinet and batteries can give you additional run time. Or, you can install another power module to increase the amount of power available. The DC generator is optional. You can start with the basic module and add the generator module later.
The BPS is electrical code complaint, listed by both Underwriters Laboratories (UL) and Canadian Standards Association (CSA).
Seamless power transfer that automatically takes over when utility power fails.
Approximately two to 12 hours of backup power for priority loads.
Quiet, non-polluting and compact, ideal for detached homes or town homes.
Compatible with renewable energy sources, such as solar, wind and small hydro.
High surge power available to start electrical motors, such as refrigerators, furnaces and water/sump pumps.
Maintenance-free operation, rechargeable, standby batteries that last up to 10 years.
Connect easily to the main utility panel in new or existing homes and buildings or prewire for future backup power.
Designed to provide high quality power for sensitive electronic devices, including home office computers and peripherals, lights, microwave ovens, television/ home theaters and power tools.