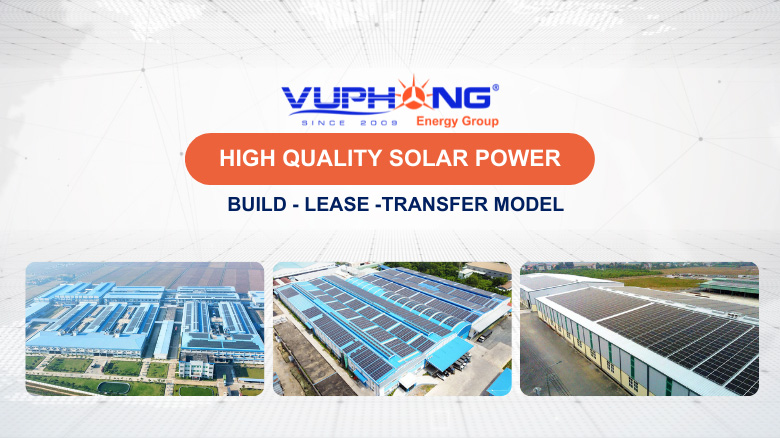 The PPA (Power Purchase Agreement) is a flexible cooperation model pioneered by Vu Phong Energy Group with the participation of investment partners to develop rooftop solar power at business and production establishments, especially factories in Vietnam.
The PPA (Power Purchase Agreement) solar power model, pioneered by Vu Phong at the end of 2019 and the beginning of 2020 in Vietnam, is a solution allowing enterprises to use clean energy for production activities without initial capital investment.
The PPA (Power Purchase Agreement)
Under this cooperation model, Vu Phong Energy Group and our partners are investment funds investing in high-quality solar power systems on the enterprise's roof, selling energy or leasing the system for a time at a reasonable price. Businesses only need to take advantage of the idle factory roof, using clean energy to serve production and business activities. At the end of the contract, the solar power system will be handed over 100% for the enterprise, with a system performance commitment when the transfer over 80-90%, depending on the conditions.
Using renewable energy will help businesses fulfill commitments to greenhouse emission reduction, green production, green growth, and sustainable development. In addition, businesses also enjoy benefits from PV systems such as cooling warehouses and increasing durability of the roof … In the form of self-production and self-consumption of electricity, these PPA solar power systems produce and use their electricity, they do not place a strain on the power transmission – distribution grid system. Meanwhile, they contribute positively to Vietnam's energy transition and efforts to reduce greenhouse gas emissions, aiming to reach net zero emissions by 2050.
Many domestic and international investment funds and manufacturing businesses in various sectors have shown interest in the PPA solar power model. Under this model, Vu Phong Energy Group and our partners develop many high-quality solar power systems, many of which have received prestigious energy awards. Here are some projects:
Golden Victory solar power system
The 2,9 MWp system contains 5,372 high-efficiency 540W solar panels, 24 high-technology inverters with up to 98.8% efficiency, an auxiliary frame system, and high-quality conductors with a durability of more than 30 years. This system contributes 21% of total energy consumption at Golden Victory Vietnam – an FDI enterprise participating in the global supply chain of the leather and footwear sector.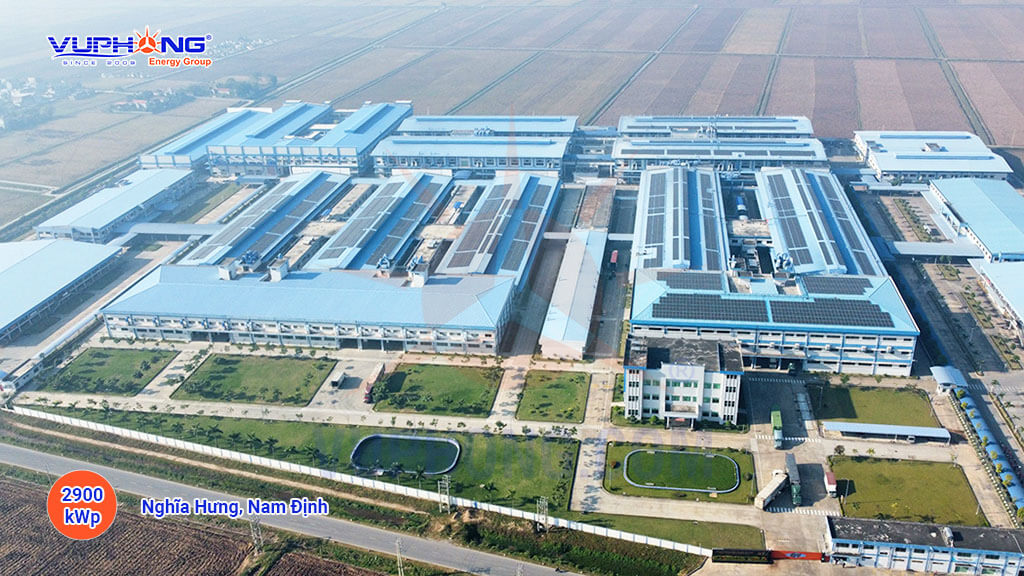 Eclat – Fabrics solar power system
The solar power system employs 2,682 450Wp solar panels installed on the rooftop of the Eclat – Fabrics Vietnam knitting factory. This company is a subsidiary of the Eclat Textile Group, which specializes in manufacturing fashionable knitted, sports, and high-quality clothing fabrics; multipurpose technical textiles with UV protection effects for major brands.

Mekong Plastic – Ben Tre solar power system
The system uses 1,728 solar panels constructed by Vu Phong Energy Group and installed on the factory roof of Mekong Plastics – one of the biggest manufacturers of reusable plastic bags in Vietnam and has cooperated business with customers in Europe, the USA…

Solar power system installed on the roof of Lac Long factory – the world's largest Pedi-Spas chair factory, specializes in the production and assembly of Pedi-Spas chairs for the Nail Spa Industry. The project has won two categories in The Asian Power Awards 2021: Solar Power Project of the Year and Environmental Upgrade of the Year.

Dong Nam Viet solar power system
The system uses 4,554 solar panels installed on the rooftop of a Dong Nam Viet packaging factory. Dong Nam Viet has become one of the typical companies in Binh Duong industrial province, employing renewable energy in manufacturing since installing the solar power system.

NAFOCO solar power system
The 1,13 MWp system, comprised of 2,520 solar panels, is installed on the factory roof of Nam Dinh Forest Products Joint Stock Company (NAFOCO), one of the Northern region's enterprises pioneering the use of clean energy to green the manufacturing process.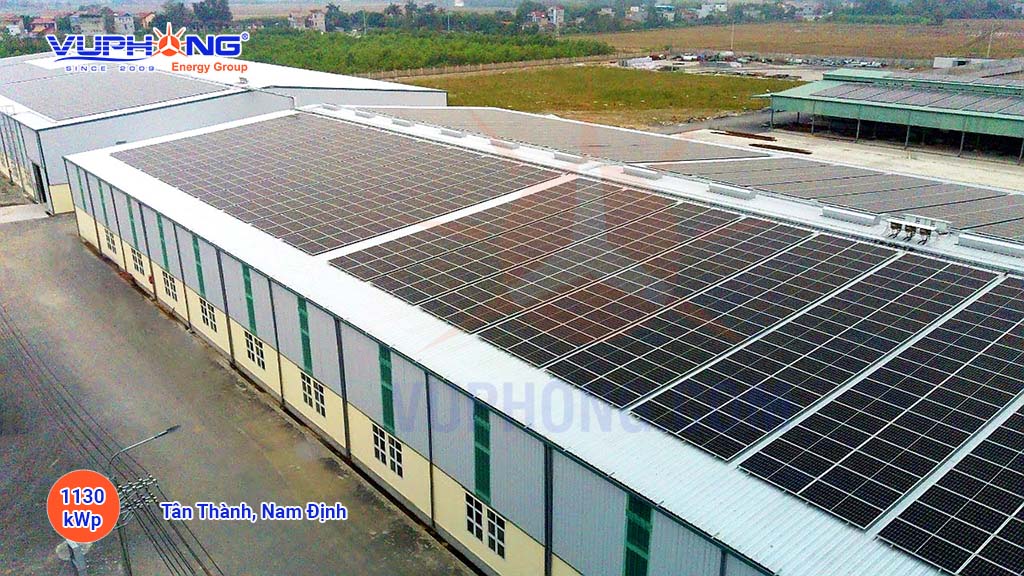 Some solar power projects developed under the PPA model that Vu Phong Energy Group is implementing and installing:
The solar power system chain has a total capacity of more than 12,5 MWp, installed on the roofs of factories owned by Hwaseung Enterprise in Vietnam.
Solar power system on the roof of factory No. 02 of Dong A Plastic Group, in Chau Son Industrial Park, Phu Ly, Ha Nam, with a capacity of 2,07 MWp.
Solar power system with a capacity of 2,23 MWp on Kem Nghia's factory rooftop in Tan Phu Trung Industrial Park, Cu Chi, Ho Chi Minh City.
Businesses interested in the PPA (Power Purchase Agreement) model, and clean energy solutions to greening production, towards sustainable development, please contact Our Call Center via 1800 7171 or +84 9 1800 7171 or send an email to hello@vuphong.com for more information.
Vu Phong Energy Group