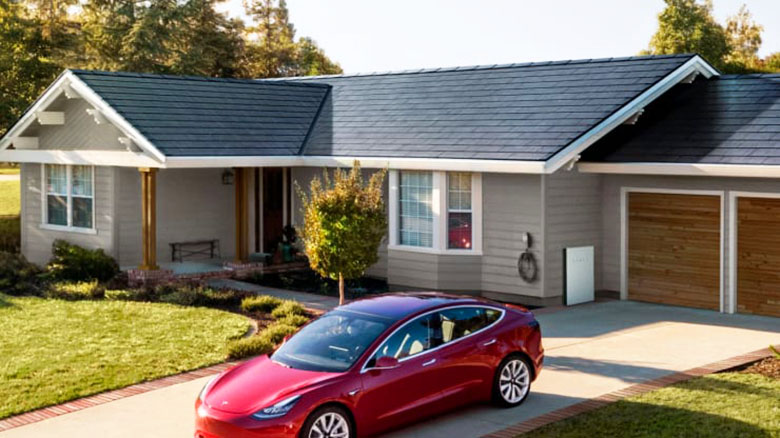 According to newly granted building permits, Tesla is putting up more tents in Fremont, this time to cover its solar test houses.
Tesla started selling version 3 of its Solar roof tiles in October, with CEO Elon Musk saying that some installations were already underway at the time.
While Tesla has hyped the pre-order numbers for its Cybertruck, it has not disclosed how many prospective customers have paid $100 to pre-order Tesla's Solarglass Roof.
Tesla is putting up more tents in Fremont, Calif.
This time they're "canopy covers" over their solar test structures, according to newly issued building permits reviewed by CNBC.
Tesla started taking orders for version 3 of its solar roof tiles, now known as the Solarglass Roof, in October, with CEO Elon Musk saying at the time that some installations were already underway.
While Musk has hyped the pre-order numbers for his company's forthcoming Cybertruck, he has not disclosed how many households have paid $100 to pre-order the Solarglass Roof, or even where and when those rooftops would be available for installation.
Musk said in October that Tesla had the goal of getting to 1,000 solar roofs installed per week as quickly as possible, acknowledging that the company would not be producing the Solarglass roof at that rate for at least several months.
Placing canopies over the solar test structures in Fremont should help Tesla evade prying eyes and conduct its research and development without rain delays. The permits say the tents will be removed in two months.
Tesla is in a race to have its Solarglass rooftops ready for mass production and installations in 2020 for several reasons.
For one, a successful Solarglass effort could help the company fight a shareholder lawsuit which alleges that Tesla never should have acquired SolarCity, and that Musk and the board of directors concealed critical financial information, while overselling the company's technology to trick shareholders into approving the deal.
As CNBC previously reported Elon Musk staged an event in 2016 showing off SolarCity's glass, solar roof tiles. The system was not functional at the time, even though Musk presented the tiles as a working prototype. SolarCity was also insolvent before Tesla acquired it, recent court filings including sworn testimony and depositions revealed.
Delivering Solarglass rooftops as promised could also help Tesla capitalize on a new building requirement in its home state next year.
The California Energy Commission and California Building Standards Commission have mandated that new homes built in the state must include solar panels, starting in 2020. Building-integrated photovoltaics, like Tesla's long-awaited Solarglass Roof, are meant for homes that need a new roof, rather than add-ons like the traditional solar panels, which are also sold by Tesla.
Finally, if Tesla is able to start manufacturing Solarglass roof tiles in any serious volume before the end of the first quarter of 2020, that could justify a ramp in hiring for its factory in Buffalo, New York, where Tesla had promised to make solar panels and related systems.
The Buffalo factory was built and funded by $750 million in taxpayer money, which required Tesla to generate 1,460 jobs in Western New York by April 2020. If Tesla misses that job target, it face a $41.2 million penalty.
Tesla did not respond to a request for comment.
Read more:
Source: Cnbc.com