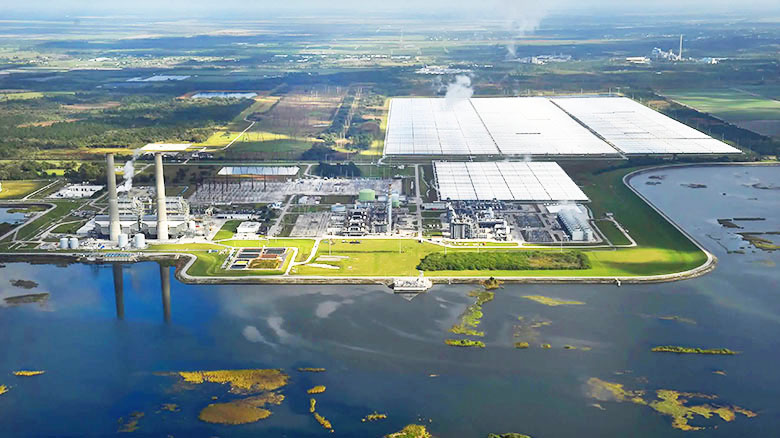 The sun is powering more than just tourism on the Treasure Coast.
Within a year, there are expected to be more than 1.5 million solar panels in Martin, St. Lucie and Indian River counties at five large-scale, commercial solar facilities owned and operated by Florida Power & Light Co.
Four of the facilities already are online, with the fifth under construction, according to FPL.
As a result, in the future about 30 percent of FPL's solar power will be coming from a region with about 3 percent of Florida's population and area.
And yet, despite the increased emphasis on solar, at about 1 percent of FPL's portfolio last year, it will remains a limited part of the company's energy mix.
Still, as solar expansion continues, the Treasure Coast could play an important role, according to Matt Valle, FPL vice president of development.
"We invested in a lot of different areas," Valle said, "but we have had a lot of success in the Treasure Coast finding great pieces of land that are in the right spots, near transmission."
FPL also has found receptive landowners and communities that are excited about the projects coming in, Valle said.
The Indian River Solar Energy Center, for example, formerly was an orange grove that suffered from citrus greening.
"The farmers were looking to get out. They can't do anything else with the land," Valle said. "It's a win-win … We're good stewards of the land."
Indian River County Commissioner Tim Zorc is among those rooting for more solar.
"It's very efficient, very clean. (FPL) pays some taxes on land value, so there's benefit here to the local government as well," Zorc said.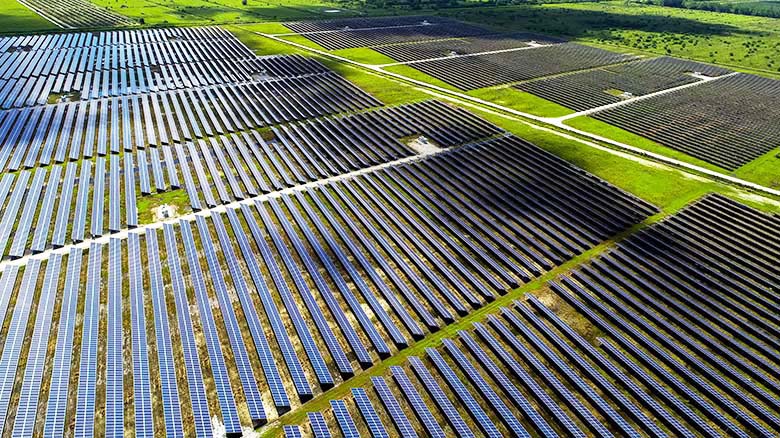 The Florida Power & Light Indian River Solar Energy Center in Vero Beach is seen from above Tuesday, Aug. 21, 2018. The energy center contains more than 330,000 solar panels covering about 695 acres west of Interstate 95. (Photo: JEREMIAH WILSON AND MAUREEN KENYON/TCPALM)
Once built — the process from land purchase, to permitting to construction takes about two years — the facilities have little impact to the surrounding community: They are unmanned and virtually silent, according to FPL.
FPL began rolling out a massive solar expansion statewide in 2016, when the company first determined the dropping cost of solar panels had made implementing solar power cost effective.
"We had a couple sites ready to go," Valle said. "We built 300 megawatts, which was a tripling of everything we'd ever built in solar."
Now FPL is working toward 10 million solar panels at commercial facilities statewide by 2021.
The company is about 40 percent of the way to that goal, and by the end of next year could be more than halfway.
FPL has four solar facilities under construction, including in St. Lucie County, where the Interstate Solar Energy Center is underway.
FPL is particularly excited about the Interstate facility because, Valle said, it has the potential to promote large-scale solar with the public.
"Many of (FPL's solar plants) are sort of remote and interior to the state and you don't see them. This one is going to be very visible," Valle said about Interstate, which is directly next to Interstate 95 near Indrio Road. "People will see these things. They'll start asking questions."
FPL will not comment on specific future sites, but the company in January purchased 475 acres in western Martin County, according to the Property Appraiser's Office. The land matches the typical profile of FPL's 400-acre solar sites.
Travis Baukol, senior project manager at the Florida Power & Light Co. Loggerhead Solar Energy Center, talks about FPL's "Solar Sanctuary" partnership with Audubon Florida on Dec. 15, 2017, in St. Lucie County. XAVIER MASCAREÑAS/TCPALM
Over the past 20 years, FPL's fuel mix has changed significantly, evolving from heavy reliance on oil to a mix that now includes natural gas, nuclear, coal and solar.
To really take off, though, battery technology must improve, allowing utility companies to store solar energy to be added into the grid during peak times, according to industry experts.
FPL already is experimenting with battery technology and Zorc, for one, hopes the company will build a battery pilot program on the Treasure Coast.
"We'd love to be another test case," Zorc said. "If you can figure out how to store power … you solve a problem not just for Florida but for so many places around the world."
Read more
Source: TCPALM