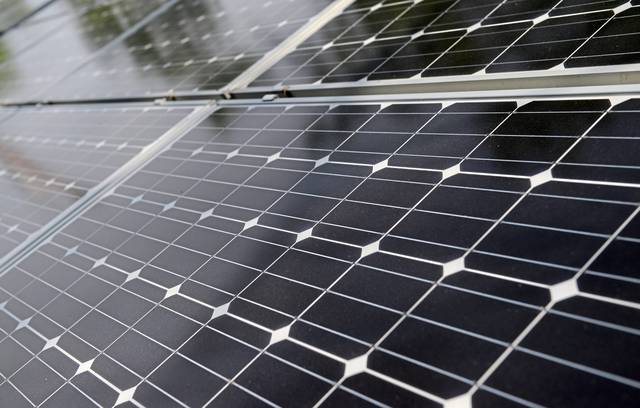 Community College of Allegheny County (CCAC) will install solar panels at the North Campus location, an environmentally friendly measure that has already been employed at other CCAC buildings.
The North Campus in McCandless is the most energy-efficient of CCAC's campuses, Elaine Sadowski, the school's energy manager, said. But it also has the highest electricity rates.
"We pay more per kilowatt hour at North Campus than we do anywhere else, so we were looking at ways to cut costs," Sadowski said. "One of the things that came up was solar energy. We can actually generate electricity cheaper than we can buy it. So that was the main impetus."
The actual solar panel installation will cost CCAC nothing, she said.
The BAI Group, based in State College, will pay for the solar panels, installation and maintenance. They will then sell CCAC the electricity they generate at a guaranteed contractual rate.
Sadowski declined to disclose the rate, but said it is "significantly lower" than what the school currently pays for electricity.
"We'll probably be saving about $27,000 a year," she said. That would equate to approximately $750,000 in savings over the duration of the 28-year contract.
The solar panels will save CCAC cash — and they'll also help save the environment. CCAC is committed to green energy initiatives like the Pittsburgh 2030 District and the Department of Energy's Better Buildings Challenge, Sadowski said.
"We do take saving energy seriously," she said. "We take those commitments seriously and we're trying to fulfill them."
The solar panel installation is slated to begin in March, weather permitting. Sadowski said she anticipates the installation process will take about three months. It won't disturb the building's operations, she said.
Plus, CCAC plans to use this as a learning opportunity.
"We also hope to use it to help our students learn things, in the scientific and engineering fields, HVAC, electrical," Sadowski said. "We plan on explaining how our purchase agreement works with our business students."
This isn't CCAC's first experience with solar energy. The West Hills Center and a maintenance building on the Allegheny Campus are equipped with solar panels.
Those solar panel projects were funded by a grant from the Allegheny County Health Department, Sadowski said.
The West Hills Center also has a solar-powered electric vehicle charging station.
Source: Triblive.com