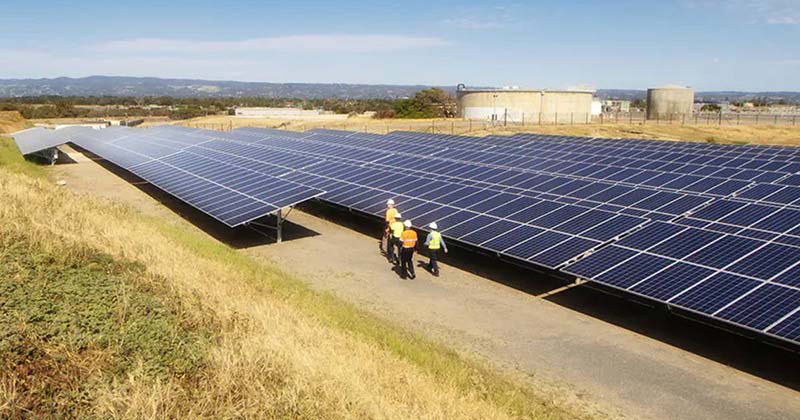 SA Water says it remains on schedule with its massive solar panel rollout, even given the challenges thrust upon it by COVID-19.
Back in 2017, the utility announced a goal of $0 net electricity costs by the end of 2020; with solar energy to play a major role. In early January this year, SA Water announced it was investing more than $300 million in solar installations over 2020 and 500,000 solar panels would be installed at 35 sites throughout the state during this year.
Then COVID-19 threatened to throw a spanner in the works.
However, SA Water says it and ElectraNet, have worked together to keep the ball rolling. ElectraNet owns and manages South Australia's 5,600 kilometre high voltage transmission network and has been contracted to complete six large-scale substation upgrades. This work will enable surplus solar electricity generated by SA Water to be supplied into the National Electricity Market.
One of these upgrades is in relation to the third pump station on the Morgan to Whyalla Pipeline, at Geranium Plains near Robertstown. SA Water says approximately 19,000 panels at the 7.5MW plant will generate more than 14 gigawatt hours of electricity (assumed annually) and will connect to ElectraNet's existing substation on the 132 kilovolt network.
"..  together with ElectraNet we applied new ways of working to uphold strict social distancing and hygiene standards, including the adoption of virtual meetings and reducing personnel numbers on site when completing and confirming isolations," says SA Water's Senior Manager Zero Cost Energy Future Nicola Murphy.
From An $83 Million Power Bill To $0
SA Water is one of the state's largest energy consumers. In 2018/19, the utility's electricity bill was a whopping $83 million. To go from that figure to $0 net so quickly will be quite an achievement.
To date, more 147,000 solar panels have been installed at various sites including the Bolivar Wastewater Treatment Plant, Adelaide Desalination Plant and Christies Beach Wastewater Treatment Plant. With around 350,000 panels left to go, there's a very busy time ahead.
Ms. Murphy appears confident given the progress already made under challenging conditions.
"Maintaining progress during the peak of the restrictions has held us in good stead and was so important – avoiding potential scrambles to recover lost time and regroup the highly skilled construction and delivery workforce that could have dispersed if they weren't kept in work."
All up, around 154MW of solar capacity is to be installed for the entire project, along with 34MWh of battery storage. Regarding the latter, there wasn't any mention of how that side of things is progressing.
Source: Solarquotes.com.au