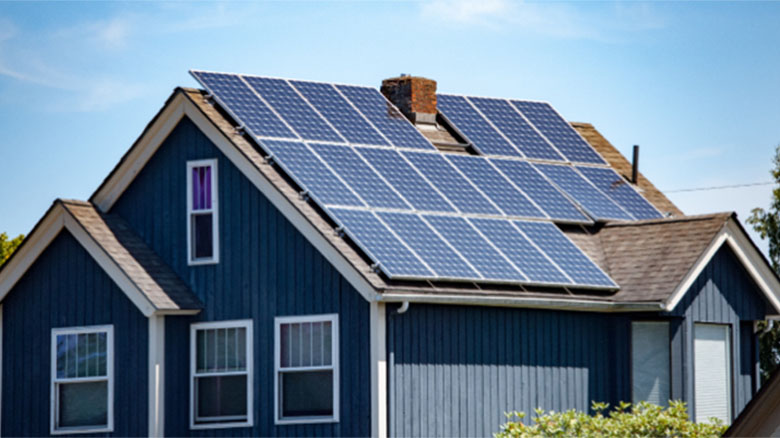 On opposite coasts, Florida and California are both famous for sunshine. But their approaches to harnessing sunshine for power are as disparate as their coastlines.

Starting Jan. 1, California building codes now require that new homes be built to run on solar power, affecting an estimated 100,000 new homes per year. The standards contained in Title 24 of California's energy code are projected to cut energy costs by 53 percent and to save homeowners $1.7 billion over the next 30 years, according to the California Energy Commission.
Florida imposes no mandate for solar power. Demand is steadily growing on its own.
"It's a choice Floridians are making at scale every day," Justin Hoysradt, president of the Florida Solar Energy Industries Association and CEO of Vinyasun home solar installers, said this week. "The choice of generating your own electricity on your own property is exciting and responsible."
Unlike in California, Florida electric utilities monopolize the power grid, but consumers have stubbornly defended their rights, however limited, to choose solar power. In 2016, Florida voters rejected a constitutional amendment backed by investor-owned utilities that would have raised fees on independent solar users and suppressed competition from solar providers. The same year, voters adopted an amendment extending tax breaks on solar equipment installed at homes and businesses.
With voter support, Florida's net metering systems allow full 1:1 retail credit for solar energy sold back to the electric grid, there is no sales tax on solar equipment, and installation of solar equipment does not subject property owners to higher taxes.
Meanwhile, the U.S. Department of Defense has become a proponent of solar farming in Florida and around the nation, having recognized renewables as a more reliable and geopolitically secure source of energy than fossil fuels. The Defense Department is mandated by U.S. Code to make renewable energy 25 percent of its energy mix by 2025.
Utility companies, too, are building solar farms, responding to consumer sentiment and finding plenty of flat, affordable land available in Florida for erecting solar arrays.
Growing consumer demand for solar options and proposed measures for Florida's 2020 Legislature reflect Floridians' desire to unleash the inexhaustible, non-polluting power of the sun without government mandates.
"Florida doesn't typically operate in a world of mandates," Hoysradt said. Ironically, he added, at the same time, "We have a regulatory monopoly structure."
That leaves Floridians who favor solar energy free to choose it – which they are doing – but in absence of widespread cultural and regulatory support found in California, New England and elsewhere.
In fact, a key, short-term limit on solar in Florida is a shortage of qualified personnel to install the equipment, Hoysradt said.
"Because of the scale of the demand, we in the industry are at a crossroads, not necessarily having enough highly trained workers to deploy this technology," he said.
Consequently, bipartisan legislation proposed in HB 695 by Rep. Margaret Good, Democrat from Sarasota, and by Rep. Stan McClain, Republican from Marion County, and in SB 956 by Sen. Keith Perry, Republican representing Marion, Alachua and Putnam counties, would create a solar license plate to help fund retraining for solar-related jobs. Purchasing such a plate would be voluntary and funds would help retrain trades workers in related fields to specialize in solar installations, with preference given to veterans and repatriated felons.
In the Senate, SB 1290 by Sen. Lori Berman, a Palm Beach Democrat, would redefine school construction policies to allow solar arrays on school rooftops.
"This is an area where we could see significant growth … and save taxpayers tens of thousands, hundreds of thousands of dollars," Hoysradt said, observing that Florida schools typically have flat roofs ideal for solar panels and are well-constructed to withstand severe weather.
Advanced battery storage, long a challenge for solar developers, has progressed to the point that a back-up solar-power source for use during power outages is equivalent to a conventional, gas-powered, whole-house generator.
"It's a cost-effective alternative, and it's silent and safer," Hoysradt said, noting that gas-powered generators emit hazardous fumes.
For consumers, the outlook for solar is definitely sunny, with equipment prices plummeting since 2010 and installation costs down by more than half, according to Inverse.com, a science, technology and culture media company, citing studies by the Massachusetts Institute of Technology.
Also, Florida provides 101 various incentives for solar and clean-energy installations, according to the U.S. Department of Energy, which lists thousands of incentives nationwide.
Ultimately, while solar provides cost-effective energy production, its greatest value may be its power to reduce greenhouse gas emissions causing rapid climate change in Florida and around the world. The World Meteorological Organization, a United Nations alliance of thousands of scientists, reported in November that greenhouse gases are still amassing in the atmosphere and that drastic reductions must be achieved by next year to avoid triggering catastrophic damage.
Read more:
Source: Floridaphoenix.com