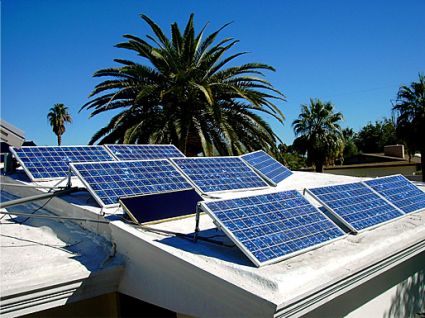 Solar electricity had not been widely promoted in Viet Nam despite its environmental advantages, said an official from the Ministry of Industry and Trade.
Ninety-five per cent of the population accessed the cheaper hydro and fuel powered electricity through the national grid, said Le Tuan Phong, deputy head of the ministry's Department of Energy.
Phong estimated the average price for producing a kWh solar electricity was about VND7,000 (US$0.4), six or seven times higher than hydro-power or thermo-power.
Not only is it costlier, it also requires a huge initial investment, which is almost unaffordable considering the average household income in Viet Nam.
According to Mai Thanh Hai, head of the sales department of Red Sun Energy Company, the average cost for installing solar energy equipment for a household ranged from VND100-150 million ($5,560-8,900) – and the cost for a small-sized office was around VND400 million ($22,220).
"Compare this to the annual GDP per capita of about $1,000," he said.
Hai added that the power produced from solar equipment was enough for basic necessities for six hours a day.
Phong said areas that benefited most from solar power were remote mountain districts where the national grid was not available.
Red Sun company is the first, and so far, the only one producing solar energy equipment in Viet Nam. Before it began operations in 2009, all equipment was imported.
The most popular use of solar energy in Viet Nam is for boiling water. A plate absorbing energy from the sun directly heats the water, but the equipment, which costs about VND5 million ($277), is not capable of transforming the energy into electricity.
The equipment needed to do this consists of solar absorbing panels, charger, transformer and batteries.
Hai said if the system was connected to the national grid, no batteries were required and installation costs would be lower.
Solar and other types of clean energy, such as wind, thermal and hydro, are being increasingly used throughout the world because of its availability and cleanliness.
In Viet Nam, where there is often plenty of sunshine, the potential is huge, particularly for business people, farmers and others who want to avoid the serious blackouts that have become prevalent.
The cost for investing in solar electricity is comparatively high in other countries, but in Viet Nam, when compared to the lower average income, it's even less affordable.
Hai said that producing solar equipment in Viet Nam was high because it was in its early years. The cost would be reduced if demand increased.
Another way of significantly reducing costs was for schemes to involve multiple households, Hai said.
Government assistance in the early stage was crucial if solar electricity was to be promoted for wider use in the future.
Phong said that at present, the Government had financially supported the installation of solar equipment in remotes areas through poverty reduction and hunger elimination programmes.
Bui Ngoc Hai, a Hai Ba Trung district resident has been using solar energy for boiling water for five years said that as installation costs for solar electricity were huge, government assistance was necessary. — VNS